Classic never goes out of style, and the kimono is undeniable proof of the fashion legend. For centuries, the kimono has undergone various tweaks with added tucks and, nowadays, even frills and bows. Versatility and simplicity opens the gateway for creativity, and as the years passed, various styles of kimono made their way from thread to market, every style and era adding a newfound flair to the time-honored garment. In Kinosaki Onsen, the kimono of choice has always been the yukata, a light cotton kimono often decorated with vibrant patterns and worn for summertime, festivals, and hot spring-hopping. Since yukata are made out of cotton and are normally only one layer as opposed to more complex kimono styles, those spending the day dipping in and out of hot spring bathhouses will find that ease of changing, breathable fabric, and the absorbency of the cotton is second to none in terms of vacation clothes.

No visit to Kinosaki Onsen is complete without trying on a yukata for strolling the willow-lined streets of town and lying on cool tatami flooring after a breather in a steaming hot spring.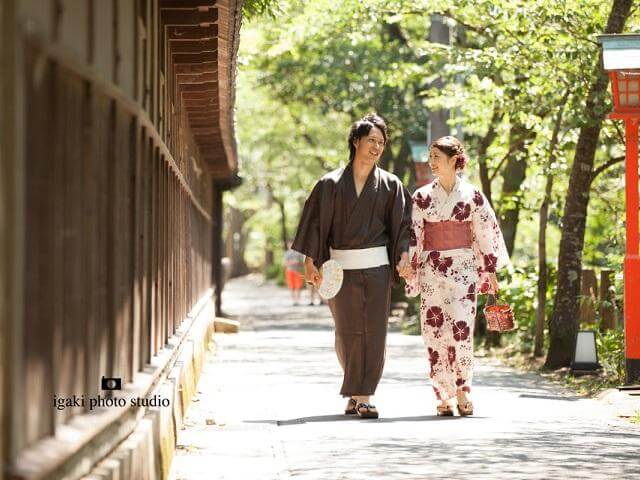 Perfect for people with holiday on the brain, the anatomy of a yukata outfit is simple and stress-free:
Undergarments

Normal undergarments are a-okay! Traditionally, those wearing yukata would additionally wear a long white kimono-like layer underneath, but this is not necessary.
Yukata

The yukata, clearly, makes the outfit! Pick out a color and pattern that resonates with your vacation vibes.
Obi

Vibrant sashes add another pop of color to an already gorgeous garment. Obi are tied in various elaborate knot styles, and are sometimes folded in special designs to show off two colors if the obi is bicolored. Small boards are oftentimes placed inside the obi so that it does not get wrinkled if the wearer bends their body. Koshi himo, thin strings wrapped around the waist underneath the obi, are also used to adjust the length of the yukata since one size is usually meant for all heights.
Obidome

Looking to add a little more oomph to your obi? Try out an obidome, decorative accessories that tie over the obi.
Geta

Another hallmark of the Kinosaki lifestyle, geta, also known as wooden sandals, deliver music to the town with every click-clacking step down the streets.
Wear One Yourself

Yukata are available to rent for the day at Iroha Yukata Rental Shop in the center of Kinosaki Onsen. The rental includes a professional yukata dressing, geta, and hair arrangement. Those looking to Kinosaki-fy their yukata ensemble throughout the day are encouraged to check out these Kinosaki-exclusive accessories:
Keep Reading for the Secret to a Kinosaki-esque Ensemble
Straw Craft Obidome

Sold inside the boutique-style souvenir shop, Mugi, a locally produced jewelry label specializing in Kinosaki Onsen's traditional artform of straw craft, designs and creates handmade bespoke pieces for visitors with a classy mixture of the chic and the sustainable. Yukata-clad fashionistas are encouraged to take a look at Mugi's collection of vibrant, light-catching Obidome for a perfect addition to their ensemble.
Straw Craft Earrings, Rings, and Hair Accessories

Local designers Mugi and Nanairo curate stunning collections of straw craft jewelry, such as earrings and rings, along with hair accessories including hair ties and barrettes. As light bounces off the pressed, glossy straw meticulously arranged in fine geometric patterns, visitors with an eye for quality will be hard-pressed to find a better accessory option for adorning their yukata.
Willow Craft Baskets and Toyooka Kaban Coin Purses

A coin purse from one of Toyooka's many bag brands is just the thing for storing away tiny trinkets during your hot spring adventures such as coins for on-the-go snacks and, up next, protection charms.

Looking for timeless style? For the past millennium, Toyooka City has been heralded as Japan's epicenter of bag production. What originally began as a modest industry of artisans weaving baskets made of materials from the local willow trees eventually grew into a booming economic powerhouse of baskets, bags, and traveling trunks, with willow crafting artisans numbering in the thousands.

Nowadays, only one willow craftsman remains, and his finely designed wares can be purchased in shops around Kinosaki Onsen, or at his local boutique in the neighboring castle town of Izushi. Consider toting your bath time belongings in one of these pieces of fashion history.
Kinosaki Onsen Protection Charms

O-Mamori, or Japanese protection amulets, are small charms and ornaments that are said to bring safety and prosperity to their owner. Two special protection charms for Kinosaki Onsen, an Oriental White Stork and Matsuba Crab, can be purchased at Marusan Gift Shop, delivering family wellness and prosperity in business respectively.

Consider tucking away these little charms in your willow basket or wallet for some extra ease of mind during an already tranquil getaway.
Straw Craft Fan

Uchiwa, also known as Japanese fans, are a common sight tucked inside of yukata obi during summer festivals and, for resort destinations like Kinosaki Onsen, all year round. A visit to the Straw Craft Museum at the end of Kiyamachi Street presents visitors with the unique chance to create their own straw craft fan embellished with exquisite designs.
Mayoke-San and Kou-Chan Keychains

A lovable character created by Ushiko Design and sold in Furuya, Mayoke-San comes in a variety of themes expressed by their color and the items hugged close to their chest. Hot spring-themed designs are especially popular, including Mayoke-San holding a yu-oke (traditional Japanese bucket for bathing) as well as a pair of geta (Japanese sandals).
At Marusan Gift Shop, consider picking up a keychain of the lovable Kou-Chan, Toyooka City's Oriental White Stork Mascot.
String one (or both!) of these adorable friends to the handles of your bag, and you're ready for the hot springs.