Family ties are a critical pillar of life in Kinosaki Onsen, and even when relatives journey out of town to make another part of the world their home, familial bonds with those still residing in the legendary hot spring town remain strong.

This testament rings true throughout the town, and the family behind Mutsunoya, a small traditional inn run by a friendly local couple, is no exception to the rule.

While Mister and Missus Matsui welcome visitors from near and far to their cozy inn, their granddaughters reside in Kyoto, where along with their studies have also nurtured their innate talents for art. Yuna and Emiri, wishing to combine their love of drawing with their family's history in Kinosaki Onsen, have created two series of mascots representing each of the Seven Mystic Onsen, now proudly on display in Mutsunoya's lobby for guests to enjoy.
Emiri's vision of the hot spring mascots are realized in seven chibi-style girls with big eyes and an even bigger love for Kinosaki Onsen.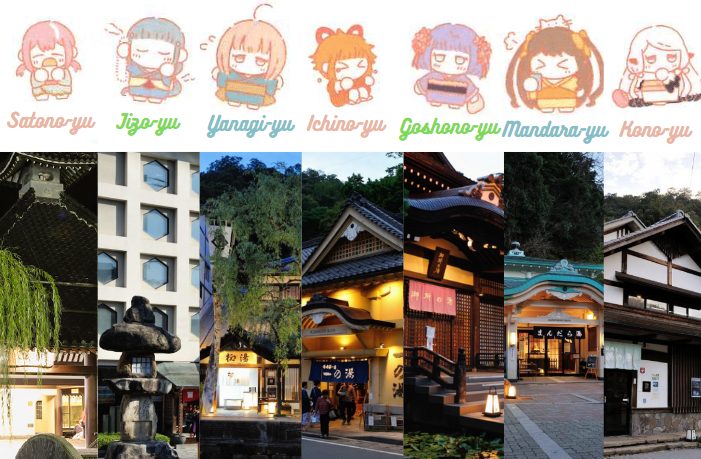 Yuna's hot spring mascots take the form of anime girls decked out in colorful yukata, each with unique designs paying homage to every girl's respective hot spring.
Satono-yu: Meet Satomi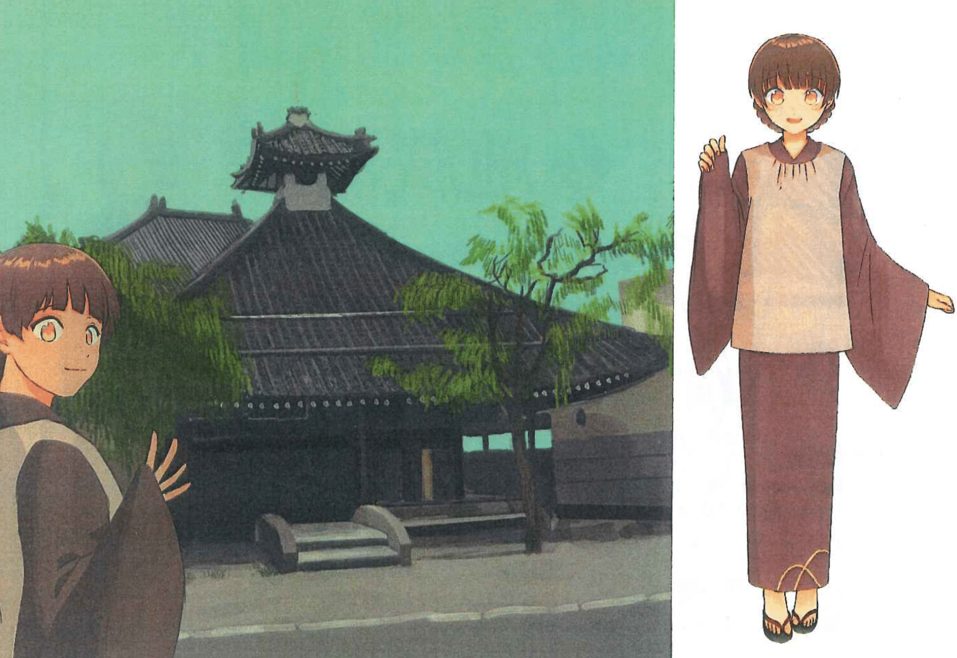 Satomi of Satono-yu, Kinosaki Onsen's largest hot spring, is happy to welcome visitors to the hot springs no matter how much time they have to spare. Those waiting for the nearby train are welcome to soak in the free footbaths outside the bathhouse, while those with more time on their hands are encouraged to take a dip in the panoramic outdoor bath before relaxing in the aromatic sauna. Satono-yu is also known as the bathhouse for socializing, and Satomi hopes you and your family and friends will enjoy your time together not only in Satono-yu, but during your whole trip to Kinosaki Onsen!
Jizo-yu: Meet Kurara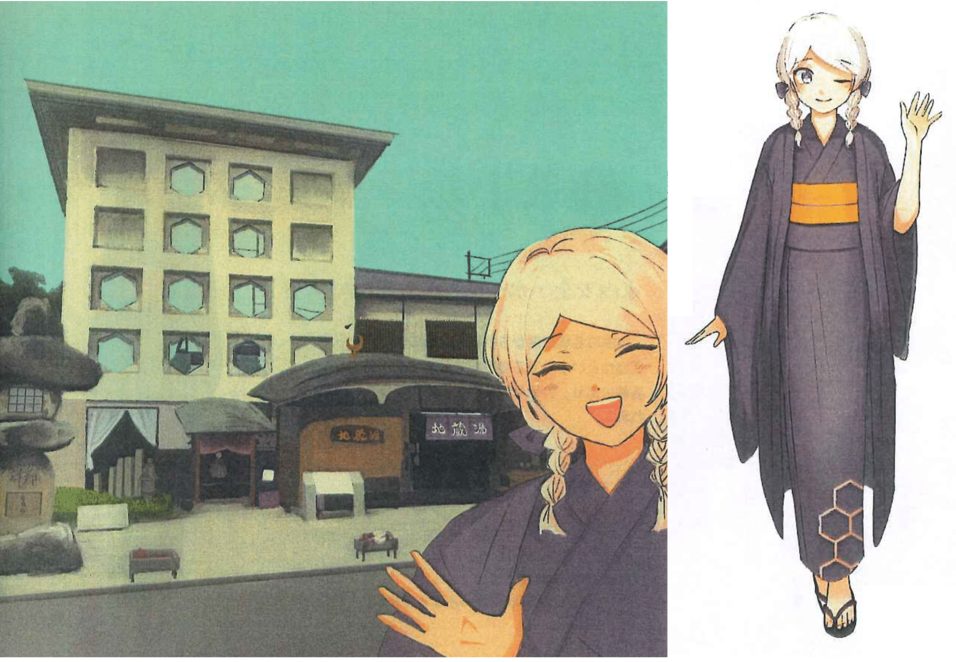 Kurara greets visitors with a wave and a smile, always elated to see both new and familiar faces entering the hot spring waters of Jizo-yu. Kurara is clad in a blue yukata cleverly designed with inspiration from the lantern-shaped bathhouse's hexagon windows, modeled after the six-sided stones of the nearby Genbudo Caves. Kurara's stylish yukata is sure to entice Kinosaki's guests to try one on themselves. Jizo-yu is locally recognized as the hot spring for families, and Kurara hopes that a soak in Jizo-yu's healing baths will bring health and safety to families visiting her hot spring town.
Yanagi-yu: Meet Nagi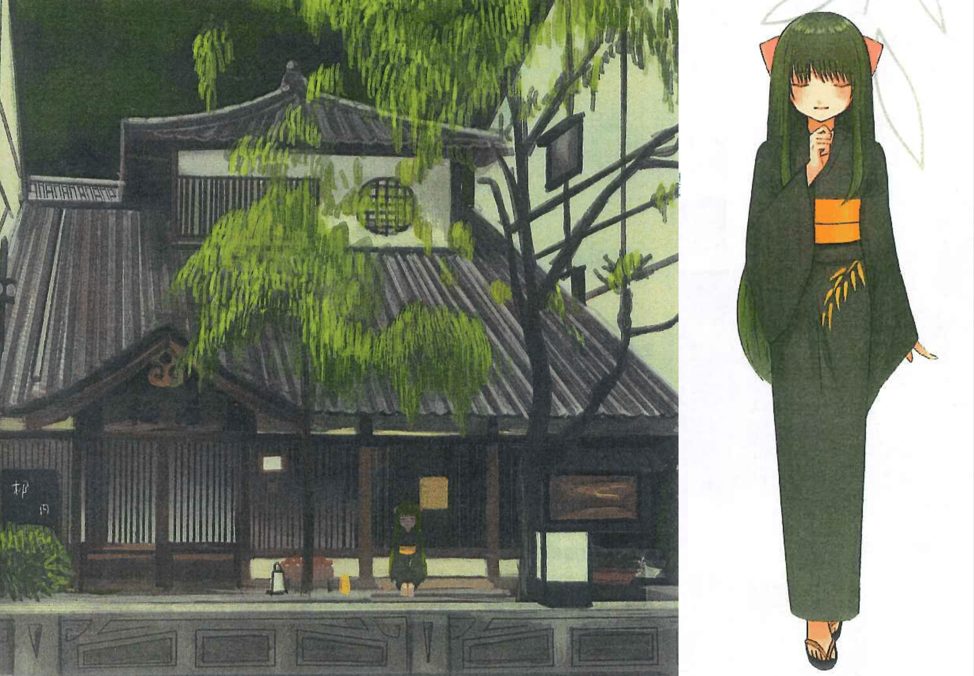 With dark green tresses swishing like willow leaves, Nagi, decked out in a yukata decorated with a willow applique, stays true to her roots as an ambassador of Yanagi-yu, also known as the "willow bath." With a priceless view of the nearby Otani River under the shade of Yanagi-yu's willow tree, Nagi enjoys soaking in the outdoor foot bath while welcoming visitors into her favorite bathhouse. While Yanagi-yu is widely known as Kinosaki's smallest (and hottest) bath, it is also said to possess fertility benefits, so expecting families are especially welcome to take a dip in Nagi's hot spring.
Ichino-yu: Meet Hifumi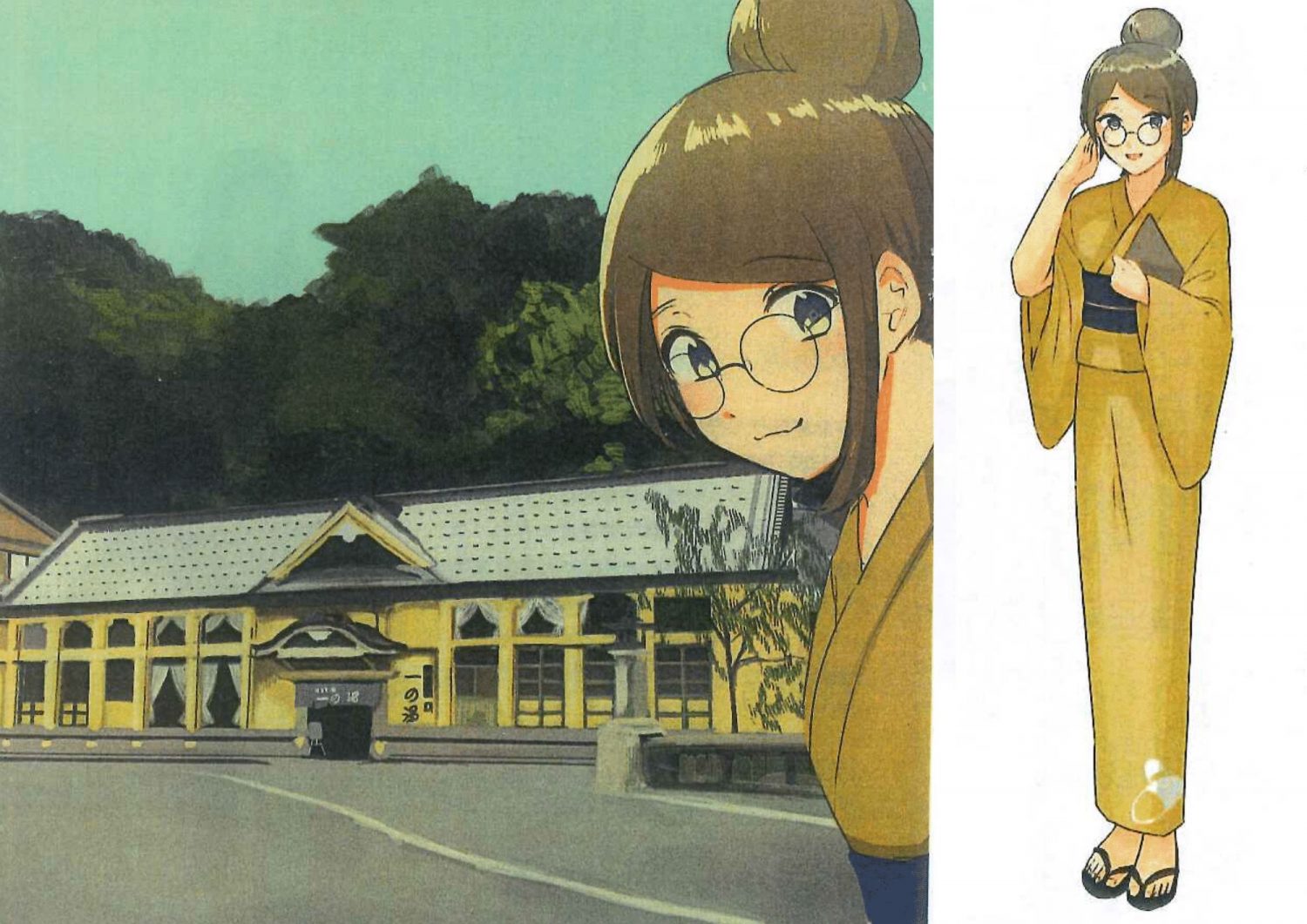 Known as "the number one hot spring" in Kinosaki Onsen, Ichino-yu is said to have been dubbed this illustrious title by a doctor who experienced the bath house's waters for himself. Hifumi is just as enthusiastic about Ichino-yu's celebrated healing springs, and even sports small yet stylish homages to the doctor's passion for medicine in her ensemble. Ichino-yu's glamorous exterior was conceived with inspiration from traditional Kabuki playhouses in Japan, and Hifumi hopes that visitors will enjoy the building's classic atmosphere while resting their bodies and souls in the steaming hot spring waters.
Goshono-yu: Meet Rengei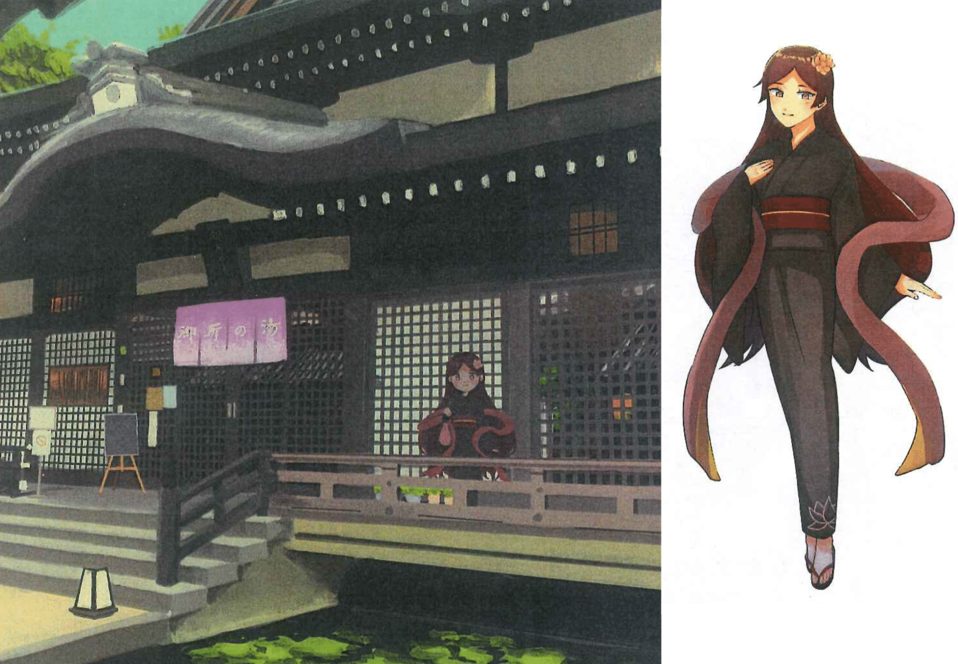 Draped in a luxurious, understated yukata, Rengei welcomes incoming guests at the entrance of Goshono-yu, an oasis holding legendary "Water of Beauty." Constructed in the magnificent likeness of Kyoto's Imperial Palace, Ghoshono-yu's foyer is adorned from top to bottom with antique screens and a fine masterpiece of flowers painted across the paneled ceiling. Rengei happily parallels Goshono-yu's traditional design with flowers dancing across her hair and yukata. After a soak in the outdoor bath surrounded by plentiful trees and a tiered waterfall, Rengei hopes that Goshono-yu's tranquil aura will follow visitors throughout their stay in town.
Kono-yu: Meet Kono
A friend to the storks, it's no wonder Kono's favorite hangout is Kono-yu, Kinosaki Onsen's hot spring boasting closeknit ties to the esteemed Oriental White Stork. Kono hopes that visitors to Kono-yu enter with an excitement to enjoy the outdoor springs and leave with a newfound understanding and appreciation for the legend that accompany's the bathhouse's healing waters: long ago, before Kinosaki Onsen was a well-known hot spring destination, the springs where Kono-yu now stands is said to have been discovered when an injured Oriental White Stork was healing its wounds in the waters. From thereafter, the spring has been referred to as Kono-yu, a homage to the Japanese word "konotori," meaning Oriental White Stork.
Mandara-yu: Meet Aoi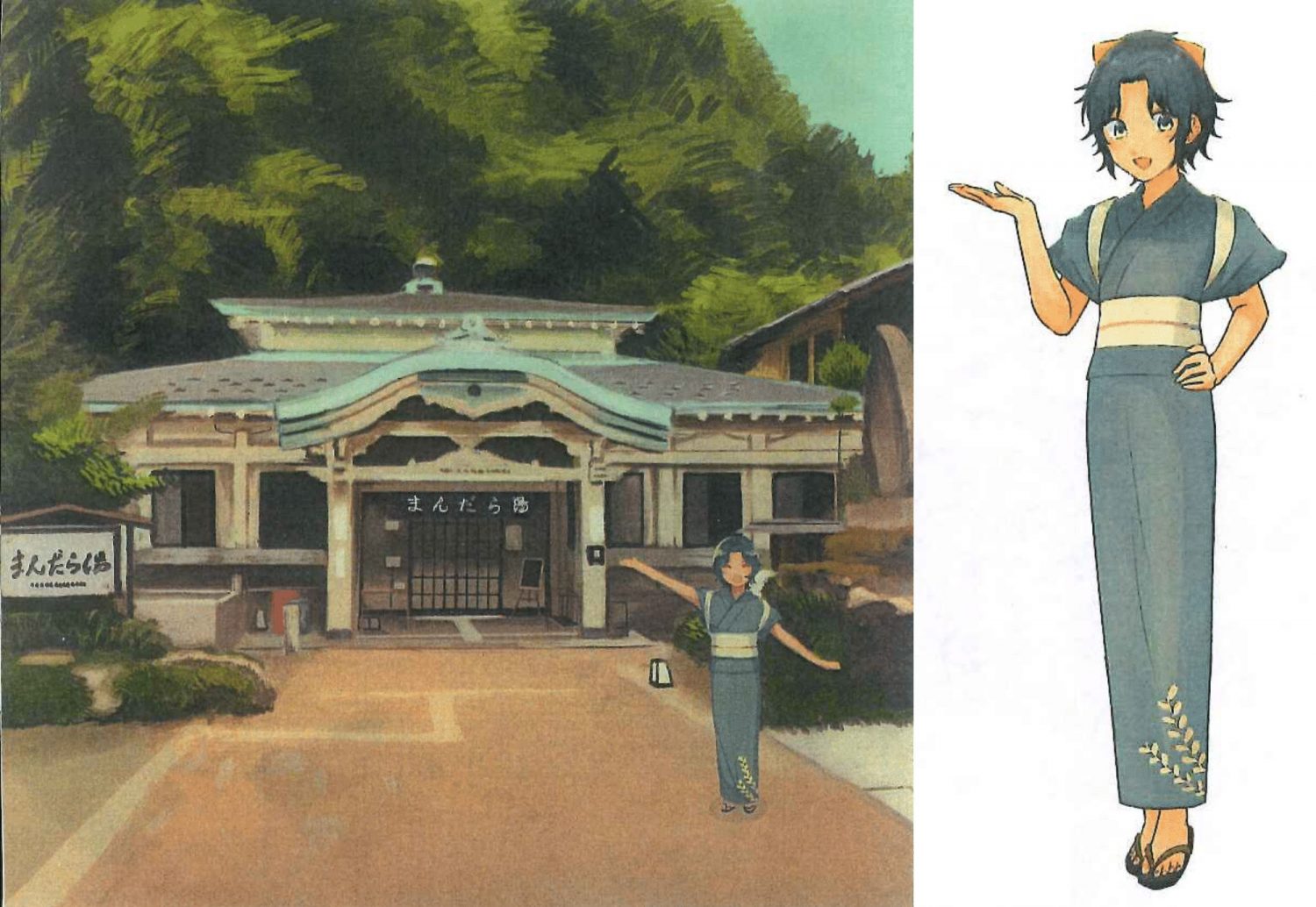 Aoi has the honor of representing the oldest of Kinosaki Onsen's hot springs, Mandara-yu. Records tell of a priest named Dochi Shonin who, over 1,300 years ago, traveled to modern-day Kinosaki Onsen and discovered the townspeople to be suffering from various plights. An oracle spoke to him and foretold that if Dochi Shonin were to pray for 1,000 days, good fortune would come to the townspeople. On his thousandth day of prayer, hot spring water sprung up from where Mandara-yu stands today, eventually leading to the economic prosperity of Kinosaki and the founding of Onsenji Temple. Aoi awaits visitors in a blue ensemble, honoring the blue-roofed Mandara-yu's legacy.
Want to experience the Seven Mystic Onsen for yourself? Book your getaway here!