The perfect place for your Japan beach holiday. A hidden gem along the northern coast of Hyogo prefecture. This beautiful beach is among the best and ranked in the top 100. Its crystal-clear waters have been given top marks by Japan's Ministry of Environment and clean, soft, sandy beaches make it all the better. Located on the JR line, it is easy to get to from Kyoto, Osaka, Kobe, and Himeji, taking an average of 3 hours.
ABOUT TAKENO
Let our local expert show you around

My perfect day in Takeno would include a relaxing stroll through the town, taking in the sites on my way to the sea where I would do some marine sports and then spend the rest of the time just sitting and watching the sea.

Takeno Riverside Walk
Don't just come for the beaches or during summer, our biggest tourist season. Instead I would like for you to take your time and enjoy the overlooked part of Takeno: the town. There is a great walking course that will take you from Takeno Station to the beach in less than 20 minutes. You will find small shops and traditional landscapes featuring homes with dark brown or black wood sidings. These were not painted, but rather burnt using a centuries-old technique of charring the surface of the cedar wood called yakisugi. This weathering process gives the wood durability against saltwater, surf, and sun as well as a nice aesthetic. It is part of the town's charm and beauty that should not be missed.
Explore the Town on Foot or Bicycle
For those wondering about the best scenic route to the beach and around town, check out the map of Takeno in the link below. This will guide you to photo spots, restaurants, and sightseeing spots around town. We hope you enjoy exploring our seaside town.
Rent-a-cycle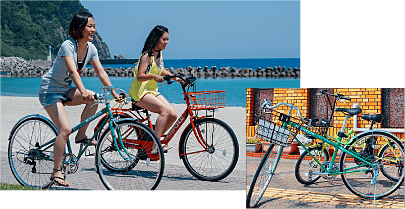 It will help you cover more ground and see more of the town in less time.
Number of Bikes: 15 total (5 at each of the listed locations)
Locations: Takeno Train Station, Takeno Tourist Association, Kitamaekan Rental Fee: Fees are based on an hourly rate, 500 yen for the first 2 hours and an additional 100 yen for each hour after that. You will be charged 500 yen when you come to register yourself for the bike rental. We will then charge you for any additional time when you return the bike. The max is 1 day at 1000 yen. Bikes must be returned by 5 PM.
Note: Bikes are only available on a first come first serve basis. Due to limited bike sizes, riders under a certain height may not be able to use the bikes for safety reasons.
Takeno Sea Town Market
Local businesses and fishermen set up shop once a month (excluding winter months) along the inlet near Takeno Beach. From 10 AM to 2 PM you can find fresh fish, handmade crafts, activities, and more at the market.
Location: Warehouse of Tajima Fisheries Cooperative Association Takeno

Beachside where you can find excitement and beauty both above and below the waters
Soft white sand stretches 1km along crystal-clear blue waters. A perfect destination for families and those seeking sun, beaches, and relaxation. Takeno Beach is a very popular destination, especially during Japan's beach season from June to August when the water is warmest for swimming. It is also a great place to go during the off season to read a book or have a picnic on the beach.
Although the beach is open year-round, there are no lifesaving procedures in place during the off-season and for your own safety you should not enter the waters during unsafe conditions. The cleanliness of this beach is also one of its charm points, so we ask that you take your garbage home with you and leave your area as you found it.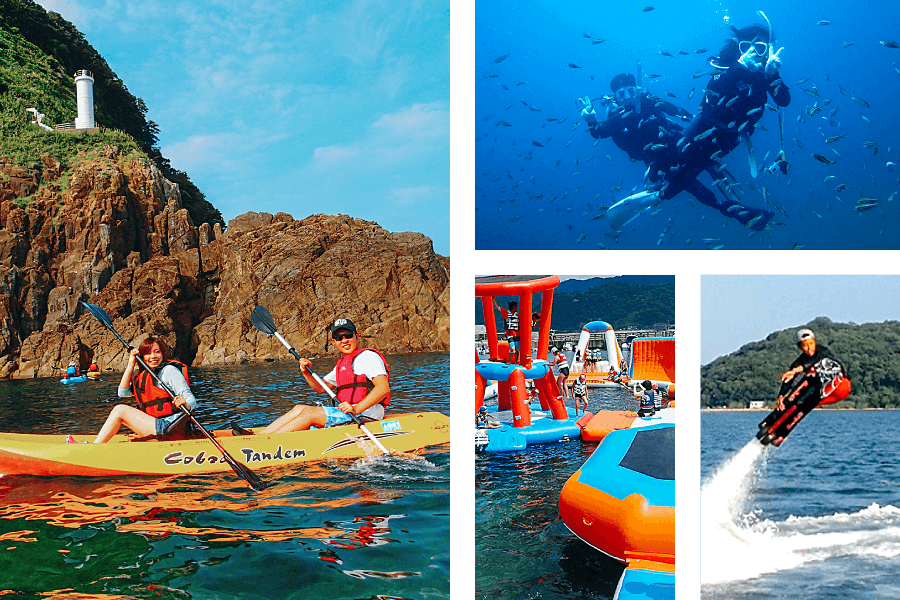 But don't just stick to the normal activities of swimming, sun bathing, or snorkeling. Take advantage of the many outdoor adventure programs and companies in the area. There are several that offer guided kayak tours of the coast where you can learn about the formation of the land and venture into caves. In summer, kids young and old can have fun running around on the water, sliding and jumping off our inflatable floating obstacle course. For more excitement try your athletic skills at fly board, the latest extreme water sport.

A site to see in any season
During the summer months the surrounding mountains are a lush green, and then turn colors of orange and red in fall. In the winter, mostly late January to mid-February, the area will be blanketed in white during heavy snow fall. Around the start of April, poofs of pink from the wild cherry blossom trees pop up around the mountains and roads.
See some of these beautiful natural scenes on hikes along the Nekozaki Peninsula or explore in and around town. Just don't forget your camera so that you can have a picture to prove to everyone just how beautiful it is, although pictures may not do it as much justice as the naked eye.
ACCOMMODATIONS
Small family run accommodations for affordable prices.
LOCATION: Takeno; 9km from Kinosaki Onsen. Accessible by train (Takenoa Sta.) and bus.
Some Available Plans
LOCATION: Takeno; 9km from Kinosaki Onsen. Accessible by train (Takenoa Sta.) and bus.
Some Available Plans
LOCATION: Takeno; 9km from Kinosaki Onsen. Accessible by train (Takenoa Sta.) and bus.
Some Available Plans