Hot spring trip with young kids, toddlers, and infants
The onsen and ryokan experience isn't just for adults. Kinosaki is a family-run and oriented hot spring town. Because many local families run the local businesses (ryokan, restaurants) and consider the 7 public baths their second bath, families with kids of all ages are welcome!

The town has great walkability. Walk from one end of this beautiful town to the other in about 20 minutes, even while pushing a stroller or carrying a baby.

Don't stress. The hot springs are for relaxing and that is no different for families with little ones. Kinosaki is a popular family destination as well.
You will find families traveling with babies, toddlers, kids, pre-teens, and every other age.
QUICK TRAIN RIDE FROM KYOTO OR OSAKA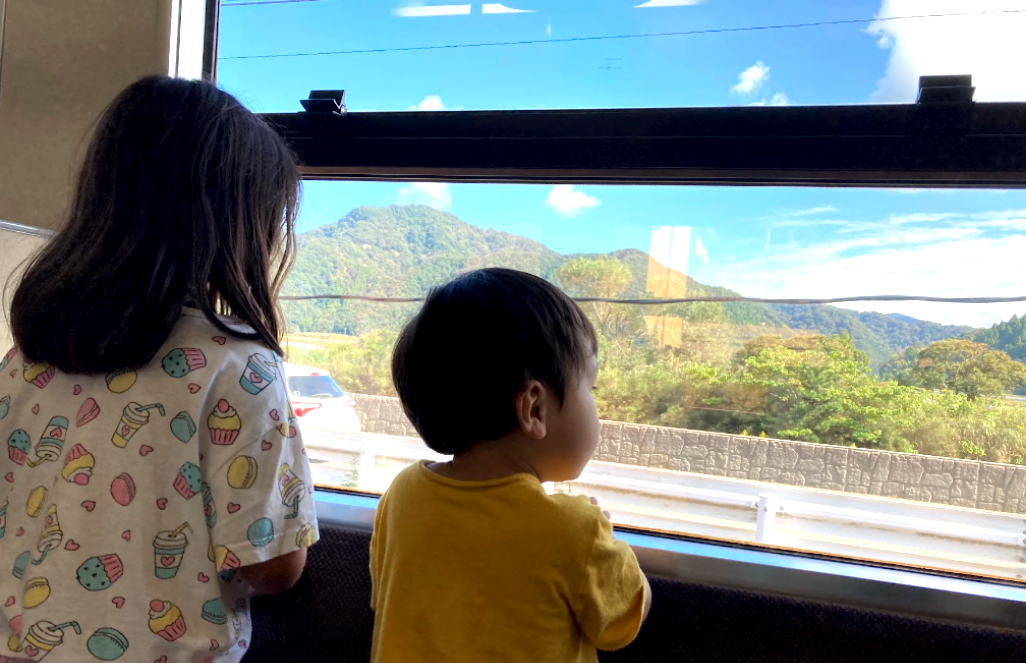 Getting to Kinosaki in and of itself is a fun activity for the kids.
Catch a limited express train, the fastest option, from Kyoto or Osaka and enjoy a scenic ride about 2.5 or 3 hours respectively.
We suggest arriving just before your check-in time.
POST ARRIVAL FOOT BATH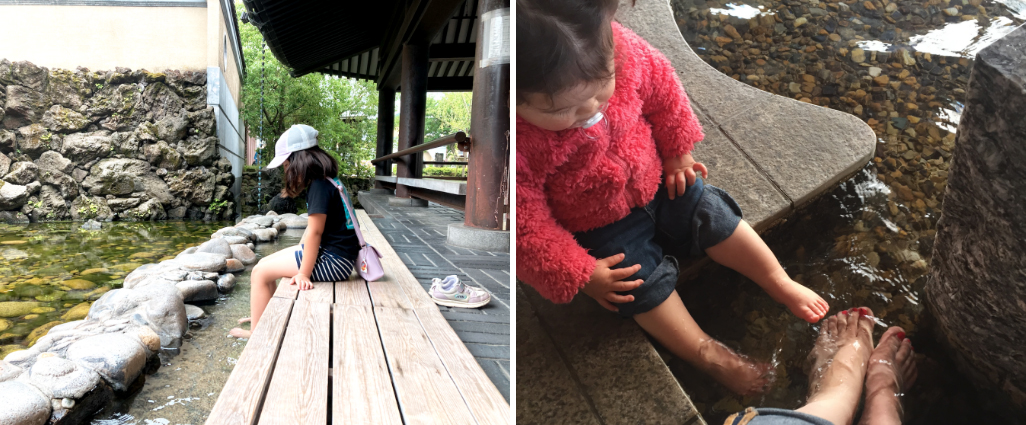 After your train ride walk, over to the foot bath next to the station for a quick soak. Be sure to bring a small hand towel or handkerchief to dry off your feet.
There are 5 foot baths located throughout the town. The water can be a little hot, so be sure to test the water before dunking your feet in.
Need to do a diaper change?
There is a changing station at SOZORO Tourist Information Center located to the right, in front of the station.

One more is at the small park along the road that runs from the station to the willow-lined canal.

The public restroom located near the Kinosaki Ropeway in the parking lot of Kono-yu bathhouse has a handicap bathroom with a bed that you can fold out and use as a changing table.
A SNACK BEFORE CHECK-IN
There are so many choices near Kinosaki Onsen Station. Here are some places you can grab a juice, coffee, something sweet, something savory, and just something lovely.
SORELLA CAFE

-Across the street from the station (30 sec. walk)
-Donuts
-Coffee (can get one to go too)
-Juice, sodas, chocolate milk

Bonus features:
-Diaper changing room and table (gender neutral)
-Free WiFi with purchase
-Outlets for charging your devices

KINOSAKI BURGER

-Across the street from the station (30 sec. walk)
-Hamburgers
-Frech fries
-Chicken nuggets
-Milk Shakes, juices, sodas

Bonus features:
-Free WiFi with purchase
-Outlets for charging your devices
-Takeout available
BOOK CAFE UN

-About a 3 minute walk from the station
-Coffee, tea, and alcohol
-Small Japanese sweet Dorayaki
-Book/reading corner
CHECK-IN FOR YOUR RYOKAN STAY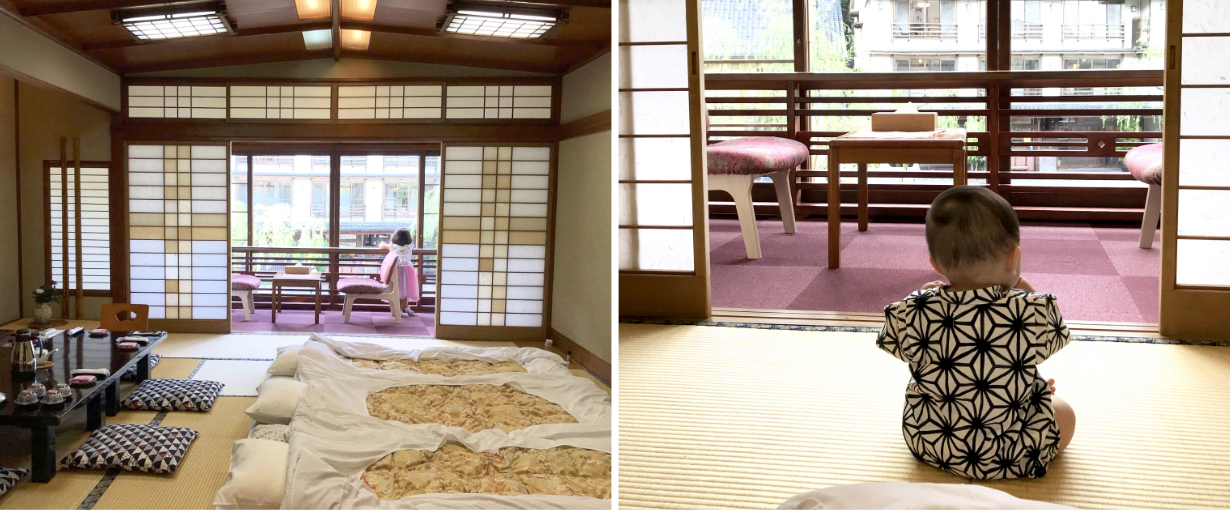 There are a fair amount of ryokan in Kinosaki. Check out our list of ryokan that are baby and kid friendly, and some of them even have special stay plans just for the kids.

It helps to check-in by 4PM or 5PM at the latest so that you will have time to settle in before dinner.

The traditional sleeping style in most ryokan are perfect for kids. Thick futon mattresses are laid out side-by-side on the straw mats (tatami). Since you will be essentially sleeping on the floor, there is no need to worry about the kids falling off the beds.

Where are the beds? In most cases they are put away when you first arrive. The staff will set up your beds in the evening after dinner. They will also clean up your beds in the morning. What great service, right?
WALK OR RIDE TO YOUR RYOKAN

Because the town is super walkable, you can walk to your ryokan, but you can also take the free shuttle available to guests staying in Kinosaki. The shuttle is a colorful micro bus that picks guests up in front of the train station and takes them to their ryokan (as long as it is in Kinosaki).
WHAT'S FOR DINNER?
There are two basic options for dinner. The first is reserving a dinner with your stay and eating at your ryokan, and possibly in your room. The second option is eating out at a local spot.
RYOKAN DINNER

Eating dinner at a ryokan is a big cultural point of staying at a Japanese ryokan.
Depending on your ryokan they will either serve you in your room or at their dining room.
Eating in your room works great if you have small, active kids. If they get distracted and want to move around, then you can set up a little play area in the room. You won't have to worry about them bothering anyone else, and you can still sit and enjoy your dinner.

And yes! There are kids meals available at most of the ryokan listed in the link below. Double check with the ryokan to make sure.
Things that might come in a kids meal could be karaage (fried chicken), hamburger steak, fried shrimp, grilled fish, sashimi, rice, and vegetables. Each ryokan is different, so it's best to check with the ryokan directly to be sure.


DINING OUT

There are a few restaurants to choose from.

One thing to note is that many shops, including restaurants, will close for a short time (usually between 5~8pm).
This is because most visitors to Kinosaki will be eating at their ryokan and there is less business for the shops during this time.

You can find noodle shops, yakitori, sushi, western style, and seafood shops to name a few.
Click on the link below for more.

Most of the shops along the street that runs in front of the station will close early and are not open for dinner.
The shops towards the center of town are your best bet.
BABY FOOD AND FORMULA

Infants that are still needing bottles and baby food, you are more than welcome to bring baby food into the ryokan and also restaurants.

Rooms are usually equipped with electric kettles for boiling water. If not, you can ask staff for help to boil water for a bottle. At restaurants, you can ask staff for hot water for your baby as well.

Should you run out of baby food there is small grocery store near the station that carries a small selection of baby food.
GET THE WIGGLES OUT
SMALL PARK AND PAVILION

A great place to play, have a picnic, and change a diaper

If you walk along the main street that runs in front of the station for a few minutes, going towards the canal, you will come upon a cute little park and public pavilion.
This is a great place to let the kids run and have some fun.

There is also a public pavilion that you can picnic at. Inside you will find a nursing room and changing tables as well.
The public bathrooms here are also very clean.

In the corner is a small collection of Japanese picture books for the kids to flip through.
ONSEN HOPING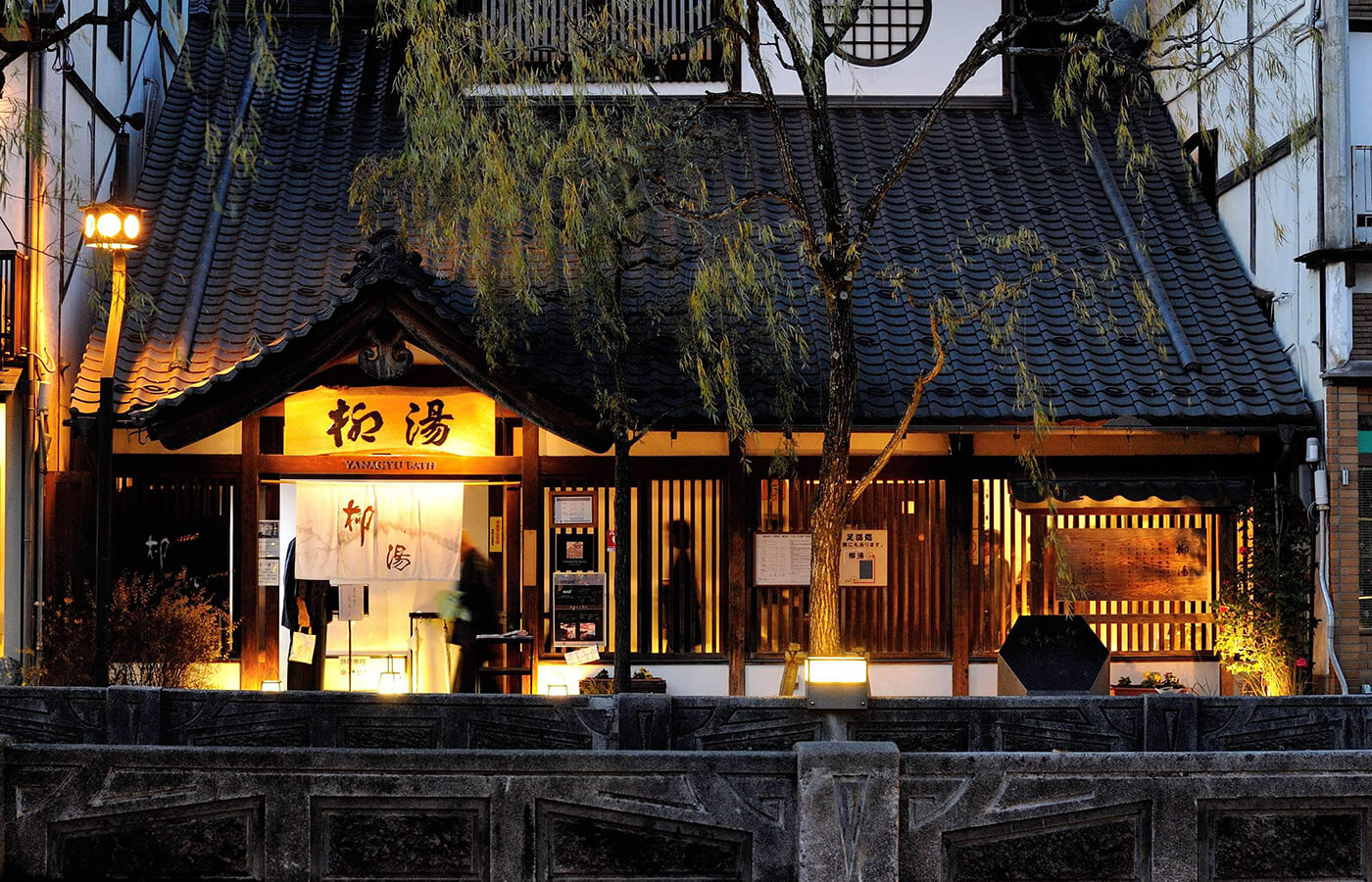 There are a total of 7 public hot spring bathhouses in Kinosaki. When you stay at a ryokan you will most likely receive a free pass to all of them for the duration of your stay.

Note, the bath waters are natural hot spring water that has been cooled but can still feel hot to the kids. Be sure to test the water before getting in.
If you are feeling faint from the heat, take time out of the water to cool off.

All of the bathhouses have separate sides for men and women. There is no real rule stating the age limit that a child can enter the opposite gendered bath. However, the general rule of thumb and proper manners is that school-aged children (about 6 years and older) should enter their own gender's side.

For families that wish to bathe together, looking for privacy, or that feel more comfortable bathing in private you can find a list of ryokan that offer private baths at their facilities at the link below.
HERE ARE SOME RECOMMENDED BATHHOUSES FOR THE KIDS
JIZO-YU

PERFECT FOR INFANTS & TODDLERS

This is a popular one with local families because of its separate kids bath located in the corner beside the main bath.
Parents can soak while keeping an eye on the kids.
There is also a changing station in the dressing rooms of both the men's and women's sides.

TIPS:
Keep one of the bowls you use to wash at the shower station within reach, you can use this to scoop out any "accidents." If they were to have an accident do you best to scoop it out and notify a staff member immediately. You can flush what you scooped out down the toilet.
ICHINO-YU

A fun cave bath for toddlers and older kids

Located right in the middle of the town, this bathhouse is characterized by its yellow facade and large windows.
Older children will enjoy bathing in the rock cave bath.

After your bath, you can grab an ice cream for the kids and a cold refreshing drink for the adults at one of the nearby shops.
GOSHONO-YU

A beautiful outdoor bath with lots of room

A little further towards the back of town (closer to the ropeway) is this newly renovated outdoor bath.
The bath itself is very spacious. The kids will love the feeling of bathing in the woods as the waterfall in the back flows down.
In the winter this one is especially fun if it is snowing. It also cools the water down a little bit so that even the younger kids can soak a little longer.

The lounge at the entrance is also great for relaxing with the kids. Grab a drink from the vending machines in the back to help cool down after your nice hot bath.

Across the street are shops selling soft-serve ice cream and drinks. There are also a couple of retro-style arcades located close by.
WEARING A YUKATA

When you head out be sure to put on your yukata first. For the kids, the ryokan will provide kid size yukata if they have them available. Yukata usually run as small as 110~120cm (sizes are based on height).

The ryokan will also provide everyone (size depending) with geta, wooden sandals, but they may be hard for kids to walk in. It is completely acceptable to wear their regular shoes or sandals with their yukata.

Parents too, if the geta aren't comfortable for walking feel free to use your own shoes. The staff will have put your shoes away after you arrived (at most ryokan it is customary to take your shoes off at the entrance), simply let them know your room number and they can retrieve them for you.
YUKATA RENTALS

For those not staying in Kinosaki but would still like to experience wearing a yukata

IROHA Yukata rental shop is located next to Goshono-yu bathhouse.
Open from 10am~10pm, closed Thursdays, you can find over 200 styles of yukata ranging in size from 130cm.
They will help you put on your yukata at the shop and yukata rentals are for the day.

They also have yukata for purchase ranging in size from 120cm for boys, girls, men and women.
Although there is a limited number of smaller yukata for kids, they also have some jinbei for babies.
JINBEI

For infants and toddlers

Jinbei, a two piece version of the yukata, is a great alternative for infants and toddlers that aren't big enough for yukata.
The jinbei is made from the same kind of material as yukata and also come in a range of patterns similar to the yukata.
You can find them in various colors and are gender neutral. You can even find them in adult sizes.
Jinbei usually range in size from 80cm and up.

Some souvenir shops around Kinosaki and IROHA Yukata rental shop sell a few, but they will be most available during the summer months as they are more commonly associated with summer festivals.

For those really wanting one and are visiting around June to August you can find them at most department stores. There are a few places in Toyooka that sell them around those months.
THINGS TO DO WITH THE KIDS
EXPLORE THE ROPEWAY AND MT. DAISHI




HIKING


There is a beginner level hiking trail that will take you past Onsenji Temple and up to the summit of Mt. Daishi. It can be steep in some places, and the first part is entirely stairs.



ROPEWAY


The ropeway is a more relaxing way to get to the top. You can buy one-way or round trip tickets to the mid-way station or all the way to the top.
You can also take the ropeway halfway up or down and walk the rest.



AT THE SUMMIT


There is a viewing deck on the roof of the station with a beautiful view over the town. This view was awarded one star in the Michelin Green Guide Japan.
Grab a drink and light snack at the cafe at the top while the kids play at the playground.
Off to the side of the ropeway you can try your luck at throwing small clay discs (kawarake) through a hoop for good luck. You can buy the clay discs at the cafe.
TRADITIONAL CRAFT KEEPSAKE



Note: this activity is for children 12 years and older

Make your own one of a kind mugiwara zaiku box. Mugiwara zaiku, straw craft, is a traditional art form that was born right here in Kinosaki.
A master craftsman will walk you through the processes of making your own keepsake box using vibrant colored strands of straw, which are only produced in Kinosaki Onsen.
JAPANESE CULTURAL EXPERIENCES
TEA CEREMONY, FLOWER ARRANGEMENT, KOTO



Try various traditional Japanese cultural experiences!
Learn to play the koto, the national instrument of Japan, how to strategically place flowers with an ikebana lesson, or participate in a traditional tea ceremony.
Children of any age can participate, and adults are asked to stay with and help younger children.