Traditional Straw Craft Box Creation Activity (With Take-Home Memento)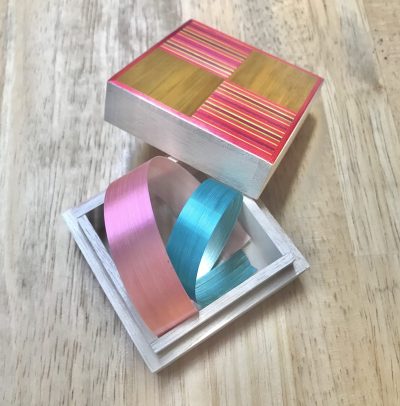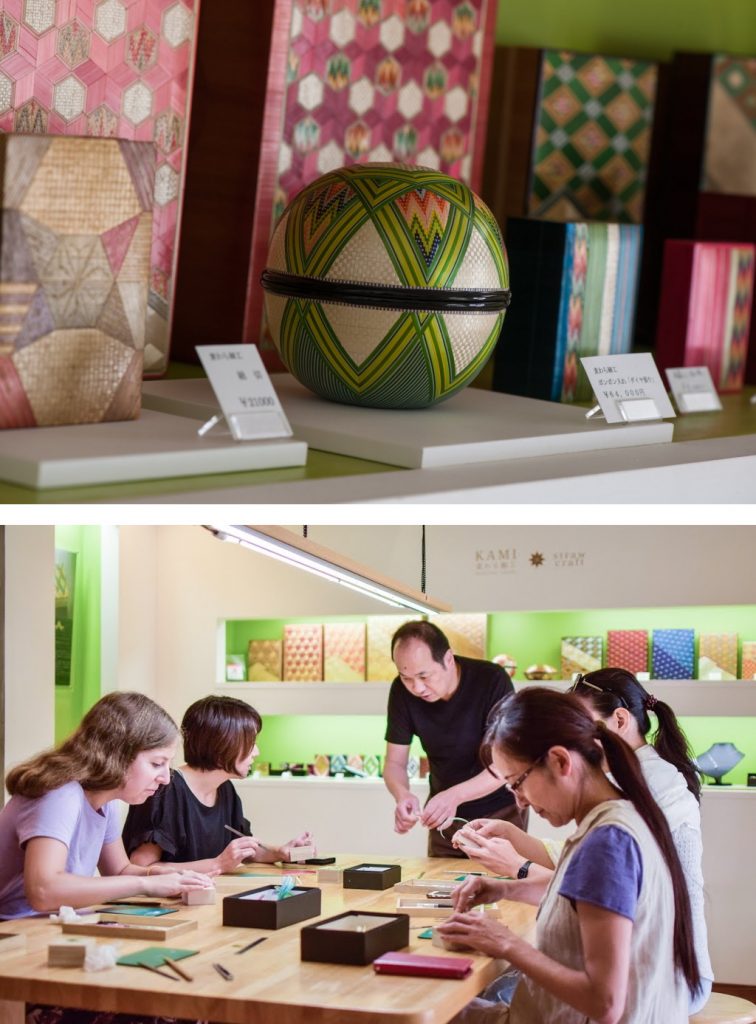 Straw craft, called mugiwara zaiku in Japanese, is a unique, traditional handicraft with vibrant colors and intricate patterns that, in all of Japan, is only produced in Kinosaki Onsen.

*Note: the above straw craft ball is a product available for purchase.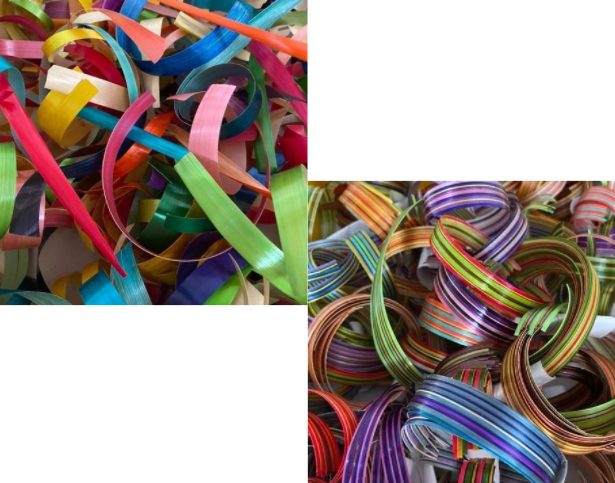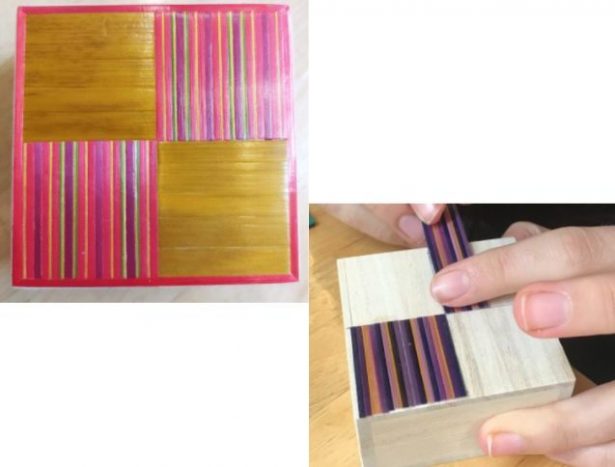 Observe the fascinating and complex straw craft process. Make your own original straw craft design on a small box to keep as a lovely souvenir. While reading English instructions and observing the craftsman's hands you will get to trim, position, and glue delicate pieces of straw into a beautifully intricate patterned design.

Choose from an already-set design, or create your own free design like the boxes below.
Once your design is complete, the craftsman Mister Kamiya will place the final border on your box.

Afterwards, receive some strands of straw as a memento and create more straw craft designs at home!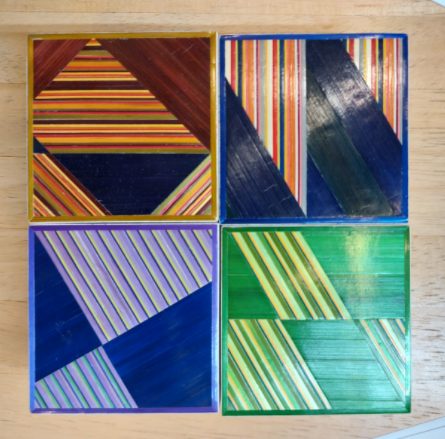 It is said that in mid-Edo era (around 1720 AD), a craftsman named Hanhichi from the Inshuu area (what is now Tottori Prefecture) came to stay in Kinosaki Onsen. To make money to pay for his lodging expenses, Hanhichi sold bamboo flutes and spinning tops decorated with colored straw. After this, the straw craft was also used to decorate chests, boxes, and wooden prayer plaques. After the Meiji period (1868-1912 AD) began, famous artists visited Kinosaki and drew sketches for the straw craft's designs, and thus straw craft gained popularity as an expensive, popular, and unparalleled handicraft. Today, the straw is flattened, dyed, and placed on small boxes, colored paper, spinning tops, and clay bells. Kinosaki Onsen is proud to be the only place in Japan which continues the traditional production of straw craft while preserving the original skills and techniques of the past.
DETAILS
REGISTRATION START

2022/06/01
RESERVATION DEADLINE

7 days before activity
ACTIVITY OPTIONS

10:00~11:30 Plan
13:00~14:30 Plan
15:00~16:30 Plan
SCHEDULE
(Some times may differ)

・Meet at Kamiya Mingei
・Receive English explanation and materials from Mister Kamiya
・Create your box
・Wait for Mister Kamiya to place the finishing touches (the final border) on your box, walk around town
・Pick up your box and straw strands, end of activity
ACCOMPANYING GUIDE
(INCLUDED OR NOT)

Not Included
MINIMUM NUMBER OF PEOPLE

1
AGE REQUIREMENT

12 years old and up
MEETING PLACE

Kamiya Mingei, 391 Kinosakicho Yushima, Toyooka, Hyogo 669-6101
IMPORTANT INFORMATION

・Please let us know if you have any allergies.
・No insurance is included in this activity.
・Please note that the craftsman does not speak English. An English instruction sheet will be provided.
PRICES
(Per person unless otherwise noted)

| Number of People Participating in Total | Price per Person (12 years and older) |
| --- | --- |
| 1-4 people | 6,000 yen |
INCLUDED IN THE PRICING

Activity materials, 2 strands of straw to take home
CANCELLATION FEES

| Day of Cancellation | Cancellation Fee (% of activity price) |
| --- | --- |
| The day of | 100% |
| The day before | 50% |
| 2-7 days before | 30% |
| 8+ days before | 0% |
ACCEPTED PAYMENT TYPES

Pay by credit card (VISA, MASTER, JCB, AMEX, DC) via an activity confirmation link in an e-mail that we will send to you following your reservation.
OPERATOR NAME

Kamiya Mingei
Request Form