STAY AT THESE RYOKAN WITH THE WHOLE FAMILY, INCLUDING BABIES AND LITTLE KIDS
When going to Japan a ryokan stay experience is high on everyone's to-do lists, even parents. As a parent you may be telling yourself, "I'd love to stay at a ryokan, but I have kids and ryokan seem so mature and fancy for kids." Yes, they do, but that is why parents AND kids love them! While there are some ryokan that require all their guests to be 12 years and older, there are still ryokan that cater to parents traveling with younger kids.
Ryokans in Kinosaki with baby and child friendly amenities and plans

KINSUI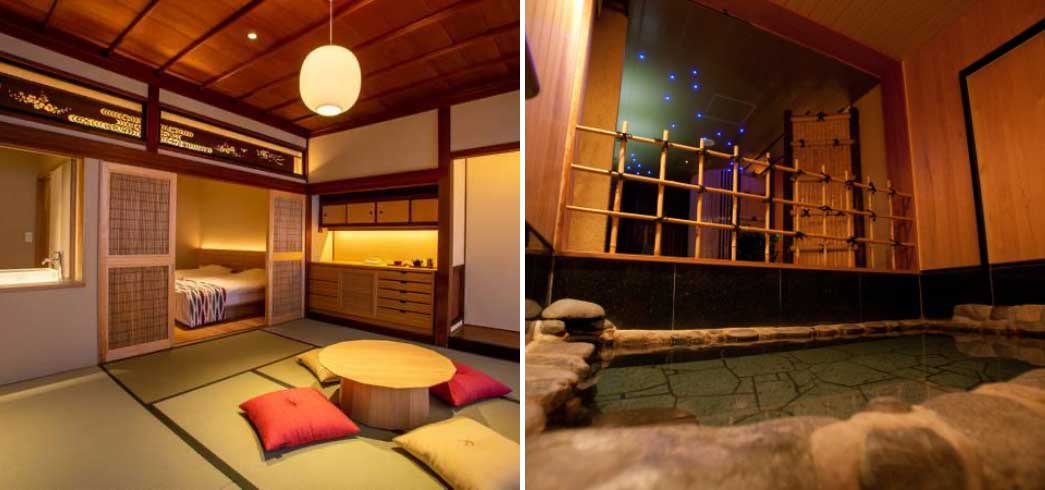 Only a 6 minute walk from Kinosaki Onsen station, this absolutely charming inn is set back one street from Kinosaki's main road.
Kinsui welcomes families with little travelers.
Kinsui was recently renovated in 2021, and with the renovations they created a family-oriented guest room that allows parents to relax and kids to have fun. This original room is designed after a picture book "Kinosaki Yunomatope" and features art work from the art unit Tupera Tupera. This special family room has two spaces, a reading corner, a climbing bench with a tunnel that connects the two spaces, and a special mini entrance for the kids.

Check the ryokan details page at the link below to find out more about their "Children Welcome" stay plan that includes free access to one of their private onsen.
Baby, kid, and family friendly features

-Special family room
-6 minute walk from the station
-3 minute walk from the kid friendly bathhouse Jizo-yu
-Child's meal
-Toys, games, and books for children
-Baby Bumbo chair
-Kids yukata (size 100cm~)
-Will warm up baby food on request
-Reservable private baths
MIKUNIYA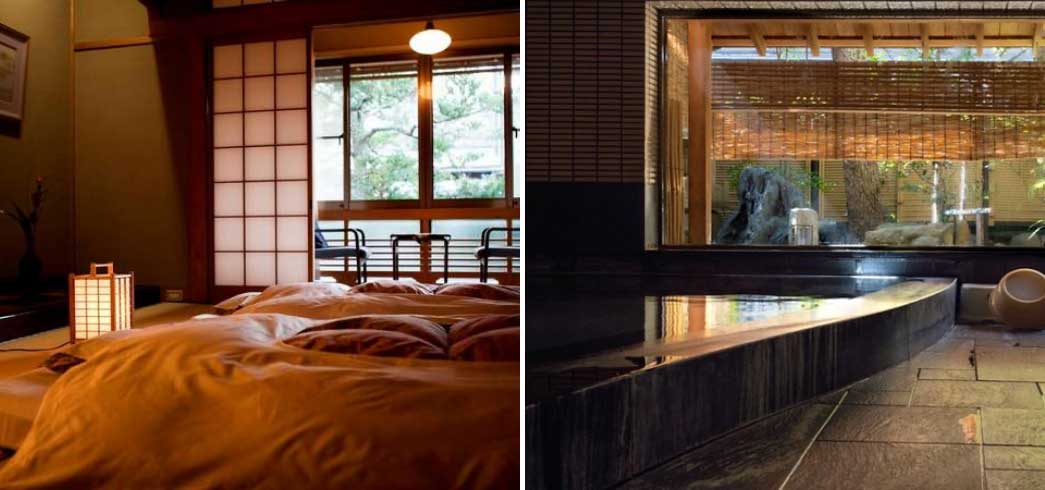 Certified as a baby and child friendly ryokan by Japan's Miki House Child Care Research Institute. Mikuniya has family-friendly facilities that make staying here comfortable for both the kids and parents.

This is a medium-sized Japanese inn near the station and is known for its affordable prices, delicious seasonal cuisine, and beautiful facilities.
Baby, kid, and family friendly features

-All rooms are non-smoking
-All rooms come with a DVD player (region 2 only)
-DVD rentals available at the front desk
-Spa located at the hotel
-Special children's stay plan available (inquire directly for details)
-Child's dinner and breakfast
-3 reservable private baths
-In-room dining available
-Diaper bin
-Baby chair
-Hot water pot
-Microwave available in public spaces
-Ice machine
-Coin laundry machines
-Baby soap
-Baby bath (limited quantity)
-Children's yukata and jinbei
NISHIMURAYA HOTEL SHOGETSUTEI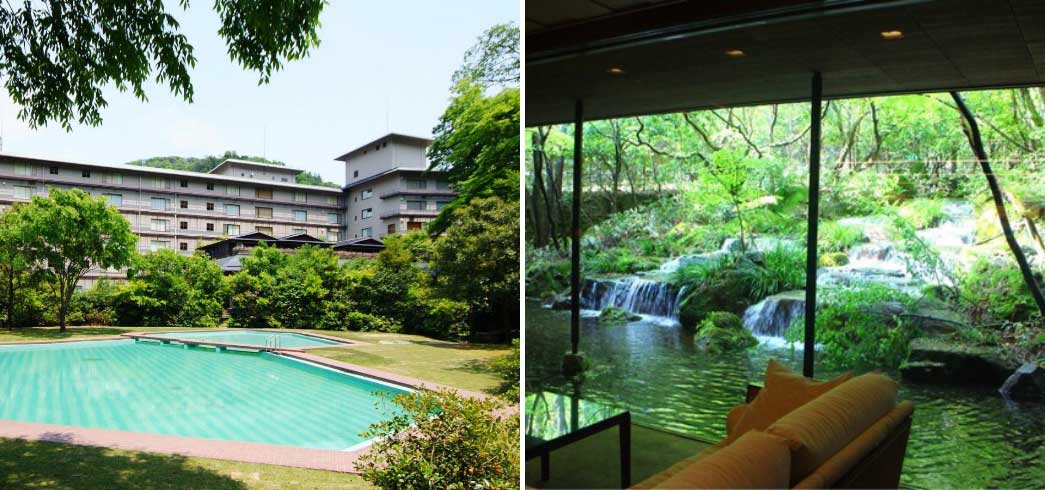 Nishimuraya Hotel Shogetsutei is a combination of modern hotel & traditional ryokan. Non-smoking Japanese-style rooms, Japanese-style kaiseki dinners, free shuttle service, complimentary Wi-Fi, private onsen spas & aroma treatment massage are just some of the features to make your stay a relaxing one! All guests receive a free pass to the public hot springs of Kinosaki Onsen.
Baby, kid, and family friendly features

-Private family baths (reservation required / separate fee)
-Outdoor pool (open late July - August only)
-Child's meal
-Kid's yukata (sizes from 90cm)
-Discounted rates for older children
-Children's bedding
-Kid's chair
-Infant formula pot
-Baby bottle sterilization case
-Baby shampoo and soap
-Baby bath chair
-Diaper bin
-Stroller (for toddlers and babies that can sit up on their own)
(Baby amenities have limited numbers, please request these items with your reservation or when you check-in)
MORIZUYA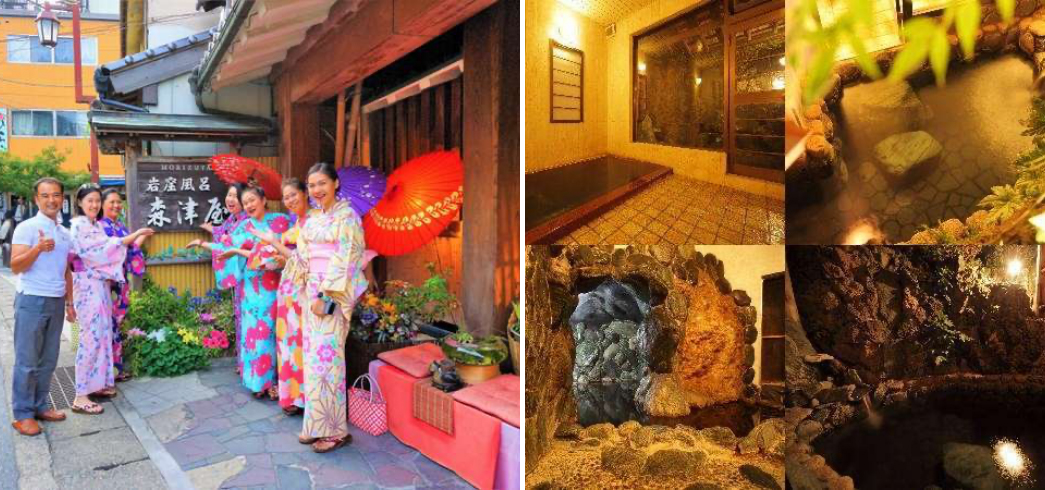 Located in the middle of the bustling hot spring town, conveniently located for shopping and visiting the open-air baths. The inn is famous for its cave bath and open-air bath.
Baby, kid, and family friendly features

-In-room dining
-Free transport between Kinosaki Station and Morizuya
-Private baths
-Kids play room
-Child's meal
OTHER RYOKAN THAT WELCOME FAMILIES

SHINZAN RAKUTEI

This early 20th century style ryokan is filled with nostalgia. Spacious rooms and baths give families room to move around.

Children under 1 stay for free. If you notify the inn that you will be coming with an infant or toddler they can prepare a jinbei (500 yen charge) or children's yukata (1,000 charge) for you. (Note: limited availability)



Baby, kid, and family friendly features


-Infants under 1 years old stay free
-Child jinbei and yukata (rental fee charged, limited quantity)
ONISHIYA SUISHOEN

A short distance from Kinosaki station is Onishiya Suishoen. This inn features a central garden with a Noh (traditional Japanese dance-drama) stage, open-air bath and sauna.



Baby, kid, and family friendly features


-Child yukata (rental fee charged, limited quantity)
-Children's dinner
SERI

Located near the banks of the Maruyama River, this inn specializes in local cuisine featuring fresh seafood brought in from the nearby port of Tsuiyama. Each guest room has a beautiful view of the river.



Baby, kid, and family friendly features


-Open-air private bath
-Children's meal
SENNEN NO YU KOMAN

A 3 minute walk to 3 of the 7 public hot spring bathhouses.
The inn's purely unique Japanese wooden structural physique adds a defining visual attraction to the house lined street it sits on.
All guest rooms are designed after traditional Japanese tea-ceremony rooms, giving a sense of refined charm to the rooms.
The menu changes monthly, using carefully selected fresh ingredients to create the perfect cuisines for guests.



Baby, kid, and family friendly features


-Reservable private bath
SHINONOMESOU

A beautiful and traditional Japanese style building. The wooden interior warmly welcomes guests as they enter. From the wooden lounge and cozy interior rock garden one's gaze wanders out upon the impressive view of tiled roofs and eaves, wooden rails and Japanese paper windows. Part of the glass-floored corridor travels over a small pond with colorful carp swimming. Crab cuisine is served year round. All seafood is caught fresh in the local harbor, and among the catch is red snow crab and snow crab. We use only local and naturally (organic) grown produce.


Baby, kid, and family friendly features


-Reservable private bath
-Children's meal
TSUTAYA

Ryokan Tsutaya is known for its historical and artistic decorations. The interior has been decorated with hand writing letters and Japanese paintings by Katsura Kogoro (later known as Takayoshi Kido) who stayed at the property and played a large role in the establishment of the new Meiji government in around 1864. Enjoy our relaxed atmosphere and experience a taste of warm and personal service.



Baby, kid, and family friendly features


-Children's meal
-One reservable private villa (inquire directly for details)
TAJIMAYA

Twelve guest rooms are designed with the popular and charming 'Modern Japanese' style.
Three of the hot spring baths, one an open-air bath, can be used for private bathing. Guests can use these baths to enjoy a soothing hot bath at their own leisure. Just simply jump in whenever the bath is free.
Famous Tajima beef (better known as being the origin of Kobe beef) is served from spring to fall. In the winter snow crab is the main delicacy.
Dinners are served in your own room so that you may continue to relax.
Originally designed men's and women's traditional Japanese yukata are free for rental.



Baby, kid, and family friendly features


-Reservable private bath
-In room dining