The basalt (Genbu) caves are a designated national treasure and part of the San'in Kaigan UNESCO Global Geopark.
Genbudo Museum was newly reopened in the spring of 2018 after undergoing extensive renovations to house its collection of rare minerals and precious stones as well as newly added fossils that include a t-rex, pterosaur, and Asian elephant.
Located directly out in front of the museum is the natural national monument Genbudo Caves, also a part of the San'in Kaigan UNESCO Global Geopark.
Genbudo Museum
Genbudo Museum is located at the entrance of Genbudo Park, a designated national natural treasure. On the first floor is a weaving workshop where guests can learn about Toyooka's traditional art of weaving that has a 2,000-year history and about its connection to the local people. As one wanders the first floor they will also find themselves face to face with an Asian elephant fossil, ancient animals which once roamed the San'in Kaigan Geopark.
On the second floor there are exhibits covering beautiful and fascinating minerals and rocks as well as fossils including that of a t-rex. See if you can find the glowing and musical rocks on display.
Museum Cafe
At the restaurant seasonal items made with local ingredients are on the menu, and guests can enjoy a cool drink on a hot day or a warm drink on a cold day's visit. The outdoor terrace offers a beautiful panoramic view over the Maruyama River and surrounding mountains. Go to the souvenir shop to find Toyooka bags, sweets, and more.
Genbudo - Basalt Caves & Park
Home to the five beautiful basalt Genbudo Caves with over 1.6 million years of geological history, Genbudo Park was designated in 1931 as a National Natural Monument by the Japanese Government due to their significant role in the discovery of reverse magnetization, and the impressive caves are also part of the San'in Kaigan UNESCO Global Geopark, making it a perfect educational outdoor trip for visitors to the area.
Genbudo, Japanese for Basalt Cave and can also be interpreted as the Black Tortoise Cave, consists of 5 caves made of columnar joints that formed over 1.6 million years ago after the magma from a volcanic eruption cooled, contracted, and formed vertical cracks. These curvaceous columns have a distinctive polygonal shape and a honeycomb pattern. The five caves are each named after four Chinese mythological creatures Genbu (Black Tortoise), Seiryu (Azure Dragon), Byakko (White Tiger) and Suzaku (Phoenix). Two caves are named after the Phoenix but are either North Phoenix or South Phoenix.
Before becoming a park and museum for the public to enjoy, the Genbudo Caves were utilized as a quarry during the Edo Period (1603~1867), resulting in the recessed areas of the cave that are still viewable to this day. Locals discovered that the rocks could easily be used for building materials, and visitors can still see these basalt rocks just about everywhere during one's visit to the area, including in the park's walkways.
The basalt rocks also hold scientific and historical importance. In 1926, the Japanese geophysicist Motonori Matuyama was the first to surmise that the Earth's magnetic field had undergone reversals in the past, a theory made here when he discovered that the polar magnetic alignment of this basalt is the opposite of the Earth's current magnetic polarity. Evidence was found in Genbudo that sometime during the formation of this basalt the Earth had experienced a reverse of magnetic polarity.
Access
While Genbudo does technically have its own train station and therefore is accessible by train (to a point) there is just one small catch. The big river that separates the station and the park. But worry not! For visitors that are coming by train, a boat can be called for pick up.
Before riding the train please first call the museum and let them know of your estimated arrival time at Gembudo Station. The boat fare is 700 yen for adults, 400 yen for children, and 200 yen for infants round trip. Please note that the boat may not operate during bad weather.
Other options for accessing Genbudo Museum and Park include taxi, rental car, and bicycling.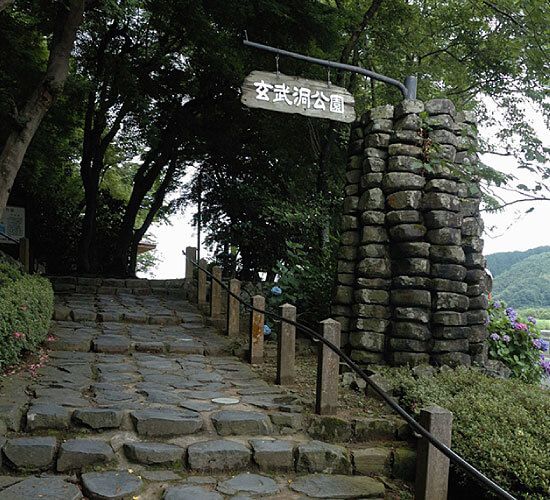 Entrance to the park and basalt caves.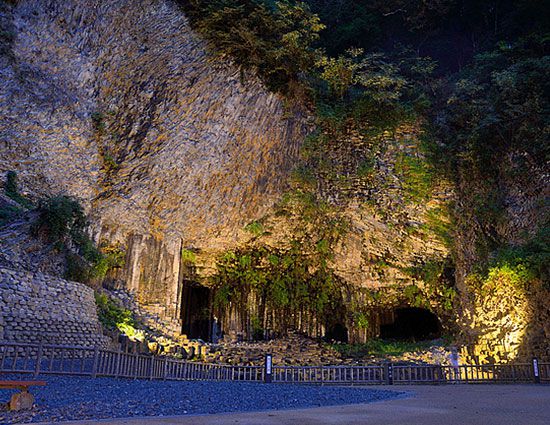 The basalt caves lit up at night, this happens only during selected seasons.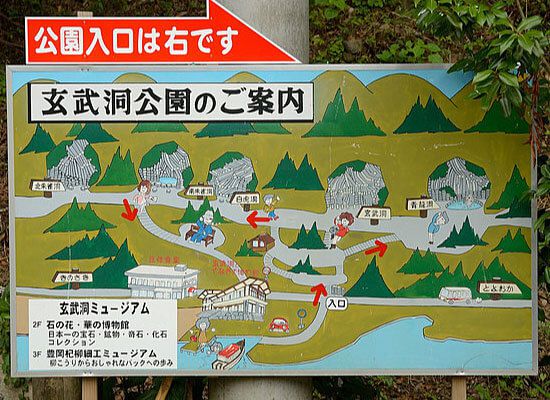 Map of the park and basalt caves.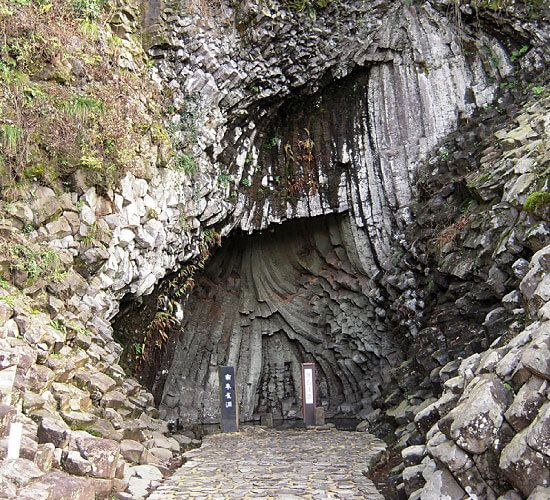 South Suzaku (Phoenix) Cave.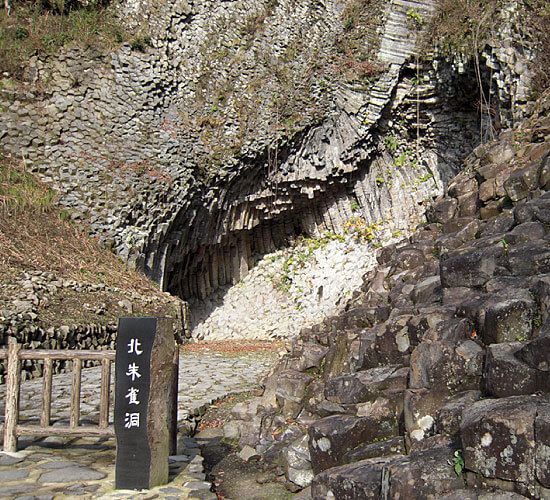 North Suzaku (Phoenix) Cave. If you look closely you can see phoenix in the cave's cutout.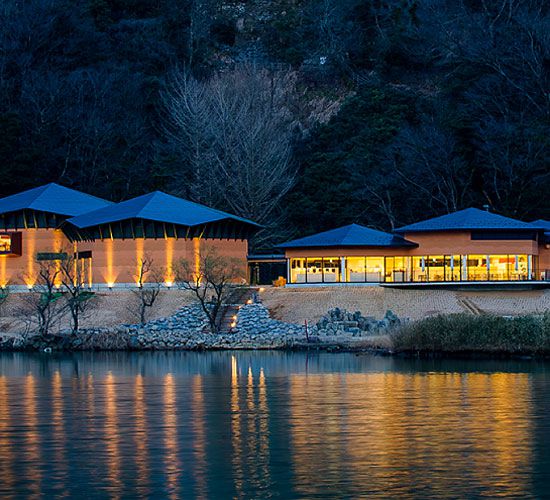 Genbudo Museum along Maruyama River.
Information listed below was last updated 03/2023 and is subject to change.Contact the business directly for updated information. Note, most businesses can only speak Japanese.
BUSINESS INFORMATION
Business Name

Genbudo Museum and Park
Type

Cafe and restaurant in museum
Business Hours

9:00~17:00
Restaurant & Cafe: 9:00~17:00 (L.O. 16:30)
Morning (Breakfast): 9:00~11:00
Lunch: 11:00~15:00 (L.O. 14:50)
Holidays / Closed

No fixed days off, please check the Genbudo Museum homepage for updated information on the museum's holidays. Gebudo Park open year-round.
Telephone

0796-23-3821
Address

Genbudo Museum
1362 Akaishi
Toyooka-shi, Hyogo-ken 668-0801
Homepage
Average Price Range

General Admission (Museum)
Adults (age 13+) 800 yen
Children (age 6-12) 500 yen
Infants (4-6, preschool age, must be accompanied by an adult) 400 yen

Boat from Gembudo Sta.
One-way fare:
Adults (age 13+) 400 yen
Children (age 6-12) 250 yen
Infants (4-6, preschool age) 150 yen
Round trip:
Adults (age 13+) 700 yen
Children (age 6-12) 400 yen
Infants (4-6, preschool age) 200 yen
(Operates 9:00 - 17:00)

General Admission (Park)
Adults 500 yen
Students 300 yen
Payment Accepted

Cash, VISA, Mastercard, AEON JCB Card
Language Support

Limited availability of English speaking staff
Supported Languages

English staff available at various times
OTHER
Parking

70 Spots, Free parking
Service Charges

Free luggage storage for those entering the Genbudo Museum. Those who do not enter the museum can store their luggage for 100 yen per item at the museum shop. Guided tours of the caves are also available. Guests can choose between two courses: a 30 min (2 caves) course for 330 yen/person and a 60 min (5 caves) course 550 for yen/person. These tours are currently available only in Japanese.