FAQ
HOT SPRINGS
I have some tattoos, will I be allowed in the hot springs?
People with decorative tattoos are allowed into the seven public hot springs in Kinosaki.
However, some accommodations have different rules regarding their own in-house baths.
We are traveling with children, can I bring my son into the women's bath or can my husband bring our daughter into the men's bath?
Yes, small children up to the age of 10 years old may enter the bath of the opposite gender if it is necessary.
We ask that all children are accompanied by an adult at all times.
Are all of the hot springs in Kinosaki natural hot spring water?
The seven main public bathhouses are natural hot springs.
A majority of the ryokan in Kinosaki also use the natural hot spring waters to fill their main baths.
However, because of Kinosaki regulations, all accommodations' private baths are regular heated water.
How do I get a hot spring pass?
Visitors to Kinosaki who are staying at a ryokan will be given a free hot spring pass at check-in.
The pass has a barcode and will give you free access to all seven hot springs.
Just scan at the entrance and you can use any public hot spring.
The pass will only be valid until 15:30 on the day of your checkout.
Can I visit the hot springs without spending the night?
For those only visiting Kinosaki for the day, you can purchase a day pass pass to all 7 hot springs in Kinosaki at any of those 7 hot springs.
The price of a one-day hot spring pass is 1,500 yen for adults, 750 yen for children middle school age and younger, and free for children under 3 years old.
When are the hot springs open/closed?
These are the hours for the hot springs (subject to change):
KONO-YU
Business Hours: 7:00am – 11:00pm
Holidays: Every Tuesday
MANDARA-YU
Business Hours: 3:00pm – 11:00pm
Holidays: Every Wednesday
GOSHONO-YU
Business Hours: 7:00am – 11:00pm
Holidays: Thursdays
ICHINO-YU
Business Hours: 7:00am – 11:00pm
Holidays: Every Wednesday
YANAGI-YU
Business Hours: 3:00pm – 11:00pm
Holidays: Every Thursday
JIZO-YU
Business Hours: 7:00am – 11:00pm
Holidays: Every Friday
SATONO-YU
Business Hours: 1:00pm – 9:00pm
Holidays: Every Monday
Are there any private baths? I would like to spend some time alone with my spouse.
Yes, some ryokan do offer private baths that you can hire for an extra fee.
Click here for more information on which ryokan offer private bath experience.
What is appropriate attire to wear in Kinosaki?
Casual or formal is okay.
We suggest wearing comfortable shoes good for walking.
If you are staying at a ryokan in town, it is highly recommended to change into the yukata provided once you have checked in.
What do we take or wear to the hot springs?
What to wear:
If you are staying at a ryokan, you can wear the yukata and geta provided.
Regular clothes are also okay.
What to bring:
– the hot spring pass received during check-in at your ryokan.
– small towel and large towel
You do not need to bring soap, shampoo or conditioner. The hot spring has these in the bathing area.
Please see our guide "How to use a Japanese bath"
Is it okay to wash my hair at the hot springs? I have really long hair.
Yes, you can wash your hair in the shower area.
If you do not wish to wash your hair, or if you have long hair, please tie it up or put it into a shower cap.
Are the hot springs open during the new year holiday?
The seven public bathhouses in Kinosaki Onsen operate according to their regular schedules during the new year holiday.
ACCESS/TRANSPORT
Where is Kinosaki? How far is it from Kyoto?
Kinosaki is located near the Sea of Japan in Hyogo Prefecture.
Kinosaki can be accessed easily by limited express train from Kyoto in about 2.5 to 3 hours.
See here for access information.
How do I get from the train station to my hotel? Is there a shuttle? How much is it?
You can take a shuttle bus from the train station to your hotel.
The bus is free for people staying at an accommodation in Kinosaki.
How do I ride the shuttle bus? What are the bus shuttle times?
The shuttle bus does not have an official time schedule.
It runs in accordance with the arrivals and departures of limited express trains.
Generally the bus is available between 12:30pm and 6pm.
There will be staff from the information counter standing in front of the station's main entrance.
They will guide guests to the shuttle bus. Please let them know what accommodation you will be staying at.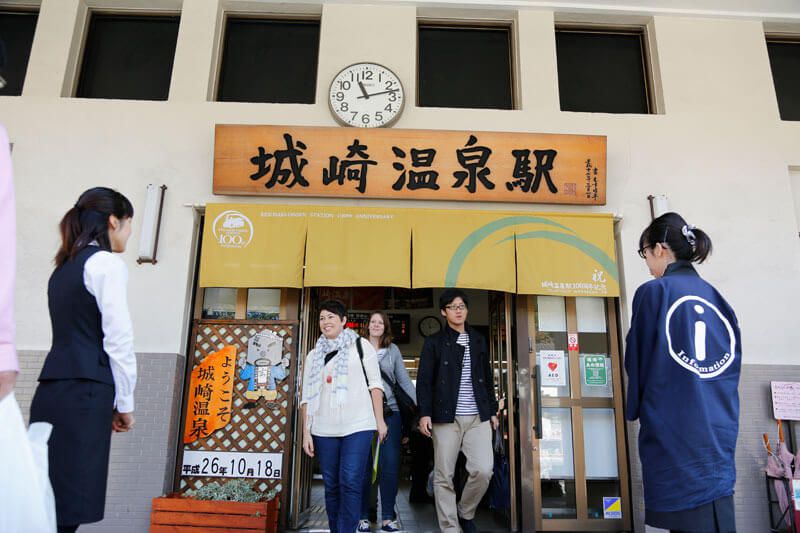 Staff
Kinosaki Information Counter staff will be waiting outside the station to greet you and help you to your accommodation.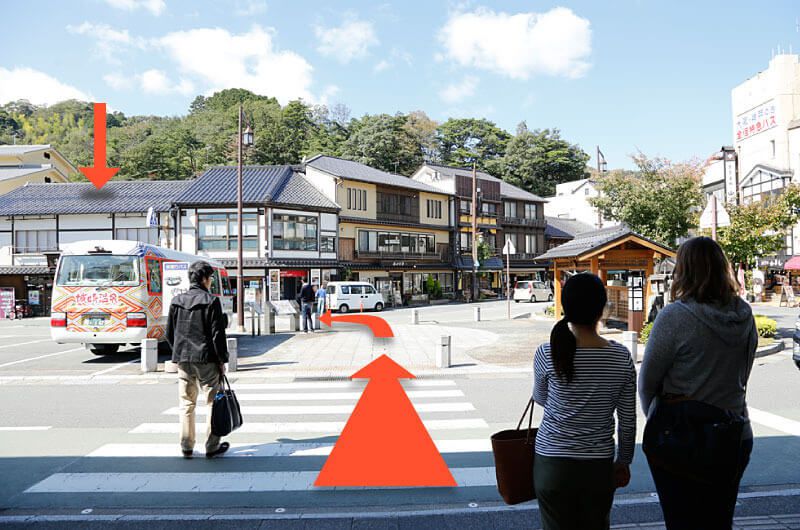 Hotel Information Counter
If you cannot find staff outside the station cross the street and go to your left. Here you will find the Hotel Information Counter. There will be staff inside with information on the shuttle.
I have a Japan Rail pass. Can I use it to get to Kinosaki?
Yes, Kinosaki Onsen Station is located on the Japan Rail (JR) Line.
SERVICES
Is there free Wi-Fi available in Kinosaki Onsen?
All tourists in Kinosaki Onsen may use the free Wi-Fi service that is available in Kinosaki Onsen and surrounding areas.
Network name (SSID): TOYOOKA CITY Free Wi-Fi
*Use of the wifi requires some basic authentication. Please click this link for more details.
Can I use my credit card for purchases?
There are very few businesses that accept credit cards.
We suggest bringing enough Japanese yen in cash with you.
Is there somewhere I can exchange my money?
Yes. You can exchange money at IROHA Yukata Shop & Rental.
Address: 449 Yushima, Kinosaki Onsen, Toyooka-shi, Hyogo 668-6101
Business hours: 10:30am – 6pm, 8pm – 10pm (closed from 6pm – 8pm)
Closed on Thursdays
Foreign currency accepted: USD, EUR, GBP, AUD, CNY, HKD, KRW, TWD, SGD, THB, IDR, MYR
Are there any ATMs where I can withdraw cash?
Yes, you can withdraw Japanese yen from the ATMs located at the post office and at convenience stores.
Are there any laundromats or somewhere I can do my laundry?
Some larger accommodations offer dry cleaning services to their guests for an additional charge.
There are also dry cleaners located throughout the town.
There are some coin laundromats near Toyooka Station.
Where can I store my luggage before/after check-in/check-out while staying in Kinosaki Onsen?
If your hotel or ryokan is unable to hold onto your luggage for you, you can leave your luggage at the hotel information counter.
The counter is located in front of JR Kinosaki Onsen on the other side of the taxi/bus pool.
There might be a small fee for this service.
There are also coin lockers located around the train station.
ACCOMMODATIONS
What is a ryokan?
A ryokan is a type of traditional Japanese inn.
The majority of ryokan are located in scenic rural areas and are more difficult to find in large cities like Tokyo.
Some ryokan also offer breakfast and elaborate meals called kaiseki with your stay. This is why a stay at a ryokan might seem a little more expensive than your average hotel.
See here for more information on what it is like staying in a ryokan and ryokan ettiquite.
How much does it cost to stay at a ryokan?
Prices range from about 7,000 JPY and up per person depending on which ryokan you stay in and if your stay includes dinner and or breakfast.
Which ryokan provide a private bath for guests?
Nishimuraya Hotel Shougetsutei
Yamamotoya
Mikuniya
En
Kobayashiya
Morizuya
Sennen No Yu Koman
Kawaguchiya Kinosaki Riverside
Okeshou
Ookawa
Yamatoya
Yamayoshi
Shinonomesou
Kinsui
Suigou
Tenbouen
Mikiya
Higashiyamasou
Tsubakino
Tajimaya
Matsuya
Shinkameya
Ryokan Sensui
Yuraku
Ichidaya
Seri
Kourakuen
Tsuchiya Annex
Most ryokan offer for free the use of their private bath during your stay, but some ryokan may ask for an additional fee such as Nishimuraya Shogetsutei. Please ask your ryokan for more information regarding prices and times.
Which ryokan provide rooms with a private bath?
-Yuraku
-Higashiyamasou
-Nishimuraya Honkan
-Tokiwabekkan
-Shinonomesou
-Kawaguchiya Kinosaki Riverside
-Sennen No Yu Koman
-Nishimuraya Hotel Shougetsutei
-Terakawa
-Sennen No Yu Gonzaemon
Please directly ask your ryokan to book this type of room if you are interested.
Which ryokan have barrier-free rooms?
-Nishimuraya Shogetsutei
-Asagirisou
-Shinonomesou
-Higashiyamasou
Are private baths in ryokan tattoo-friendly?
Please contact your ryokan directly.
I made a reservation for a ryokan through Visit Kinosaki, but I received an error message.
I would like to send my luggage to the next destination.
Please ask your accommodation for assistance.
I cannot find any ryokan when I search for accommodations on Visit Kinosaki.
Most of the ryokan start to open bookings 4 to 6 months in advance. If you are searching for a room beyond this time frame, please try again closer to your desired check-in date.
I have allergies/special requests for my dinner at the ryokan.
Please contact your accommodation directly.
ACTIVITIES & EVENTS
Where can I rent a bicycle?
You can rent a bicycle for the day or by the hour from various locations. Check the link below for rental fees and details.
Where can I find out about the dates of the upcoming festivals and events happening in Kinosaki Onsen?
Dates for many events in the area are decided within about 2 months of the event start, but here is a general schedule.
March: First Day of the Horse FestivaL
April: Tanto Tulip Festival, Kinosaki Cherry Blossom Illumination, Toyooka Sweets Festival, Onsen Festival
July: Tanto Sunflower Festival, Summer Festival, Takeno Beach Fireworks Show
August: Kinosaki Bon Odori, Kinosaki Fireworks and Lantern Festival, Toyooka Yanagi Matsuri, Izushi Atago Fire Festival
Sep: Toyooka Theater Festival
Oct: Izushi and Kinosaki Fall Danjiri Festivals
Nov: Ankokuji Temple Foliage Viewing in Tanto, Izushi Castle Festival, Crab Festival
Dec: Kinosaki Crab Santa
Please check our events page for the most updated information.
How do I book an activity through Visit Kinosaki?
Check our activity list on this page.
Then fill out the request form and submit it. Our team will be in touch soon afterwards.
SKI / SNOWBOARD IN KANNABE
Do you have ski and snowboard lessons with an English-speaking instructor?
Yes, we do provide ski and snowboarding lessons here.
When are the ski resorts open?
Generally the ski resorts open from the end of December or beginning of January until the end of March, but it all depends on the snow. Please check the weather forecast before visiting.
How do I check if the slopes are open?
Depending on the weather, it is possible that the slopes close, even during the winter season.
To check if the ski resorts are running, please check their websites:
–Up Kannabe
–Manba
–Oku Kannabe
(The latest updates might only be in Japanese, so please use Google translate)
If I am renting a car/coming by car, do I need snow tires?
Yes, snow tires are necessary when it snows.
OTHER
What is the weather and temperature like depending on the season?