Along with the beauty of the Maruyama River that cuts through the mountains and the rugid coast where the river leads you out to, come see and taste the wonders of the sea.
You can follow the Maruyama River from Kinosaki visiting the river front park of Maruyamagawa Koen, up to the little beach town of Kehi, over and through Tsuiyama a fishing town and port famous for its crab and fresh catches. Then finally up the coastal road and mountains to Hiyoriyama where you can have a close encounter with our sealife friends at Marine World.
ABOUT TOYOOKA
Let our local expert show you around

This is a great compact city that is also easy to explore. One of my recommended things to do is to visit the market that has been around for generations and the localy owned shops as well.

Explore the town in a day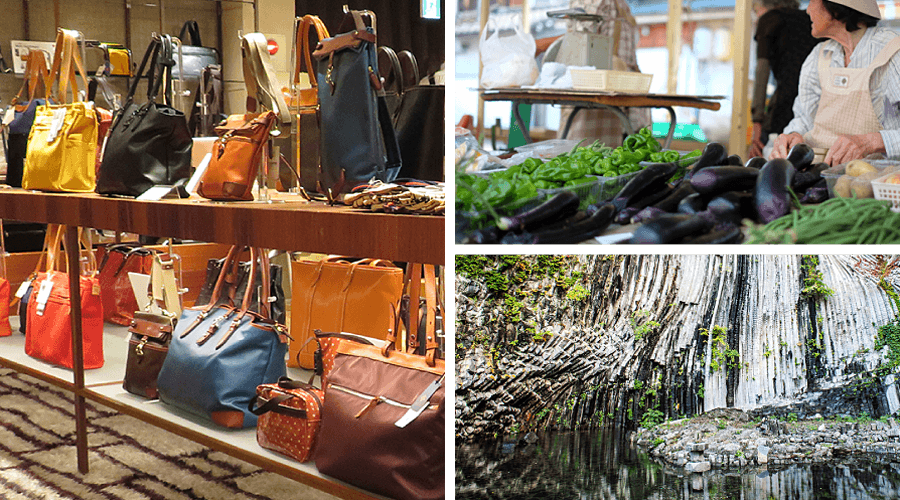 Take a look around the morning market at Aozora Ichiba or Kousetsu Ichiba across the street and just a 10 minute walk from Toyooka Station. All produce and rice is grown locally by locals. Under the roof of Kousetsu Ichiba, Japan's oldest wooden market, you will find flower shops and food stalls. This is a great chance to grab some sides from the various shops and put together your own obento, or boxed lunch.
The morning market being only in the morning what should you do next? Why not walk a few more blocks down to Caban Street (Bag street) apply named for the number of specialty bag stores here that sell hand made bags, wallets, and more. Some hold the convented brand name of the town "Toyooka Kaban", a title given only to the highest quality bags that meet strict guidelines set by the bag association.
Afterwards, if the weather is nice, head back to the station to catch a city bus to one of two or both outdoor attractions. The first is Kounotori Sato Kouen, the sanctuary and nature preserve where the oriental white stork was saved from extinction. Here you can learn about the storks and see these impressively large birds up close.
Option two would be to take another city bus over to Genbudo Caves. Large columnar joints made of basalt caused by an eruption 1.6 million years ago form several caves. It is also more notably famous for being the place where geomagnetic reversal occured in the Quaternary era.

Take a coffee break
Fresh brewed coffee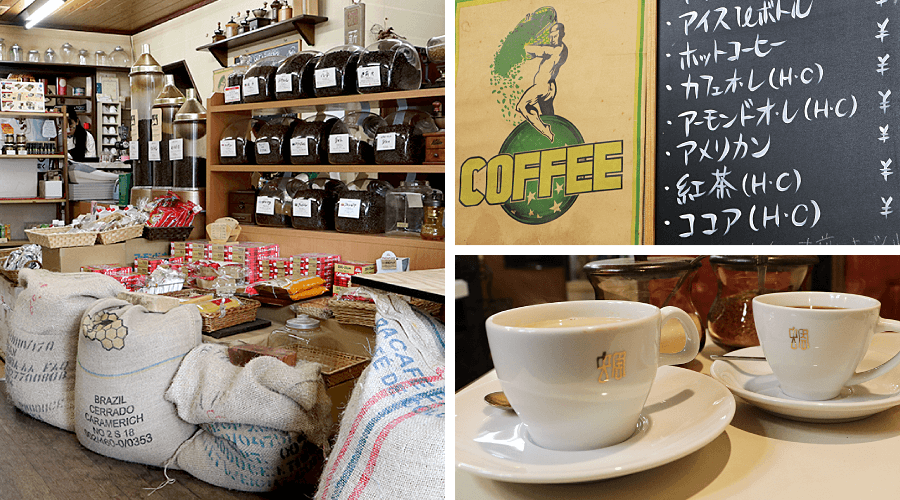 If you have been traveling Toyooka since the morning you could probably use a coffee break. Stop by Higurashi Coffee along the main street. The oldest coffee shop in Toyooka and is said to be credited with introducing the area to the coffee culture opened its doors in 1930. You can buy whole beans or ask the staff to grind them for you. In the back they roast their beans themselves for added freshness. They even still use the original wood burning roaster that was handmade by the founder to roast some of their beans.
Allow for a few minutes after you order your drink so that the staff can slow drip your own personal cup. While you are waiting see if you can spot some cycada objects hidden on the shelf. Why cycada? Higurashi is the name of a type of cycada. The store is named after them because they could be heard cherping all around when the shop first opened its doors over 80 years ago.
Either have a seat in the retro seating area that is decorated with original news clippings from when they first opened or grab your coffee to go. Take a look in the back sitting in a small alcove is the original coffee percolator.
Restaurants, bars, izakaya & more
Run by colorful locals who add their own special touch to the menu and your visit.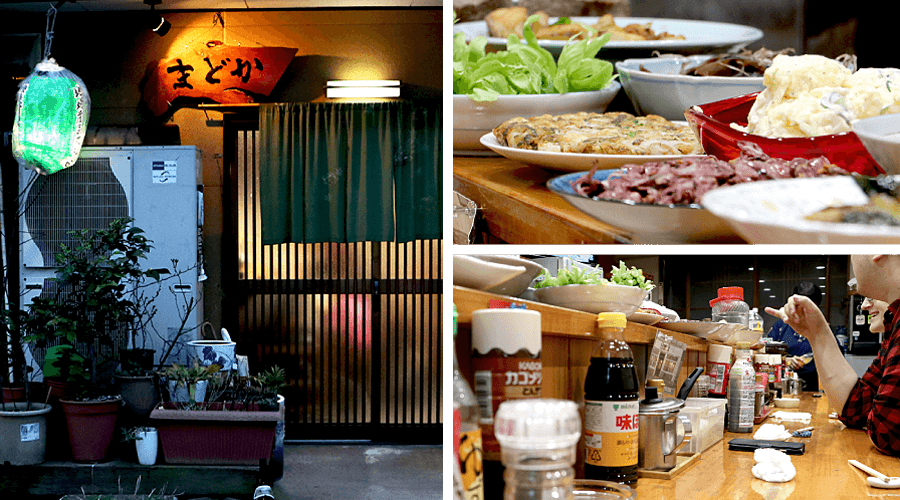 You will find a surprising number of bars, pubs, restaurants and cafes scattered throughout Toyooka along the main streets, side streets and back alleys. Some easy to find and know what they have because of prominent signs and menus shown near their entrance. Other's not so much. These are going to be run by some colorful characters like the one pictured above, Madoka. A small izakaya or Japanese pub style restaurant run by one friendly obachan. It is a different kind of setting and atmosphere one that can be easily described as "at home". The day's menu changes from day to day, although there are some set items. What's on the menu? Just take a look at the counter in front of where you sit. What you see is what you get. Simply point at the dish you would like and let the lovely lady behind the counter know how many servings you would like. Best to brush up on your basic Japanese before going to help you when ordering just knowing your numbers, please and thank yous will be sufficient. On the night I went the seared beef, fried shishamo smelt, miso chicken, and fried fukinotou were quite good.
To find your next spot just wander up and down the streets and look for places with noren or short curtains hanging out front. This is a sign that they are open for business. Hint, the dirtier the curtain and shop look the longer the shop has been around and is most likely a local favorite.