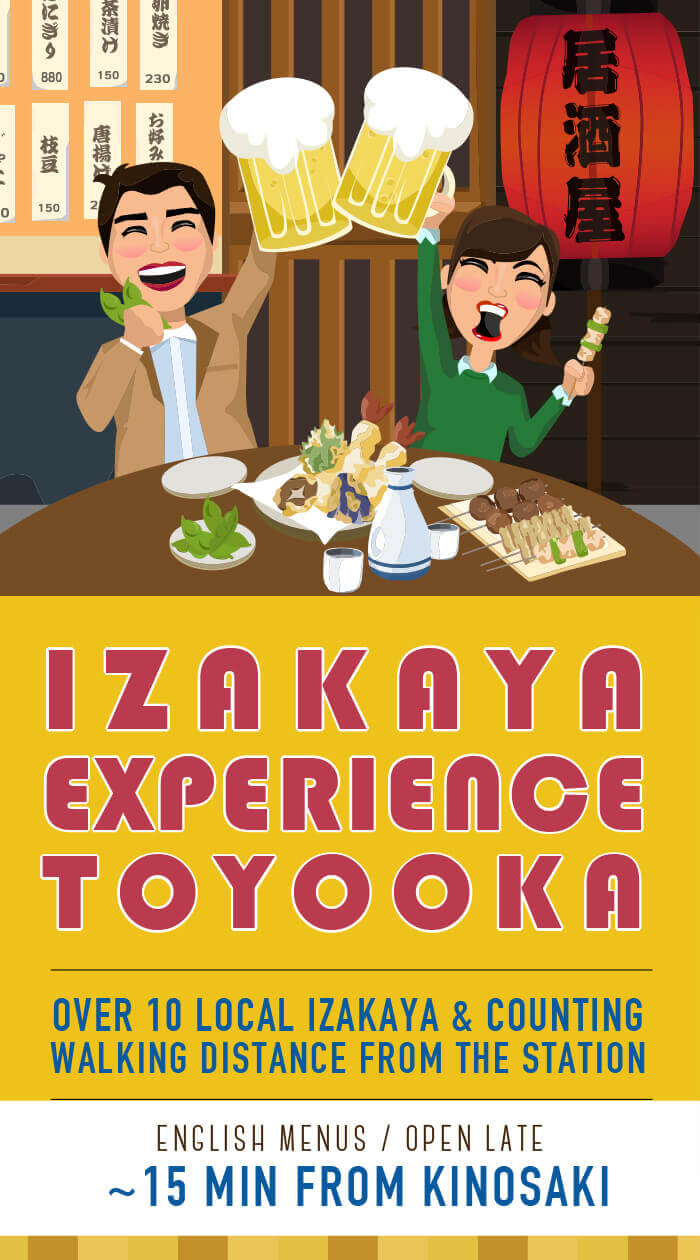 An izakaya is, in a sense, a type of gastropub, with a culture and style unique to Japan. Here you can experience Japan's drinking culture and enjoy some Japanese soul food in a very relaxed atmosphere.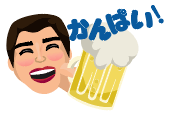 To locals, their favorite izakaya is a place to decompress after a long work day with friends or colleagues. Downtown Toyooka has several places to enjoy this type of experience, all within walking distance of the station.
Izakaya experience guide & list

Izakaya 101
1. Find your izakaya and enter

Izakaya are usually identified by a lantern or curtain located outside called a "noren", but take a look at our izakaya map below to help you find your izakaya experience. You will find several different types of izakaya, from standing bars or "tachi-nomi" to more stylish bars like the izakaya Daimon, which specializes in handmade soba buckwheat noodles. All of the izakaya listed below have an English menu in addition to their regular Japanese one.
When you walk in, hold up the number of fingers for the number of people in your group to let the staff know how many seats you need. Most izakaya allow smoking inside everywhere, while a few have a non-smoking and smoking sections and even fewer are exclusively non-smoking.
NOTE: Don't be offended if you get turned away, as izakaya tend to be small with just a few seats that fill up fast on busy nights and usually do not have waitlists. Take it in stride and stride into the next izakaya. Staff will sometimes signal to you that they are full by making an 'X' with their fingers or arms. Also, if you want to pay with a credit card, you should ask if they accept cards or not before you sit down.
FUN FACT: During the Edo Period, you could tell which establishments were the best and most popular by looking at their noren. The dirtier the noren the better, as customers would wipe their fingers on it as they left.
Find your culutral experience

TOYOOKA IZAKAYA LIST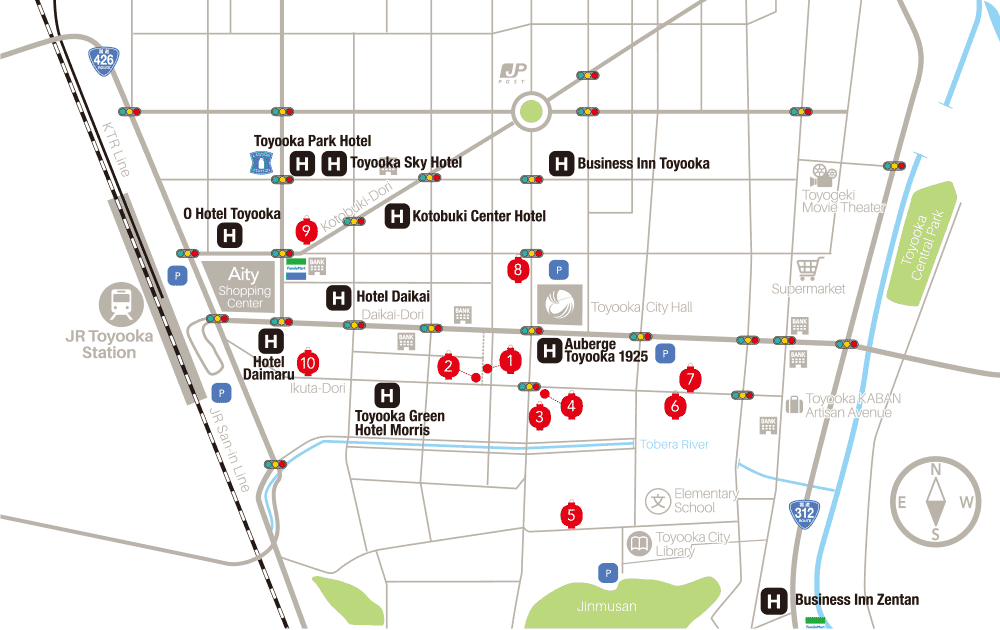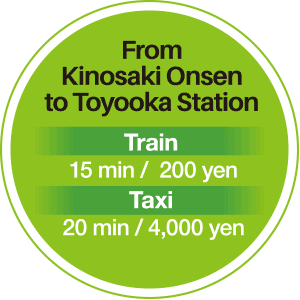 From Kinosaki Onsen to Toyooka Station
Train

15 min / 200 yen
Taxi

20 min / 4,000 yen
1

Izakaya

AMANO

3-6 Chiyoda-cho, Toyooka
Open: 18:00 - 23:30 / Closed: irregular holidays

Their menu uses local ingredients and makes for a great place to go drinking and eating with a group of friends. The owner and head chef has over 30 years of experience in the kitchen, 10 of which are from running his own izakaya. Try out one of the local Japanese sake on menu and pair that with some fresh local sashimi.

2

Izakaya / Soba Dining

DAIMON

3-6 Chiyoda-cho, Toyooka
Open: 11:00 - 14:00 (lunch) & 18:00 - 22:00
(dinner) / Closed: Sundays & Mondays

A stylish and modern soba restaurant specializing in handmade Izushi soba. Aside from soba, the menu also includes a wide range of side items or "sakana", small plates that are a good accompaniment to sake.

3

Izakaya

KAGURA

14-17 Chuo-machi, Toyooka
Open: 17:00 - 23:00 / Closed: Sundays

Kagura is an izakaya that specialized in seafood. Dishes feature fresh, locally caught seafood at reasonable prices. Try the mixed sashimi platter, fresh oysters that pair well with sake.

4

Izakaya / Drinks & Small Snacks

RASHINBAN

14-23 Chuo-machi, Toyooka
Open: 21:00 - 2:00 / Closed: Tuesdays

A small snack bar-style izakaya located on the 3rd floor of the Grandia Building. Sing karaoke with other patrons while you enjoy your drink and some light bar snacks.

5

Izakaya

NAGI

3-22 Kyo-machi, Toyooka
Open: 17:00 - 22:00 / Closed: Sundays & Mondays

One of Toyooka's few standing style izakaya. Try Nagi's "Yogan-Yaki" -- Tajima steak roasted on a hot lava stone. We also recommend the oden, a Japanese one-pot dish with various ingredients stewed in a light, soy-flavored fish broth. There is a new line up each month different trendy, domestic sake.

6

Izakaya / Asian Dining

INOKO

16-6 Chuo-machi, Toyooka
Open: 18:00 ~ 24:00 / Closed: Tuesdays

Asian dining pubs in the Tajima area are very rare. The owner travelled around Asian countries and fell in love with Asian cuisine after trying various foods. You can try Asian beers, Thai whisky, and more! Relax and enjoy the Asian food in this cozy Japanese style pub.

7

Izakaya / Grilled Skewers

SUMIREDO

9-32 Chuo-machi, Toyooka
Open: 17:30 - 23:00 / Closed: Mondays

Hakata-style grilled skewers are finely-cut pieces of pork and chicken with various vegetables of your choice, pierced on skewers, grilled on a direct flame, applied with an original dressing, and served with cabbage salad.

8

Izakaya / Ramen

RYUKA

1-20 Chuo-machi, Toyooka
Open: 11:30 - 14:00 (lunch) & 18:30 - 23:00
(dinner) / Closed: Mondays

A popular local ramen shop that seats 10 people, counter only. Choose from various flavors of ramen from the menu, all are a tonkotsu (pork bone) soup base. A popular flavor is the spicy ramen, you can choose your spice level.

9

Izakaya / Grilled Skewers

SANNAMBO

4-7 Kotobuki-cho, Toyooka
Open: 18:00 - 23:00 / Closed: irregular holidays

An adult izakaya with original skewer creations made with prized, local ingredients such as Tajima chicken, Yoka pork, Japanese black cattle (wagyu), and locally grown vegetables. Try our original ramen made with a milky white "Paitan" soup rich in flavor. A quiet shop that serves both groups and those who come by themselves!

10

Izakaya / Yakitori Dining

GONSHIRO

11-12 Chiyoda-cho, Toyooka
Open: 17:00 - 24:00 / Closed: Wednesdays

This is a yakitori (grilled skewer) restaurant where food is cooked on an iron griddle, locking in the "Flavor of Tajima". Enjoy various fresh and tasty flavors from different parts of the chicken. We have hot pot, rice, and other items, as well as large platters.

Getting between Kinosaki and Toyooka

TRAIN

Listed below are the departure times for the local train in the evening. The fare is 200 yen for a one-way ticket. A JR pass may be used.
*Note: Please double-check the train times and fare ahead of time. You can check them on the JR-west site.

Kinosaki departure times

17:46
18:17
19:23
21:33
22:01

Toyooka departure times

19:10
20:08
20:52

22:14 (last train)

TAXI

If you miss the last train or want to stay out past the last train, you can call for a taxi to take you back to Kinosaki. The easiest way to do so is to ask a staff member at the izakaya to call one for you. All taxis use a meter and the fare is about 4,000 yen on average. Taxis can seat up to 4 people, allowing you to possibly split the fare four ways. Please let the staff know if you would like a taxi back to Kinosaki so that they can notify the taxi company. Note that on busier nights, especially Thursday-Saturday, there may be a 30-minute or more wait time for a taxi. Please plan accordingly, and if you plan on staying out late it is best to check with your hotel about their curfew policy.
2. Order a drink
"Toriaizu Nama", meaning "I'll start with a beer," is the motto of the izakaya. Your server will be ready to take your first drink order almost as soon as you sit. Shortly after you are seated, a server will bring you a wet cloth for wiping your hands and a small appetizer. The cloths are especially nice when they are warmed up in the winter to combat the cold. Your server will also give you a quick rundown of the menu, the way to call them for an order, and sometimes the night's specialty.
NOTE: Most izakaya charge an automatic "otoshidai" (table charge) per person. This covers the charge of the appetizer brought out with your wet cloth (or the charge of entry if they do not provide an appetizer) and is part of the culture and custom of the izakaya.
CULTURAL NOTE: It is customary to wait to drink until everyone has received their drink. Once everyone has their drink in hand people usually do the customary "kanpai" (cheers), followed by a compulsory "Ahhhh!" after they finish their drink.
3. Order as you go

Take a look at the menu and find a few things you would like to try. Order a few dishes to start with, there's no need to place your entire order at once. Rather, you can keep adding on dishes as you go. Japan doesn't do to-go bags for leftovers, so most portions are small to avoid leftover food. They will bring out your dishes to you as they are made, so they may not arrive in the same order in which they were requested and will come out one at a time or in groupings. Also, if you are planning on visiting more than one izakaya, try ordering a couple of drinks and 2-3 dishes at each place, leaving room for more food and more izakaya experiences.
NOTE: There are several different ways to call your server to give your order. You can usually either call out "sumimasen" (excuse me) or push a button located on or near your table. Your server will inform you on how to call them when they seat you.
CULTURAL NOTE: All dishes in an izakaya are shared or family-style, similar to a tapas bar. Each item is portioned for 1-3 people. You will be given one small dish per person called a "tori-zara" so that you can take from the main plates and share with everyone at the table.
4. Paying

When you have had your fill and are ready to go, notify your server. They will bring you a printed receipt. Most izakaya will give you an itemized receipt so that you can see what you ordered and how much each item was. Others—usually the much smaller, local izakaya run by just a few staff—will give you a handwritten total on a piece of paper.
NOTE: If you wish to split the bill, it is best to do the math at your table and agree on how much everyone owes. Have one person collect the appropriate amount from everyone and pay the lump sum at the register. Most izakaya will have you pay at the register located near the shop's exit.