Izushi is a town that continues on from the mythical era. The current townscape was formed by Koide Yoshihide in 1604. Today it is a castle town popular for its nostalgic atmosphere of old Japan. Besides that, there are many local special products such as "Izushi Sara Soba", "Izushi Yaki (pottery)" and "Kiryusaiku". If you were to change into a kimono, and stroll the town you will feel as if you have slipped through time.
ABOUT IZUSHI
Let our local expert show you around

I hope that you feel a little nostalgia while here. I also highly recommend walking the town in a kimono, you can rent one from us for both men and women.

Showa Japan
Most commonly known as a castle town or "little Kyoto", Izushi is a town with well preserved architecture much like Kyoto but you can still experience the residential charm of this historical district. The "Showa" period, as the Japanese call it, is a nostalgic time from the early 1900's. The lack of a JR station is a blessing to the town's architecture. Most towns with a JR station lost their "Showa" or retro feel when buildings were torn down to make way for covered shopping arcades that are commonly connected with train stations.
Here shops, homes and other buildings retain their original charm as well as community and rural life. Unlike other large tourist destinations locals still live in town adding to the atmosphere. Local grandmas chatting while they buy the day's groceries, laundry hung out to dry, neigborhood children walking to and from school and more scenes of daily life.
If I may, I would also like to recommend experiences the town in a traditional kimono. Especially during the spring and fall when cherry blossoms or fall folliage makes for beautiful photos and the weather is most comfortable. Off to the side of the old clock tower is the Izushi Tourism center where you can inquire about Kimono rental.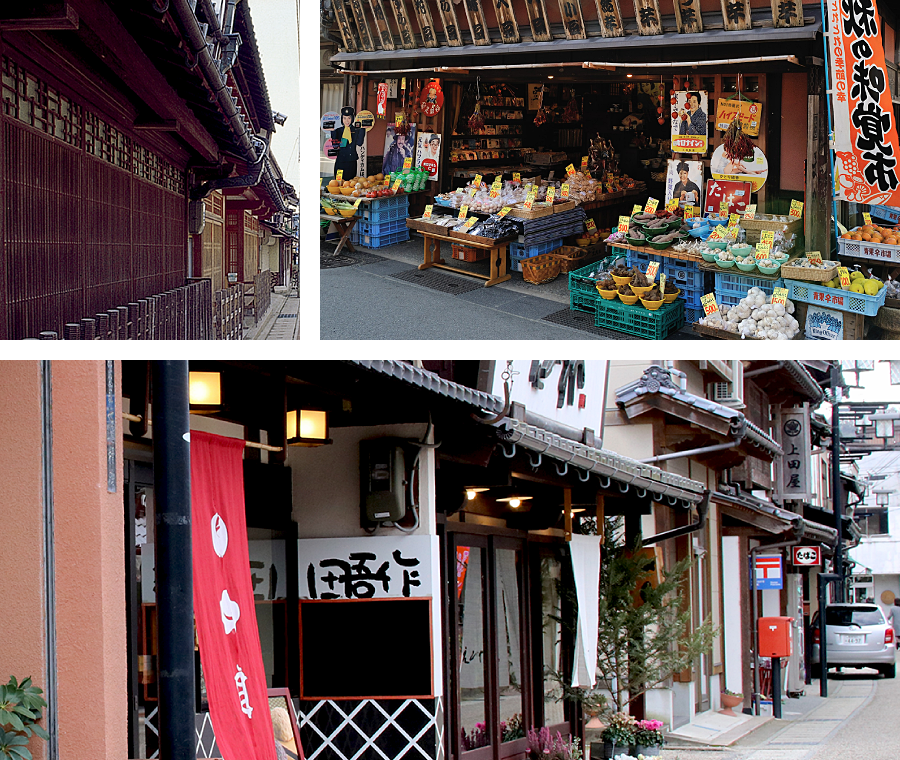 Preserving the Arts
Eiraku Kabuki Theatre is the oldest working kabuki theatre in the Kansai Area. Around 2007 the theatre reopened after being restored to its original glory and welcomed the famous kabuki actor Kataoka Ainosuke VI who has travels from Tokyo with follow actors to perform at Eirakukan for a designated time. The theatre setting is very intimate. The audience is tradtional seating on the floor and everyone is seating very close to the actors.
When there are no performances the theatre is open to the public and offers guided tours around the house, stage and behind and under the stage as well. It is also possible to rent out the facilities for events and even weddings. Year round various events are held here including children's kabuki, rakugo, band performances, bunraku and more.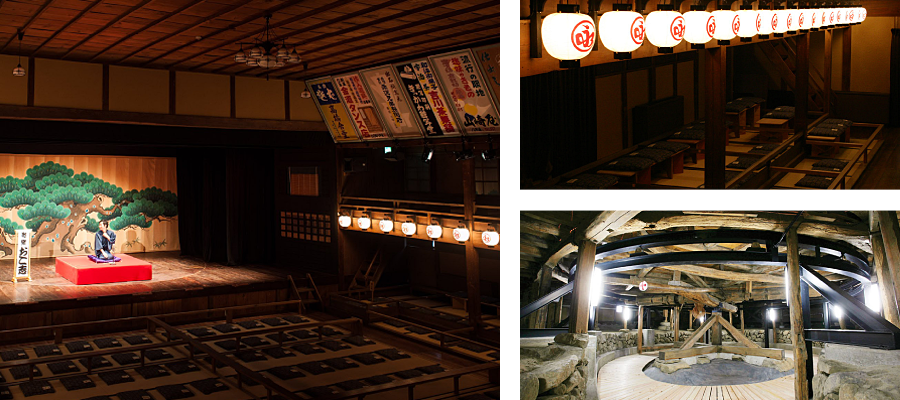 Torii Gates
37 vermilion lacquered torii gates that creates a type of tunnel underneath the Japanese momiji trees that are a lush green color in spring and summer then change brilliant colors of red, yellow and orange in the fall.
Shinkoro Clock Tower
Built in the Meiji Era and formerly a part of the gate system into the caste. It's name means "eight o'clock drum tower" in reference to the old time system. It would beat to signal the start of the working day.

Izushi Sara Soba
Izushi`s speciality dish is Izushi soba which are noodles made of buckwheat. They are eaten with the Japanese soup stock dashi. Daikon (radish), grated yam, wasabi (Japanese horseradish), spring onions and raw egg (optional) are added to the dashi to taste. The freshly made noodles are then dipped in this soup mixture and eaten. At the end of the meal, the remaining soup is mixed with sobayu (the hot water in which the noodles were boiled) and can be drunk as a sort of tea.
Generally, Japan's soba is served on a large dish. But Izushi Sara Soba is served in small portions on small plates. There are about 50 soba noodle shops in Izushi. Generally one portion is 5 plates.