"All the world's a stage" Reviving and Restoring the Performing Arts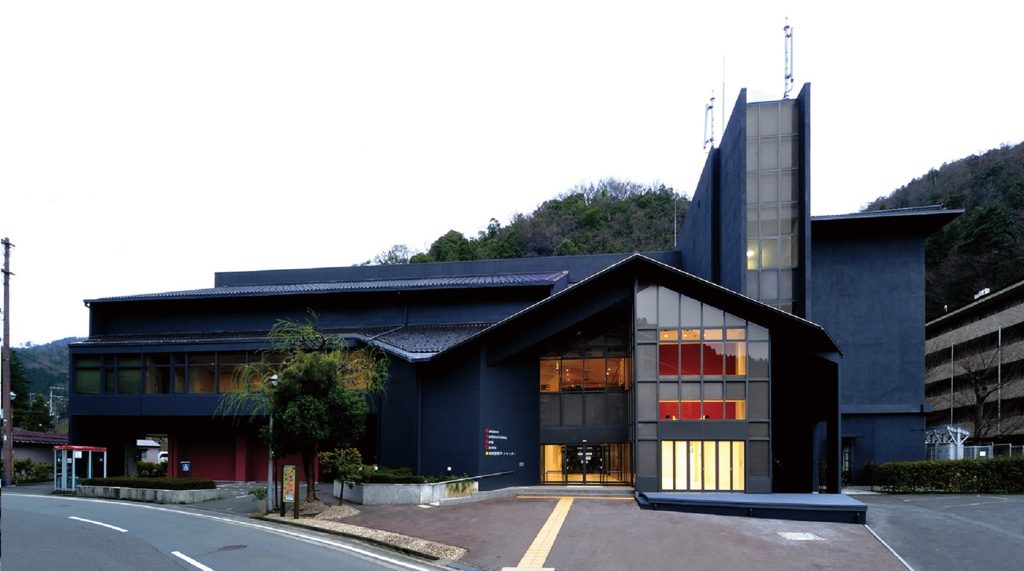 One of Toyooka City's greatest symbols is that of the oriental white stork. After decades spent researching and breeding the once-extinct species, relatively small Toyooka is now a hub for restoration, nursing lost wonders back into health for the betterment of the greater world. The city prides itself on being a both "local and global" city, a crossroad between an intimate environment and a possible center for innovation. With the white stork at its helm in the form of sculptures, graphic design, and merchandise, Toyooka City aims to bring about a restoration of the arts as well.

Art, both of the visual and performing variety, has been a staple of Toyooka's culture for decades. Kinosaki Onsen is famed for inspiring several writers and poets. Perhaps one of the most well-known works is the short story "At Kinosaki" (1917) written by novelist Naoya Shiga. Shiga decided to write about his own experiences at the onsen town following a nearly life threatening train accident, and Kinosaki has continued to be one of Japan's most celebrated hot spring resorts ever since. Despite the area's wealth of literary achievements, due to Japan's economic decline in the 1990s, art creation, too, can be seen as an endangered breed. In an age of constant drive for industry and profit, the world seems to have turned a blind eye on creative works deemed incompatible with economic progress. In order to bring about change, Toyooka City applies the same goal of "revive and restore" to birds as well as performers.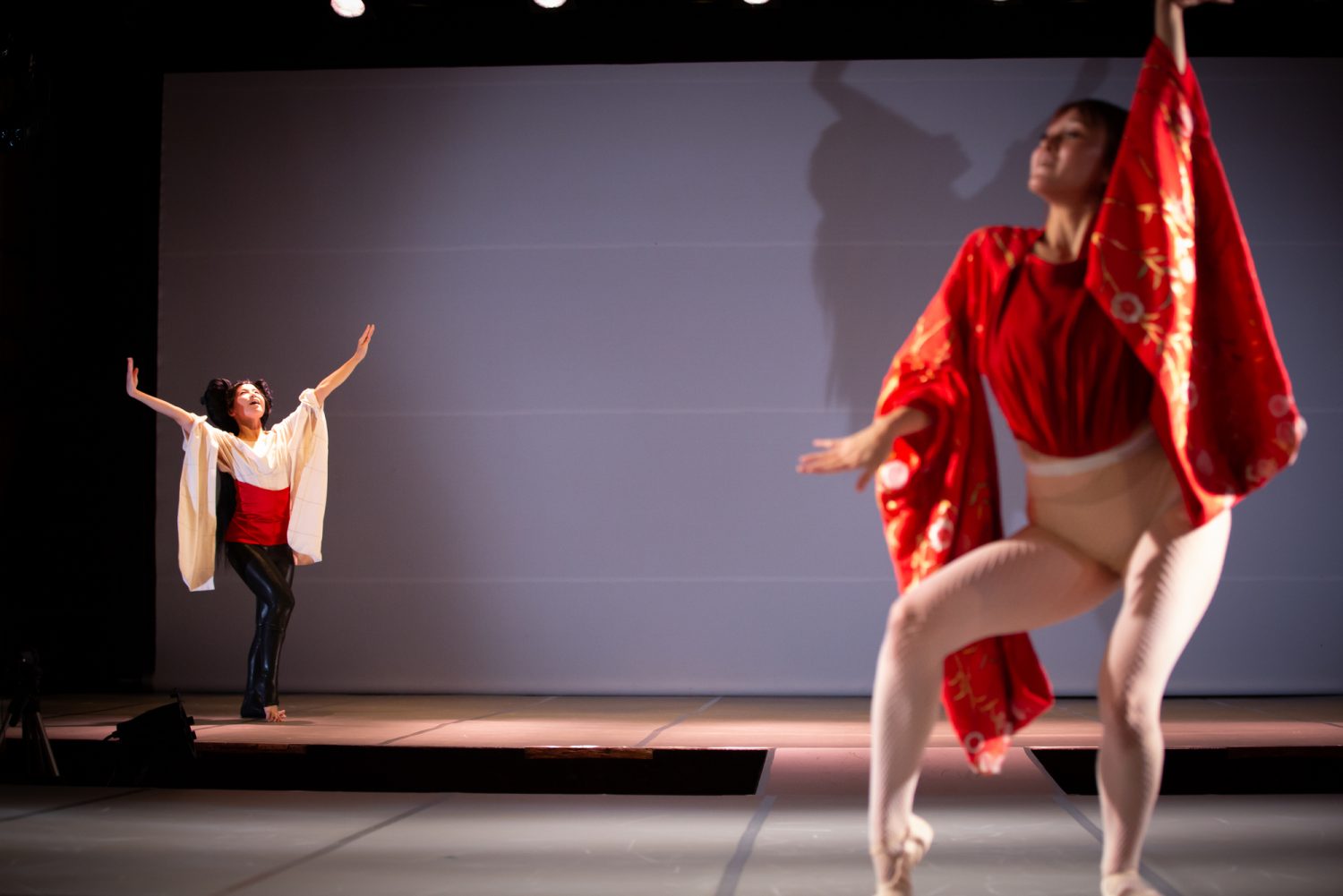 Yasuko Yokoshi "shuffleyamamba" © Igaki Photo Studio, courtesy of KIAC (Toyooka City)
The Kinosaki International Arts Center (KIAC) is situated on the outskirts of Kinosaki, about a 15 minute walk from the Kinosaki Onsen Station. Located among seven major hot springs, a myriad of Japanese style inns (ryokan), and an atmospheric town filled with canals and visitors dressed in yukata, KIAC is as much a healing center for those interested in the arts as the hot springs are for curing physical ailments. It is also one of the only artist residencies in Japan to focus exclusively on performing arts. Ever since its creation in 2014, KIAC features an annual artist-in-residence program where artists' applications from around the world are selected by a committee and then put on for a local Kinosaki audience. The artists who come to the facility can stay at the center for a minimum of three days and for a maximum of three months, and the crew at KIAC works tirelessly to build the perfect environment for choreographed dance, acting, ensemble, and other performances. The facility may also be rented by locals for other events, if one applies beforehand.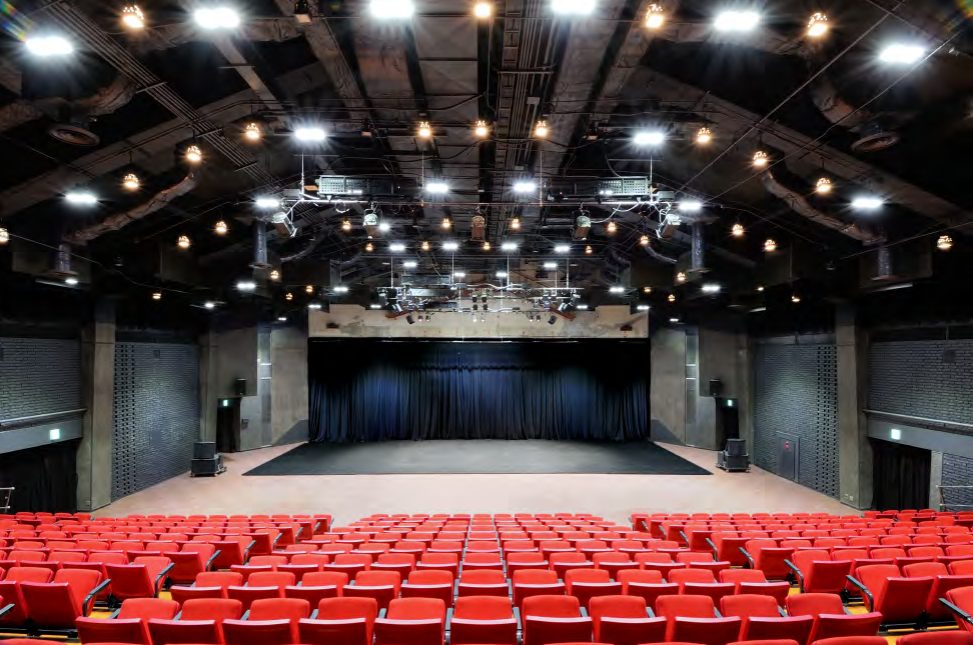 KIAC features 6 studios, 7 residencies, and a main hall which houses 500 people
Just like the oriental stork, performers are brought to the facility to flourish under a more intimate setting before being sent off into the "wild" where their art may disseminate among a wider audience. KIAC is also an amalgamation of a "local and global" center with projects ranging from works rooted in local Japanese history and culture, to works from entirely different parts of the world such as France, the Philippines, the USA, and more. Studio rooms are equipped with dance bars, with some being able to be used as a black box theater, or sound proof to be used as recording studios. The center also includes residency rooms, both in Japanese and Western styles, for artists to sleep in. Additional amenities include free access to the onsen, use of facilities such as kitchens and laundry rooms, bicycles, and more. Meals are not provided, so artists are encouraged to use local ingredients to make their own meals. Oftentimes, artists use meal-time as the perfect opportunity to get together with the people of Kinosaki.
"Tokyo Notes International Version", written & directed by Oriza Hirata © Igaki Photo Studio
The art center encourages artists to interact with locals through promoting artist Q&As, workshops, and sneak-preview performances for residents. The facility, located away from the hustle and bustle of the town, provides its resident artists the opportunity to relax and focus wholly on their creations. In this way, KIAC perfectly embodies Toyooka's values of restoration, globalization, and authentically humble local beginnings.
To learn more, click this link for KIAC's online homepage!
Click here for more information about the artist-in-residence program.