Retro Buildings and Luxury Shopping

An Introduction to Toyooka

While Kinosaki Onsen is without a doubt the crown jewel of Toyooka City, an abundance of hidden gems still widely undiscovered by tourists can be found throughout Kinosaki's surrounding areas. One of these destinations, Central Toyooka, has gained nationwide recognition as Japan's epicenter of handbag production while also being home to a multitude of unique architectural finds.
Start Your Adventure on Daikai Street

Located just two train stops south from Kinosaki Onsen on the JR San'in Main Line, visitors hop off at Toyooka Station and are immediately greeted by the retro-style shops lining Daikai Street, Central Toyooka's main shopping hub. Clothing boutiques, cafes, bakeries, and other various local-owned businesses have called Daikai Street home for decades. In response to the 1925 North Tajima Earthquake and fire, many of Daikai Street's buildings were re-erected with fire escape balconies connecting all buildings together, allowing for all residents on the street to be able to evacuate safely in the event of another natural disaster. These balconies can still be seen today as one walks down the street.
Shop with the Locals at Fureai Shopping Arcade

After walking a few meters from Toyooka Station, on the righthand side of Daikai Street lies the quaint and cozy Fureai Shopping Arcade, one of Toyooka City's most notable architectural structures. Renowned as the oldest shopping arcade made from wood in Japan, visitors can step back in time as they shop and wander through the marketplace's narrow, warmly-lit street. Local businesses found in the 70-meter-long Fureai Shopping Arcade range from flower shops, coffee cafes, fruit vendors, and a guest house.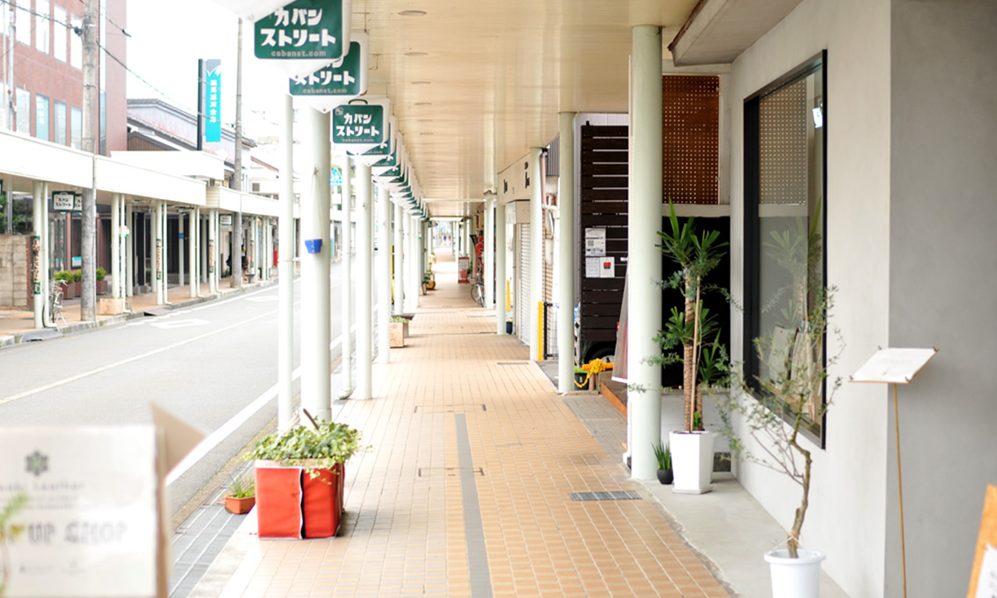 Buy an Unforgettable Souvenir on Caban Street
At the end of Daikai Street, visitors will find Caban Street to their right. As one of Japan's premier areas of handbag production, Caban Street is home to designer purse boutiques that have been handmaking top-quality Toyooka Kaban purses and bags for generations. In addition to admiring the bag-shaped benches and even potted plant holders placed throughout the sidewalks, visitors are encouraged to stop into one of Caban Street's many shops and find a one-of-a-kind souvenir during their stroll down this historic road.
Todohyo's renovated exterior, representing Toyooka's Oriental White Stork.

Catch an Event at Todohyo

As one approaches the end of Caban Street, a traditional building with a pop of color is sure to catch visitors' attentions. Todohyo, originally Toyooka's premier high-class restaurant 100 years ago, is now a complex of renovated historical buildings housing a variety of businesses and event venues. Renovations are regularly conducted with the help of local volunteers.
Thanks to the efforts of the volunteers, modern-day Todohyo is now known as a hip space for contemporary events utilizing traditional Japanese architecture, such as DJ concerts, coffee tastings, and educational courses