Long standing souvenir shop
Itaya Souvenir Shop has a long history in Kinosaki. It was first founded as an inn during the Edo period (1603-1868). Before that it was a lumber business and this is where the shops name "Itaya" came from. "Itaya" in Japanese can be read as board or plank (ita) shop (ya). After WWII it became a souvenir shop.
The shop is located in the middle of Kinosaki and is directly in front of the public bathhouse Ichino-yu. Many people stop in after their visit to Ichino-yu.
Recommended local souvenirs
Gen-san Character Goods

Gen-san is the name of one of the local town mascots, and was made popular for his loveable scowl. He represents the Genbudo (basalt) caves located near Kinosaki. His head is actually designed and modeled after the hexagonal shape of the basalt rocks.

Homemade Ice Cream Direct from the Farm

Choose from 14 different flavors. This ice cream is made locally at the Kanoboku dairy farm in Izushi.

Kinosaki Beer

Kinosaki makes their own local beer. There are four flavors: pilsner (sky beer), stout (black beer), Weizen (river beer), and kani (crab) (snow beer). Don't let the name crab beer fool you. It is not made from crabs, but rather was originally made to compliment crab dishes. Kinosaki is famous for its crabs in the winter season.

Books & Hot Springs

Three original books that were made specifically for Kinosaki hot springs and can only be found at this stop in Kinosaki.

Tango Chirimen Silk

A wide variety of small trinkets and souvenirs made from Tango Chirimen Silk. This silk is known for its high quality and unique bumpy texture that gives the fabric a suprisingly soft feel.

Packaged Snacks and Sweets

When Japanese people travel, they tend to bring back souvenirs to share with their friends, family, and co-workers; thus those souvenirs are often individually-wrapped snacks or sweets that can be easily shared. This is part of Japan's souvenir culture. Popular Kinosaki snacks and sweets sold here are: tofu warabi mochi, onsen manju, carbonated rice crackers, and onsen tamago mochi.

Tajimayaki (Tajima pottery)

Simple and robust pottery modeled after Japanese tea ceremony items. You can find plates, mugs, cup, small vases, and more. Some have been fired with real leaves that leave a beautiful motif behind.

Toys & Key Chains

Fun toys, trinkets, and key chains of various styles and themes.

Genmai Roasted Green Tea

Genmaicha, or brown rice roasted green tea, is made with pesticide-free brown rice that is carefully grown at local farms.
The aromatic green tea leaves harmonize with the sweetness of the brown rice. A refreshing tea that goes well with both Western and Japanese style confectioneries.
Also, the catechin contained in the green tea has many health benefits.
Itaya's commitment
Above all else, Itaya values communication with their customers. To assist travelers in Kinosaki and to make their visit memorable, they are knowledgeable about the history of Kinosaki and offer sightseeing information in addition to souvenirs. If you are looking for ways to better enjoy Kinosaki feel free to stop in and ask for some local recommendations.
On the second floor of the shop there is a seating area where you can enjoy local ice cream or Kinosaki beer purchased at Itaya. This makes for a nice place to rest between your hot spring visits.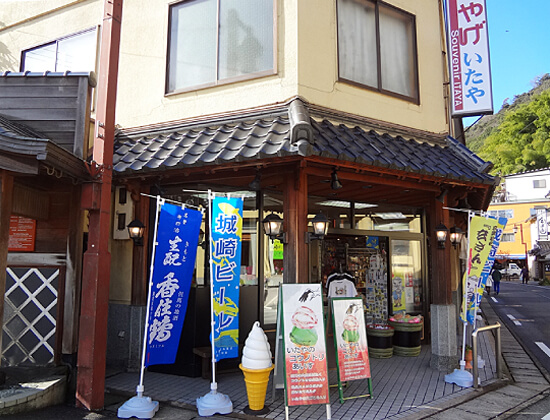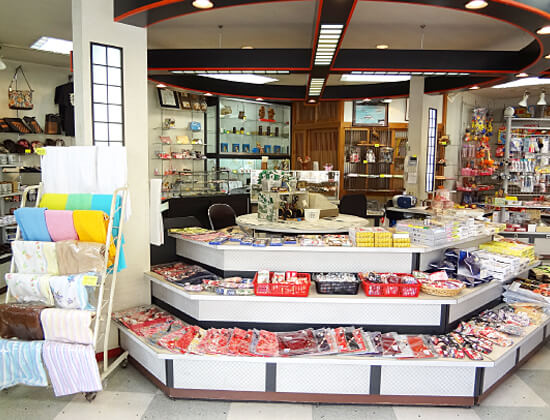 Information listed below was last updated 07/2023 and is subject to change.Contact the business directly for updated information. Note, most businesses can only speak Japanese.
BUSINESS INFORMATION
Business Name

ITAYA SOUVENIR SHOP
Business Hours

Monday-Sunday
8:30 - 22:00
Holidays / Closed

Irregular holidays
Telephone

0796-32-2095
Address

413 Yushima, Kinosaki-cho
Toyooka-shi, Hyogo Prefecture 669-6101
Homepage

http://www.itaya-syoten.com/

This site is in Japanese.
Payment Accepted

Cash, Credit Card (Visa, MasterCard, JCB, American Express, Diners Club, Discover)
Distance from Station

About 650m from Kinosaki Onsen Station
Language Support

Sorry, but only Japanese is spoken.
OTHER
Parking

2 parking spaces (free)