100% Buckwheat Soba-Making Activity (With Mortar Experience)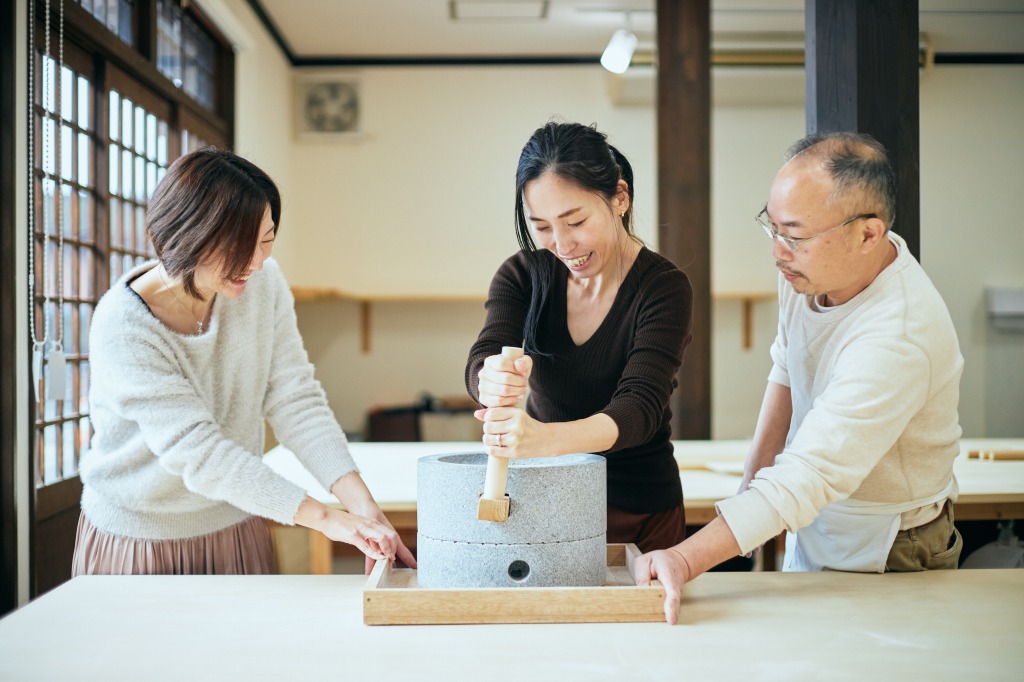 Make Your Own Soba From Square One
Enjoy the castle town of Izushi by making your own Izushi Sara Soba (buckwheat noodles).

Participants experience every detailed step of creating Izushi Sara Soba, a delicacy unique to this historic Edo-style town, starting from the very first stage of grinding 100% pure buckwheat using a traditional stone mortar.

The traditional method of grinding the buckwheat in a stone mortar involves grinding only small amounts at a time so that no heat from friction is produced and no flavor is lost.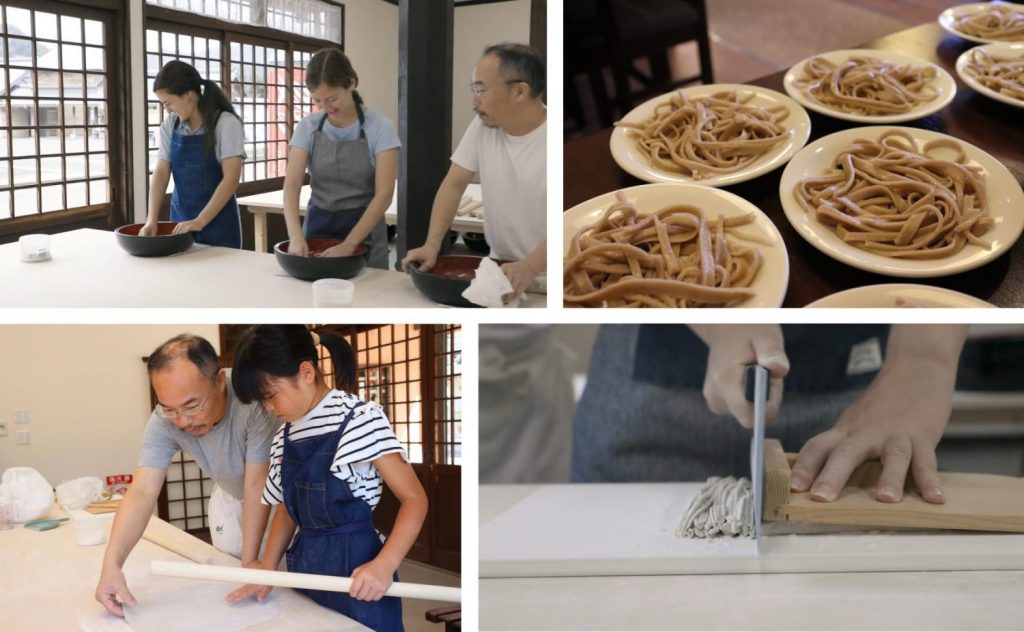 After grinding the buckwheat flour, mix the dough with water, knead it, stretch it, fold it, cut it, and boil it with the help of an experienced artisan. Afterwards, enjoy your soba with chilled Japanese soup stock called dashi, daikon (radish), grated yam, wasabi (Japanese horseradish), spring onions, and/or raw egg.
DETAILS
REGISTRATION START

2022/03/11
RESERVATION DEADLINE

5 days before activity
ACTIVITY OPTIONS

AM Plan(9:30~)※weekdays only
PM Plan(15:00~)
SCHEDULE
(Some times may differ)

1) Meet at Izushi Sara Soba Mikura
2) Grind your buckwheat using a stone mortar under the guidance of an experienced artisan (30 mins)
3) Create and cut your soba dough using the ground buckwheat flour (60 mins) (The artisan will also boil your noodles)
4) Eat your own Izushi Sara Soba (30 mins)
ACCOMPANYING GUIDE
(INCLUDED OR NOT)

Not Included
MINIMUM NUMBER OF PEOPLE

2
MEETING PLACE

Izushi Sara Soba Mikura, 129-19 Kobito, Izushi-cho, Toyooka-shi, Hyogo 668-0256
PRICES
(Per person unless otherwise noted)

| Number of People Participating in Total | Price per Person |
| --- | --- |
| 2+ people | 3,500 yen |
INCLUDED IN THE PRICING

Activity fee, dining fee
CANCELLATION FEES

| Day of Cancellation | Cancellation Fee (% of activity price) |
| --- | --- |
| The day of | 100% |
| The day before | 50% |
| 2-7 days before | 30% |
| 8+ days before | 0% |
ACCEPTED PAYMENT TYPES

Pay by credit card (VISA, MASTER, JCB, AMEX, DC) via an activity confirmation link in an e-mail that we will send to you following your reservation.
OPERATOR NAME

Izushi Sara Soba Mikura
Request Form