Geo Stand Up Paddleboarding (G-SUP)
This tour is available from June to September only.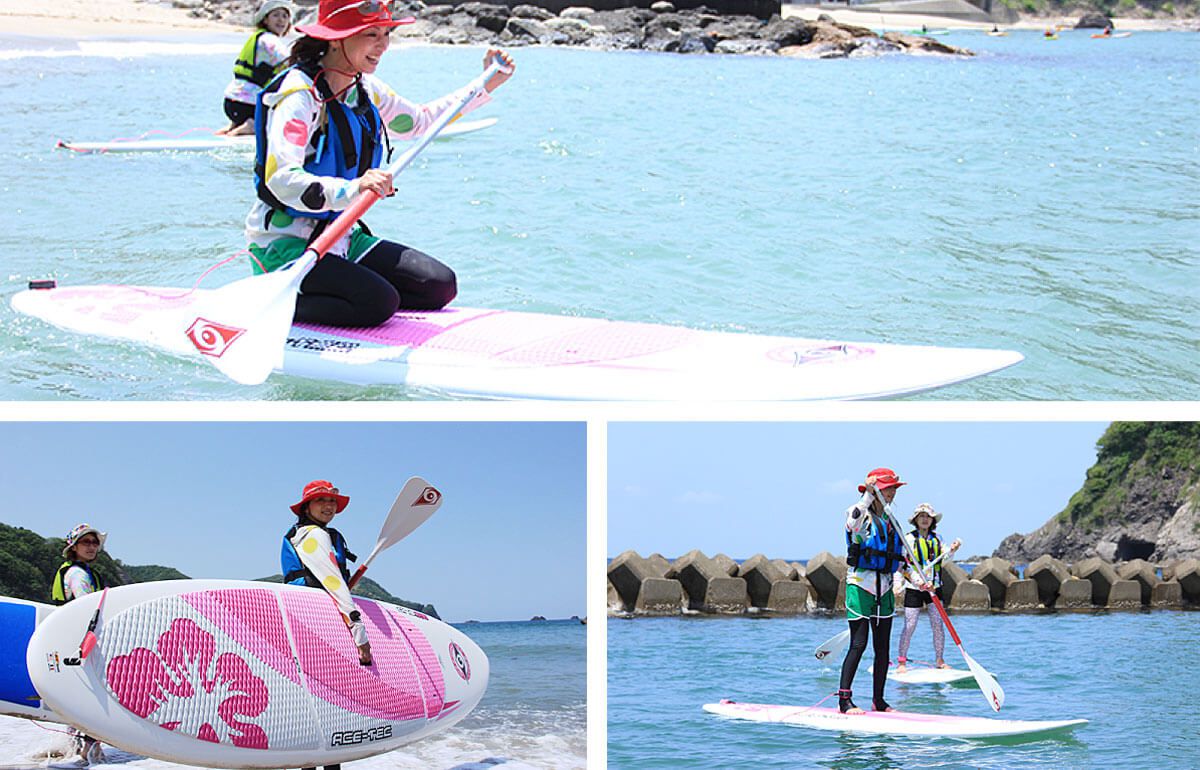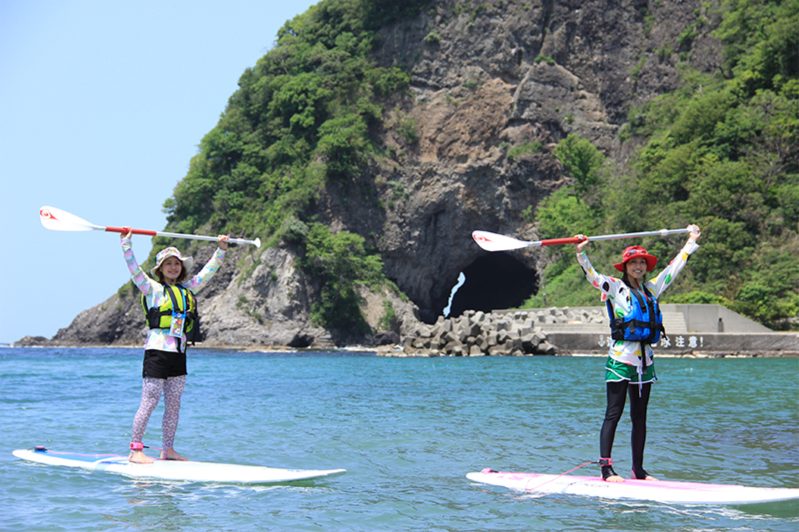 Try stand up paddleboarding (SUP) on the clear, blue waters of the Japan Sea in Takeno!
For those looking to try something other than the classic kayaking, come explore Takeno by doing stand up paddleboarding! With virtually no waves in the summer, participants of many different ages and levels can easily try their hand at SUP. One report has even listed stand up paddleboarding as the most popular outdoor activity among first-time participants. The boards are wide and fairly stable, so we can recommend this activity for beginners.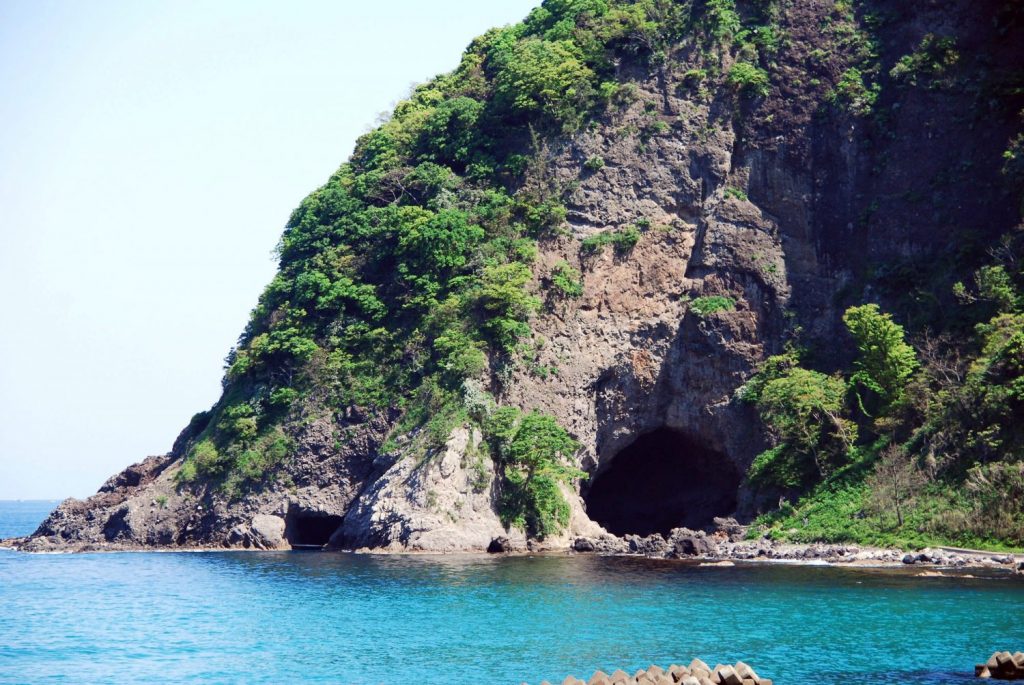 A certified instructor will be there to guide you. All instructors take a high-level lifesaving course and go through special training every season. On the SUP tour, you will be given basic instructions on land and then take some time practicing in the shallow area. Once you get the feel of the board and feel confident enough to head out, your tour guide will accompany you out further. The guide will take you to the different landmarks out on the sea.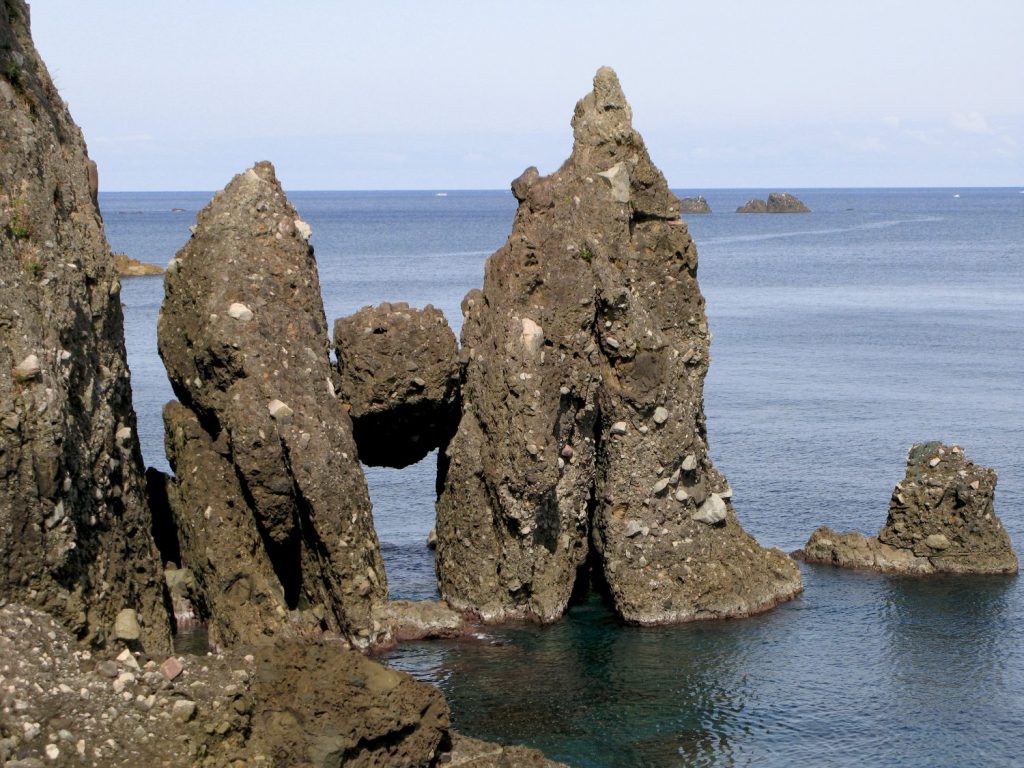 Get up close to breathtaking landmarks on Takeno's coast, such as the Yodo (Monster) Cave and Hasakari Rock.


The legend behind Monster Cave goes as follows. There once was an ogre who came to the coast and saw a part of it that he wanted to take back to his birthplace. So, he took his staff and smashed out a piece of the coastline. The Sea God was not happy when he saw what the ogre had done. Thus he dragged the ogre out into the sea as punishment. Nowadays, you can still see the fallen rocks near the cave where the ogre tried to steal a piece of the coast for himself.


While out at sea, take a break and sit or lie down on your board and take in the beautiful scenery around you.
DETAILS
REGISTRATION START

2022/06/01
REGISTRATION ENDS

2022/09/30
RESERVATION DEADLINE

7 days before activity
ACTIVITY OPTIONS

10:30-12:00
13:30-15:00
15:30-17:00
SCHEDULE
(Some times may differ)

・Staff will pick you up and drive you to the registration office (Beach House MERI)
・Register and put on necessary gear (hat, life jacket, etc.)
・Lesson and practice
・Stretch
・Set out onto the water, SUP with your guide
ACCOMPANYING GUIDE
(INCLUDED OR NOT)

Included
MINIMUM NUMBER OF PEOPLE

1
AGE REQUIREMENT

must be 6 years or older (children ages 6-8 should be accompanied by an adult)
MEETING PLACE

JR Takeno Station (Takeno-cho Kusakai, Toyooka-shi, Hyogo 〒669-6201)
IMPORTANT INFORMATION

●Necessary Items (if you don't bring these, you will need to rent them from our facilities)
・shoes that can get wet (water shoes, old sneakers, river sandals, crocs, etc.), no boots, flip flops, or socks!
・hat with a brim/visor (baseball cap, fisherman's hat/bucket hat, etc.)
●Suggested Items
・sunglasses (to protect against UV rays)
・sunscreen (to protect against UV rays)
・gloves (to prevent blisters)
・clothes that can get wet
・a change of clothes
・towel
●Provided Items
・life jacket
・drink (500 ml)
・accident insurance
・photos taken by guide on a camera

Please bring/use phones or cameras at your own risk. Photos will be taken by the guide, which may be used on websites, pamphlets, etc.

The following days will have the following additional fee per person:
Weekends +1100 JPY
August 1~27 +1100 JPY
August 10~15 +2200 JPY
August weekends +2200 JPY
July 15~17 +2200 JPY
July 22 23 29 30 +2200 JPY
MUST READ NOTES

The staff is super friendly and while they are there to make sure you have a great time and get all you can out of your experience, their top priority is your safety. All of the guides that accompany you on your adventure are highly qualified and equipped for emergencies. The instructors are required to take a high-level lifesaving course and go through special training every season with the fire station to become certified. While the staff is trained to handle emergencies we like to avoid any reason to call upon these skills, we ask that you take precautions as well. Know your physical limits, listen to your instructor at all times and be aware of your surroundings to help ensure your safety.
PRICES
(Per person unless otherwise noted)

| Number of People Participating in Total | Price per Person |
| --- | --- |
| 1-10 people | 5,500 yen |
CANCELLATION FEES

| Day of Cancellation | Cancellation Fee (% of activity price) |
| --- | --- |
| The day of | 100% |
| The day before | 50% |
| 2-7 days before | 30% |
| 8+ days before | 0% |
ACCEPTED PAYMENT TYPES

Pay by credit card (VISA, MASTER, JCB, AMEX, DC) via an activity confirmation link in an e-mail that we will send to you following your reservation.
OPERATOR NAME

Uminoie Meri Adventure Tours
Mother Earth Co., Ltd.
Request Form