Your One-Stop Shop For All Things Toyooka
Kounotori Honpo is located right next to the Hyogo Park of the Oriental White Stork, just a short car-ride away from Kinosaki Onsen. Products ranging from Stork Natural Rice, ice cream, and locally-crafted woodwork are available for purchase.
Sustainability
Kounotori Honpo is actively engaging in various sustainability efforts including promoting nearby businesses and using locally-sourced ingredients for their in-house cafe, cícogna.
Recommended Souvenirs
Toyooka Kaban

Only bags which satisfy Toyooka Kaban's stringent standards are marked with Toyooka Kaban's logo. This renowned handbag brand has select designs available for sale at Kounotori Honpo.

Stork Natural Rice

Locally-produced rice grown with sustainability and stork-friendly environmental initiatives in mind. Learn more about Stork Natural Rice here!

Kinosaki Coffee

Coffee expertly produced by the staff at Miharashi Terrace Cafe in Kinosaki.
Kounotori Egg Bolo

Popular among toddlers and infants, egg bolo are egg-flavored biscuits that are easy to chew and good for light snacking.

Genbudo Rice Crackers

High-quality rice crackers made with sticky rice, tamba black soybeans, salt, soy sauce, and nori (dried seaweed).

Kounotori Vinegar

Vinegar created with ingredients such as salt, yuzu fruit, and Stork Natural Rice from Tajima (northern Hyogo Prefecture).
Kani Senbei

Senbei, traditional Japanese crackers, come in many different flavors. Available flavors include crab, black beans, and nori (seaweed).

Woodwork Sculptures

Small Oriental White Stork sculptures carved from wood are the perfect conversation pieces for when you return from vacation.

Oriental White Stork Plushies

Available as a keychain or as a small stuffed animal, these plushies fit in the palm of your hand and are a great gift for children!
Outdoor Fun
A photo with Kou-chan, Toyooka's loveable Oriental White Stork mascot, is another great way to commemorate your visit to Toyooka and Kinosaki!
Visitors are also welcome to hop into a model stork nest and take some memorable snaps at the "happiness ring," A photo-op frequented by those who are expecting a child or hope to become pregnant.
Fun fact: The title of the "happiness ring," or 幸のトリング photo-op is actually a play on words–the pronunciation of 幸のトリング is a phonetic mix of the Japanese words for "stork" and "ring!"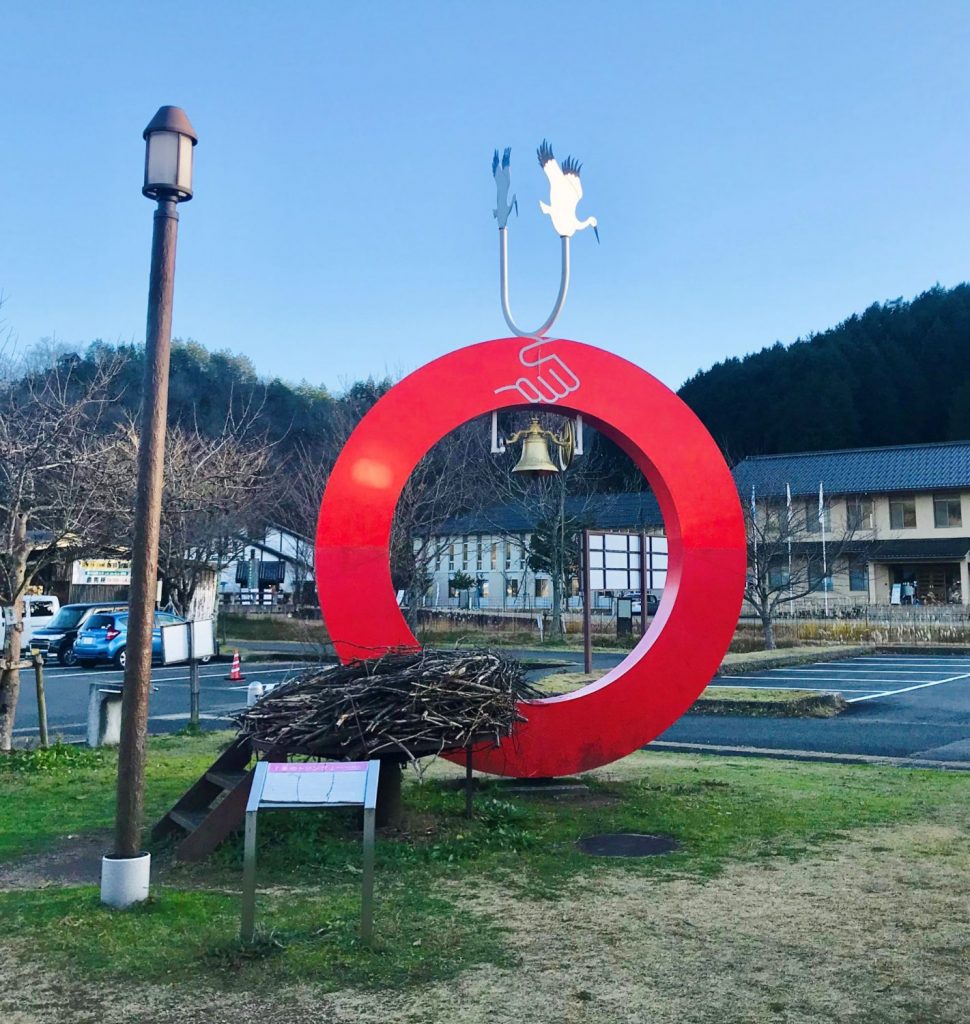 In-House Cafe Cicogna
After shopping for some souvenirs, feel free to pop into Kounotori Honpo's very own cafe, Cicogna. Relax in the charming interior with a beautiful view of the Japanese countryside as you wait for your meal cooked from locally-sourced ingredients.
BUSINESS INFORMATION
Business Name

Kounotori Honpo
Business Hours

Kounotori Honpo 9:00-17:00
Cicogna in-house dining 10:00-16:00
Holidays / Closed

Every Monday (the following Tuesday if Monday is a national holiday) New Year Holiday (December 27-January 4)
Telephone

0796-37-8222
Address

14-2 Shounji, Toyooka, Hyogo 668-0814
Homepage

https://www.kounotori-shop.com/shop/

This site is in Japanese.
Payment Accepted

Cash
Distance from Station

20 minute drive from Kinosaki Onsen
Language Support

Sorry, but only Japanese is spoken.
OTHER
Parking

Free Parking Lot