Come swing around a bundle of straw set on fire!
The Izushi Atago Fire Festival is being held on August 25th at Ifukube Shrine in Izushi. Each year people gather from all over northern Hyogo at this small shrine to celebrate and wish for good health. The main event starts with the fire being carried down from the top of the mountain by local school children. This fire is then used to lit torches and bails of straw that are set up on the temple grounds. A priest will bless the visitors in hopes of warding off any evil spirit or bad luck and instead wish for good luck. Visitors can ensure good luck by swinging a bundle of straw that has been set ablaze, around themselves. Come watch others swing the bundles or join in the fun yourself!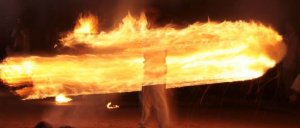 Schedule:
18:00 Shinto ritual at Ifukube Shrine
18:30 Shinto ritual and fire burning ceremony at Atago Shrine
19:00 Flame lighting ceremony, lantern lighting
19:30 Fiery straw bundle-swinging
20:30 End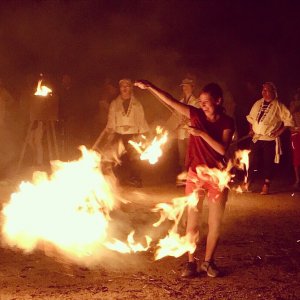 Since there is no train station and buses do not run very late, it is recommended to come by car. You can rent a car from this page here. The location of the event is below.