"TOJI"
HOT SPRING THERAPY THAT HEALS BOTH THE BODY AND SOUL
1300 years of therapeutic history
Kinosaki Onsen is a hot spring town with 1300 years of history behind it. As an onsen town formed in ancient times, Kinosaki had at least 50 onsen ryokan in 1870. At the time, the town was not so much a sightseeing spot as it was a place for people to heal in the waters.
This method, called "toji" in Japanese, is a passed-down hot spring therapy that involves staying in a hot spring resort and entering an onsen with the health benefits needed to treat the person's sickness or health condition. A pharmacy book published around 1730 describes toji and introduces Kinosaki Onsen as the best out of the many hot springs all over Japan.
Kinosaki Onsen's concept - one large ryokan
Kinosaki Onsen, which is said to be the birthplace of the onsen-hopping, has seven hot springs each with their own charm. Since ancient times, the people of Kinosaki have thought of the town as one large ryokan, with the inns as guest rooms and the streets as the hallways, while they welcome guests who come to enter the health-benefitting hot springs.
This mentality still lives on in the town. When you arrive at your ryokan, change into a yukata and relieve your daily fatigue by visiting the hot springs.
Experience Toji for yourself
While staying in a ryokan, you can experience the onsen culture and eat delicious food. Come visit to heal the body & soul, and to experience traditional Japanese culture.

Day 2
Experience the clearing of your mind and the warming of your heart
Seated Zen Meditation and Daycare Visit
Visit Gokurakuji, a temple is famous for its beautiful traditional Japanese rock garden, zen meditation practice, a friendly Buddhist priest, and a child daycare center next door. Align your spirit and mind with seated zen meditation called Zazen. After experiencing traditional Japanese culture through Zazen, take a glimpse at modern Japanese life at the children's daycare next door. Your heart will be purified and then warmed through these experiences.
Day 3
Experience Local Life and Become an Honorary Local
After experiencing the history and culture of Kinosaki, experience the life of a local resident. Visit a local fish market and receive help from fish market staff in choosing in-season fish and vegetables. Together you and the fish market staff will cook and eat seafood okonomiyaki.
Day 4
Experience Traditional Crafts and Make Great Memories
Visit the workshop of an artisan of mugiwara zaiku, a traditional straw handicraft that is only produced in Kinosaki Onsen. After observing the craftsman's delicate technique, make your own original straw craft design on a small box to keep as a lovely souvenir.
TOUR MAP
FACILITIES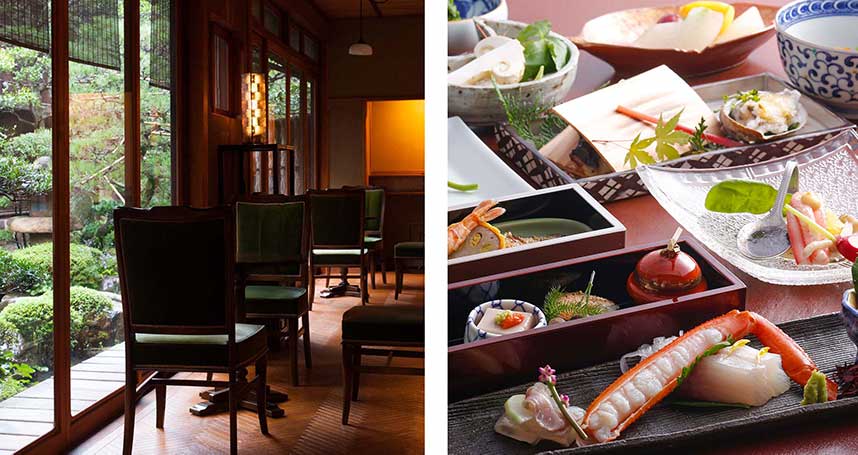 Nishimuraya Honkan
A purely Japanese ryokan that conveys the history and tradition of over 150 years since its establishment. Sukiya-style rooms make use of traditional Japanese architecture, each room having its own charm and beauty. Enjoy a welcoming Japanese garden that looks like it came out of a painting.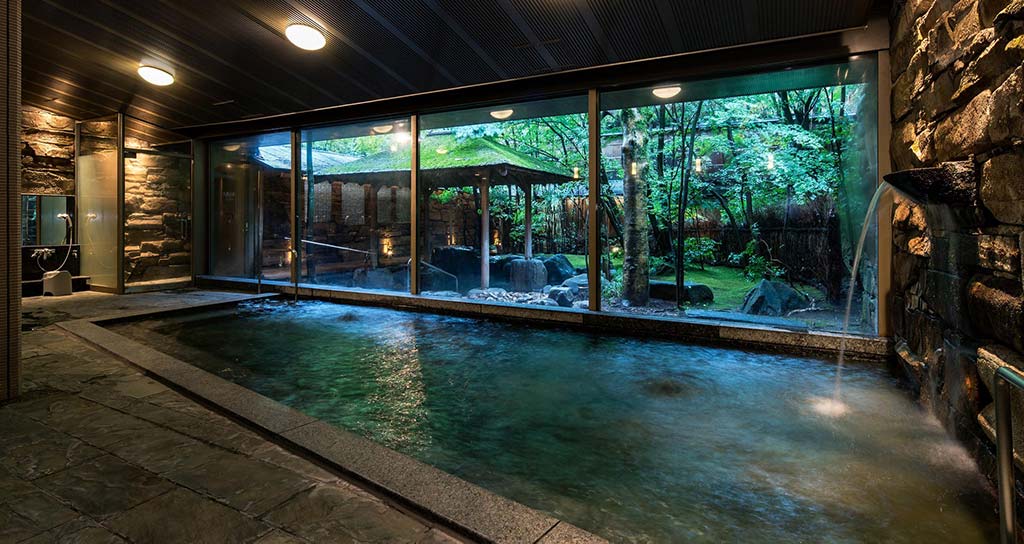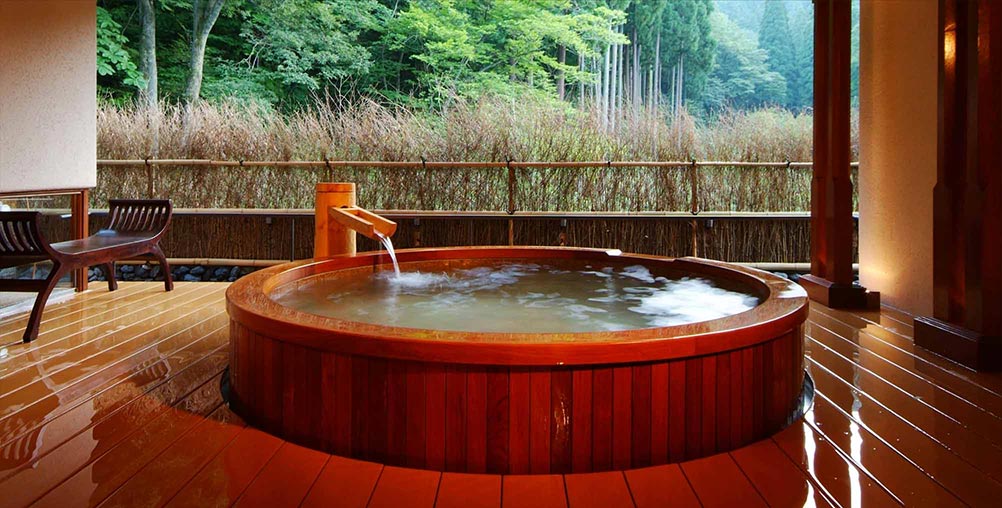 Private Onsen Spa
Located in a natural forest garden, this private spa has an outdoor hot spring bath, a stone sauna and a living room.
There are three rooms, each with their own charm. This experience will upgrade your onsen trip.
Kinosaki Onsen is located in nature, surrounded by mountains and the Sea of Japan. After being healed by the hot springs, put on your yukata and enjoy cooking with local ingredients. You can enjoy rice and vegetables grown in abundant local nature, snow crabs from the Tsuiyama Port during the winter, and fresh seafood & Tajima beef during the other seasons. In addition, we recommend trying local beer and sweets while walking around the hot spring town.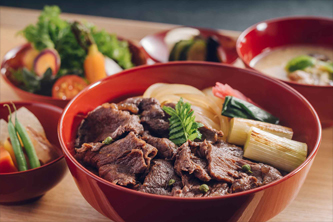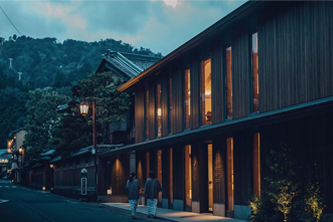 Restaurant Sanpou
Starting with local vegetables and time-honored Japanese traditions, chefs cook colorful ingredients right in front of the customers. You can enjoy the work of a chef who spares no time using charcoal fire and delicate Japanese techniques, as well as the deliciousness and beauty of seasonal ingredients.