2019/05/10
【Press Release】Volcanic Rock Trekking
Kannabe has many activities full of outdoor adventure and excitement. One of these many outdoor activities is volcanic rock trekking.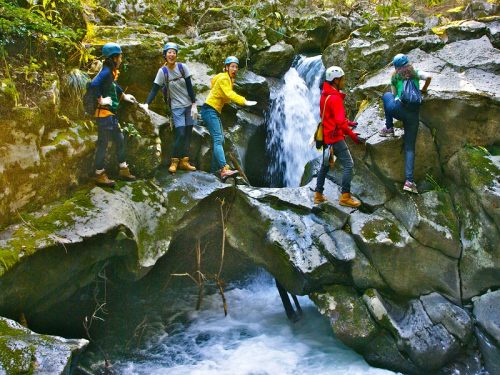 In this activity, one can go on a guided adventure trekking on a lava flow formation. The formation erupted from Mt. Kannabe about 25,000 years ago and then hardened over time, forming an interesting and challenging course through the forest. While completing this 1.6 km course, participants explore behind a waterfall, climb over volcanic rocks, and more. Check out the link to the activity here!
We offer beginner and intermediate routes, so the guide will pick a route which suits the abilities of the group. One can access this activity by taking the train to Ebara Station, and then taking the city bus to the stop called Kannabe-Onsen-Yutorogi-Mae (神鍋温泉ゆとろぎ前).
Kannabe is a small mountain town in the highlands of the town of Hidaka in northern Hyogo Prefecture. Surrounded by mountains and open fields under a spacious sky, Kannabe shines bright with stars during the nighttime due to the lack of city lights.
In Kannabe you will find the crater of the Kansai region's youngest, but extinct, volcano. The geological features of this volcano are used by locals for skiing, snowboarding, and snowshoeing. The soil of the land is made of volcanic ash and is used for upland farming, while old volcanic rock tunnels are used as natural refrigerators by local farmers to store their crops.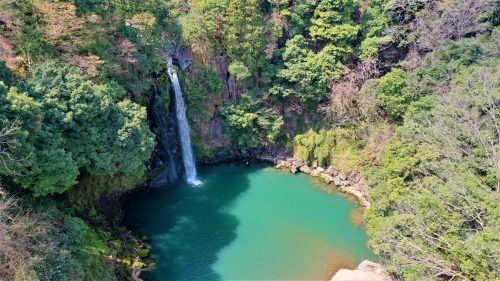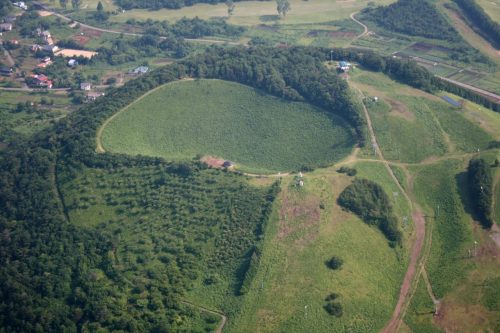 Volcanic activity up until 25,000 years ago has given the area beautiful and scenic terrain. The magma that flowed from the volcano traveled from Kannabe to the main river, Maruyama River, creating cascading waterfalls and volcanic rock trails that are well worth hiking. Some of the noted spots that are also part of the San'in Kaigan UNESCO Global Geopark are Mt. Kannabe (where you can hike up to the mouth of the volcano crater), Hattandaki Waterfalls, lava tunnels and more.