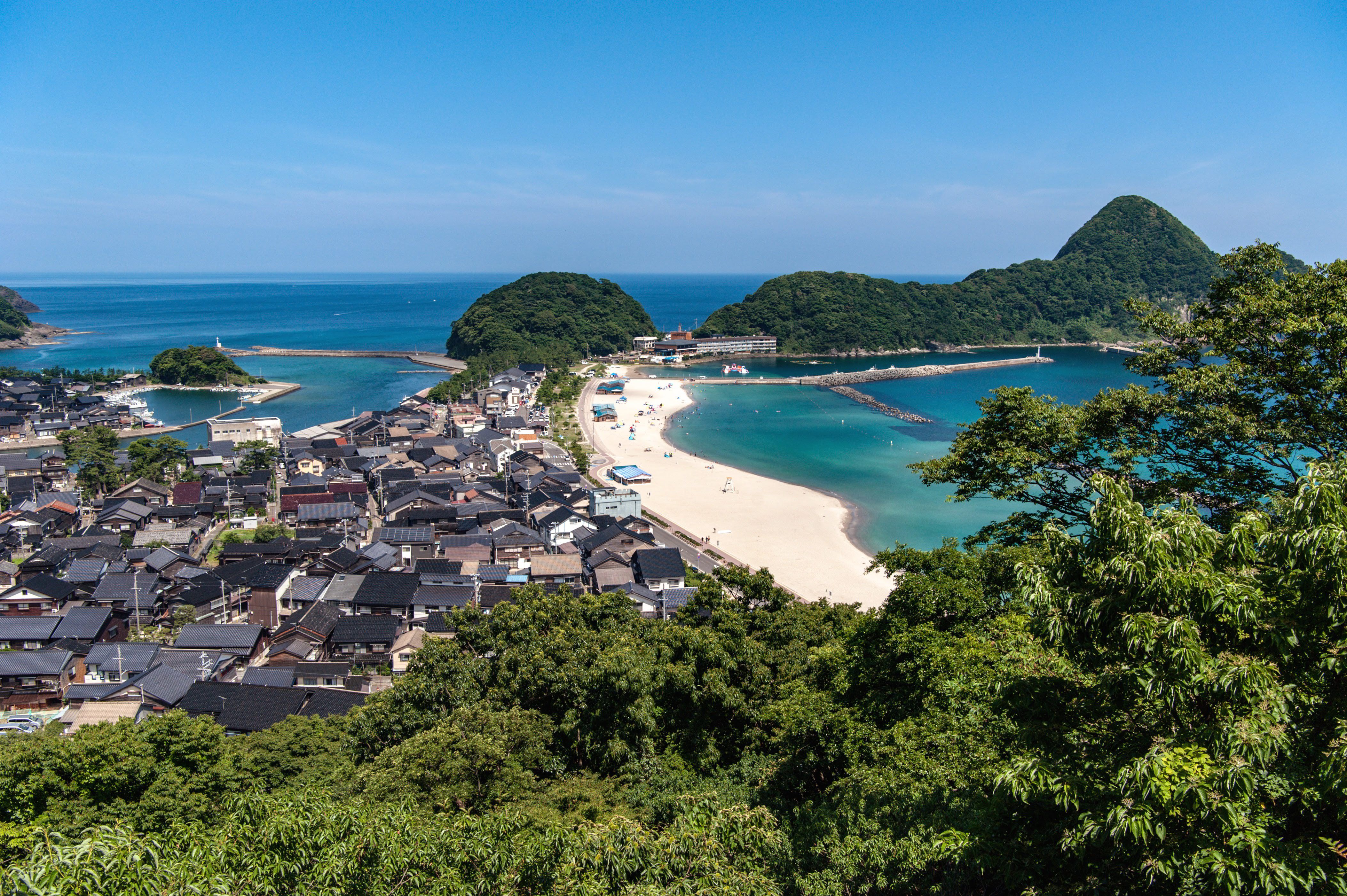 Toyooka Tours- Water Activities Edition
DURATION

3 DAYS & 2 NIGHTS (Independent Model Course)
PERIOD OF OPERATION

April to Mid-July, September to October
TRANSPORTATION

Train & Bicycle
ITINERARY SUMMARY
DURATION:3 DAYS & 2 NIGHTS (Independent Model Course)
| Day | Place | Highlights |
| --- | --- | --- |
| Day 1 | Kyoto | Leave Kyoto by express train to Kinosaki Onsen. |
| | Kinosaki Onsen | Stroll through Kinosaki Onsen. Visit the Kinosaki Onsen Ropeway, where you can see a view of the town and enter Onsenji Temple. Have lunch in one of Kinosaki's many cafes or restaurants, and dinner in your ryokan. Stay at your ryokan for the night. |
| Day 2 | Kinosaki Onsen | Have breakfast at your ryokan and stroll through town. |
| | Takeno Beach | Partake in Geopark Sea Kayaking and BBQing in Takeno's eco-tour. Then you have free time to either walk around or rent a bicycle. |
| | Kinosaki Onsen | Stroll through town in a yukata and visit the public baths. Have dinner and spend the night in the ryokan. |
| Day 3 | Kinosaki Onsen | Have breakfast at your ryokan and stroll through town. |
| Day 3 (Option A) | Nature & Stork Sanctuary | Visit Hachigoro Toshima Wetland and Genbudo Park by rental bicycle. Have lunch at the Genbudo Museum. |
| Day 3 (Option B) | River & Port Area | Visit Kehi Beach, Tsuiyama Fishing Port, and the Maruyama River by rental bicycle. Have lunch at Kinosaki Marine World. |
| | Kyoto | Leave Kinosaki Onsen by express train to Kyoto. |
Day 1
Leave Kyoto by express train to Kinosaki Onsen.

Spend time exploring the many fascinating shops in Kinosaki. Then, you can take the Kinosaki Onsen Ropeway up halfway to Onsenji Station, where you can visit the Onsenji Temple. Afterwards, you can hop back on the ropeway to go up to the top of the mountain. From there you can sip coffee while enjoying the view, or try your hand at throwing small discs (kawarake) at a target located just off the mountain.

Other available activities include a straw craft workshop (1 hour), CREEZAN's leather origami workshop (30-45 minutes), and SOZORO bicycle renting.

Spend the night in your ryokan, enjoying the peaceful atmosphere and delicious dinner.
Lunch

Kinosaki Onsen

Your Choice

Dinner

Ryokan

Kaiseki Cuisine
Day 2
Start off the day with breakfast in your ryokan, followed by strolling through Kinosaki Onsen. Afterwards, take JR train from Kinosaki Onsen Station to Takeno Station.

Once you arrive, you will begin the eco-tour. This includes BBQing near the beach and geopark sea kayaking. You can paddle around in a sea kayak with a Takeno Geo Canoe, exploring the scenic views of San'in Coastal Geo Park. The water is calm and crystal-clear!

Afterwards, you have free time to walk or bike around the area. You can hike the Nekozaki Peninsula, see the Hasakari Rock, view the Yodo Cave, and visit Kirihama Beach. There are many places in the area to explore!

Then, take the train back to Kinosaki Onsen Station for time to visit the public hot springs while wearing yukata. Have dinner at the ryokan.
Breakfast

Ryokan

Japanese or Western

Lunch

Takeno Beach

BBQ

Dinner

Ryokan

Shabu-Shabu (Japanese Hot Pot)
Day 3
Have breakfast in your ryokan before heading out to explore more of Kinosaki. Afterwards, choose between two self-guided tours you can take using a rental bicycle.

One option is to go for the Nature & Stork Sanctuary route. You can bike past the Hachigoro Toshima Wetland, where you can spot the famous Oriental White Storks in their natural habitat. Also, you can visit Genbudo Park, and see magnificent caves made of hexagonal pillars that formed as the result of a volcanic explosion. Have lunch at the Genbudo Museum right nearby.

The other option is to bike in the River & Port area. On this route, you can bike to Kehi Beach, Tsuiyama Fishing Port, and past the Maruyama River. During the spring and summer months, you can enjoy swimming in the ocean at Kehi Beach, as well as BBQing. See the sea life and have lunch at Kinosaki Marine World.

In mid-afternoon, leave Kinosaki Onsen by express train back to Kyoto.
Breakfast

Ryokan

Japanese or Western

Lunch

Genbudo Museum or Kinosaki Marine World

Your Choice