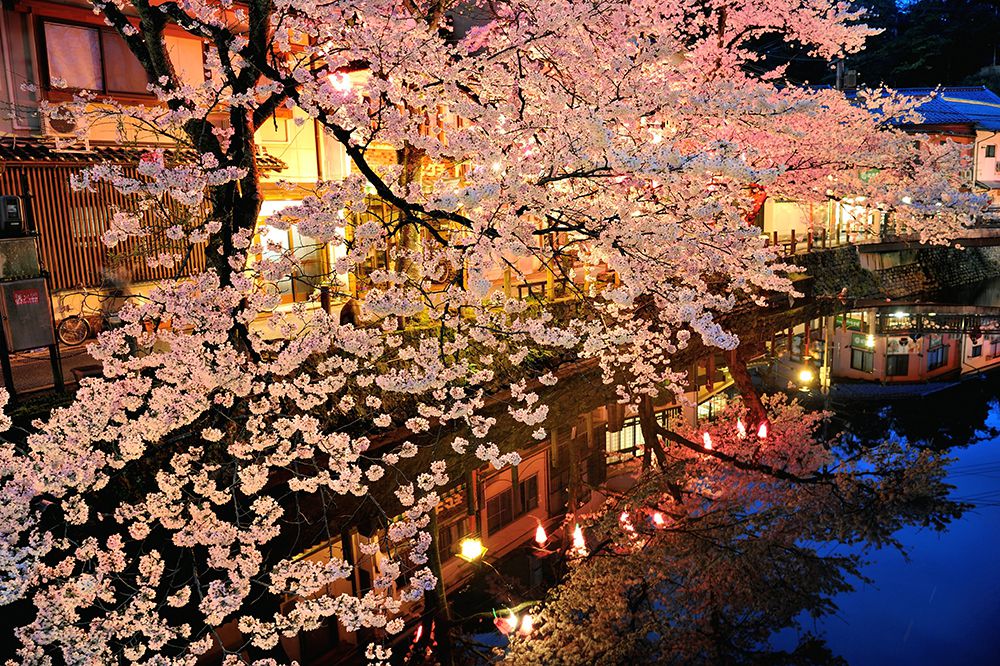 Sakura – Hidden Gems of Northern Kansai
DURATION

6 DAYS & 4 NIGHTS (Group Model Course)
PERIOD OF OPERATION

Start of April to mid-April
TRANSPORTATION

Bus
ITINERARY SUMMARY
DURATION:6 DAYS & 4 NIGHTS (Group Model Course)
| Day | Place | Highlights |
| --- | --- | --- |
| Day 1 | Airport of Departure | |
| Day 2 | Kansai International Airport (KIX) | Arrive at KIX, collect your luggage, and rendezvous at the bus. |
| | Monjudo & Kaisenkyo | |
| | Amanohashidate | Tour Amanohashidate Winery and enjoy a lunch buffet. Sightsee and view the famous land bridge known as the "Bridge to Heaven" from the top of Kasamatsu Park. |
| | Ine | Take a 25 minute boat ride from Amanohashidate to Ine no Funaya. Visit Ine Fishing Village and see its picturesque boathouses lined up along the water. |
| | Tango Matsujima | The picturesque scenery of Tango Matsujima is named after Matsujima, one of Japan's 3 great views. |
| | Taiza | Visit the hot spring and stay the night at Totoya. If requested, it is possible to compare and taste different craft sake with dinner at your hotel. |
| Day 3 | Taiza | Nigiri sushi activity and breakfast |
| | Toyooka | Strawberry picking and lunch at Maruzen, a popular yakiniku restaurant. |
| | Hiyoriyama | Visit the seaside aquarium Marine World. From the parking lot you can also take pictures of the Palace of the Dragon King. |
| | Kinosaki Onsen | Stroll around this hot spring town in a yukata, visit the many hot springs and ride the ropeway to the top of the mountain for a spectacular view. |
| | | *In the case of bad weather, a straw art workshop will be held instead. |
| Day 4 | Genbudo Rock Formation | Visit the basalt caves and museum of Genbudo. |
| | Toyooka | See the Homeland of the Oriental White Stork, a natural national treasure. Then go shopping along Caban street. |
| | Izushi | Try the local specialty, Sara Soba, for lunch and view the sakura at Izushi Castle Ruins. |
| | Kannabe Highlands | Lava flow formation walk |
| | Yumura Onsen | Boil eggs in the hot spring waters and visit a foot bath. |
| Day 5 | Himeji Castle | Sightsee around the castle and have Himeji Oden near Himeji Castle for lunch. |
| | Osaka City | Travel to Osaka City for sightseeing, shopping and dinner at a place of your choice. |
| Day 6 | Kansai International Airport (KIX) | Complete departure procedures and depart from Japan. |
Day 1
Depart at night from the airport in your nearby city and fly overnight to Kansai International Airport.
Day 2
After you arrive at Kansai International Airport you will be taken to Amanohashidate, also known as the Bridge to Heaven. Here you will take the cable car to the observation deck where you can look over the land bridge Amanohashidate. Afterwards you will head down and catch a boat, the boat will take you to Ine. Here you can sightsee around the fishing village famous for its boat houses.
Breakfast

In-flight Meal

Lunch

Vegetable Centered Buffet

Dinner

Hotel

Fish Cuisine
Featured Accommodation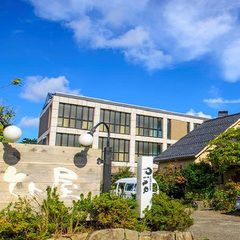 Totoya

Family-run inn Totoya is located in Kyotango, just 50 meters from the beach and just 16.1 km from Yuhigaura Onsen. The rooms have great views of the rustic landscape of pine trees and the beach.
Day 3
Travel to Kinosaki Onsen Town and Toyooka. Go strawberry picking and then have lunch at Maruzen Yakiniku Restaurant. In the afternoon you will visit the seaside aquarium, Marine World. Then head over to the hot spring town Kinosaki Onsen where you will take the gondola up to the top of the mountain and enjoy a view the town. While in Kinosaki Onsen enjoy a stroll down the streets lined with cherry blossoms, visit several hot springs and take in the town's sites, all while wearing a yukata.
Breakfast

Hotel

Japanese Cuisine

Lunch

Maruzen Yakiniku

Korean BBQ, Yakiniku

Dinner

Hotel

Japanese Banquet
Day 4
Travel to the nearby Genbudo Park and Museum to view the national natural monuments, basalt caves created from cooled magma.
From there you will go to the Homeland of the Oriental White Stork. A research institution for breeding and reintroduction of the Oriental White Stork, a special natural monument of Japan. Here you can view the storks, called Kounotori, up close.
Afterwards, take time to visit the local shops along Caban street in Toyooka.
Lunch will be in Izushi, a castle town. Here you can enjoy the local specialty, sara soba or plated buckwheat noodles. Then stroll around the castle grounds while viewing the cherry trees here.
After Izushi, take a scenic drive up to Kannabe Mountains. Along the way you will pass by several cherry blossoms. Here you will join walk along a lava flow formation in Kannabe highlands. Lastly, you will go to Yumura Onsen, another hot spring town.
Breakfast

Hotel

Japanese Cuisine

Lunch

Izushi

Izushi Soba

Breakfast

Hotel

Japanese Beef Cuisine
Featured Accommodation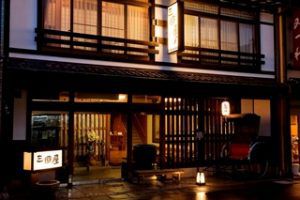 Mikuniya

A 3 minute walk from the train station is a hidden retreat. We offer 3 free private baths, a beauty salon, and a delicious breakfast.
Day 5
View the beautiful cherry blossoms that cover the Himeji Castle grounds. For lunch try Himeji Oden near the castle.
Then, in the evening travel to Osaka and enjoy the sights, some shopping and sightseeing before you depart tomorrow.
Breakfast

Hotel

Japanese Cuisine

Lunch

Himeji

Himeji Oden

Dinner

Your Choice

Your Choice