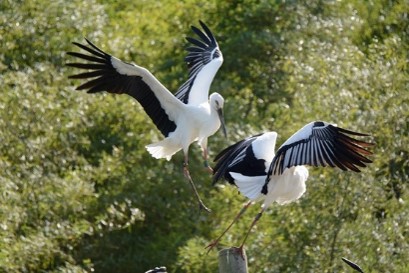 Oriental White Stork Watching Tour
DURATION

3 DAYS & 2 NIGHTS (Group Model Course)
PERIOD OF OPERATION

April to July
TRANSPORTATION

Bus
ITINERARY SUMMARY
DURATION:3 DAYS & 2 NIGHTS (Group Model Course)
| Day | Place | Highlights |
| --- | --- | --- |
| Day 1 | Kyoto | Depart from Kyoto. |
| | Toyooka | See and learn about Toyooka's famous Oriental White Stork through a watching tour. Have lunch in a French restaurant or have a lunch box (bento) containing Stork Natural Rice. |
| | Kinosaki Onsen | Spend the night in Kinosaki Onsen. |
| Day 2 | Genbudo Caves | Take in the magnificent nature at Genbudo Caves, which formed from the cooled lava of a volcano which erupted 1.6 million years ago. |
| | Izushi | Visit the nostalgic castle town of Izushi, and see the Eirakukan Kabuki Theatre and the Izushi Castle Ruins. Have lunch at an Izushi Soba Shop. |
| | Kinosaki Onsen | Spend the night in Kinosaki Onsen, strolling through town in a yukata and exploring the many hot springs and shops. |
| Day 3 (Option A) | Takeno Beach | Enjoy the beautiful beach town by the Japan Sea with swimming, kayaking, snorkeling, and more. Have lunch of seafood and more in this seaside town. |
| Day 3 (Option B) | Kannabe Highlands | Enjoy outdoor activities on the highlands, including tree climbing, river fishing, and golf. Have lunch by outdoor cooking or at one of Kannabe Highlands' many restaurants. |
| Day 3 (Both for Options A and B) | Osaka | Travel down to Osaka for dinnertime in Dotonbori before your flight home. |
Day 1
Touch the lives of the local people while walking around the countryside and waterfront on the Oriental White Stork Watching Tour.

Start with observing the landscape of Maruyama River and the rice paddies to learn about the lives of the people in Toyooka, followed by a short film about the extinction and reintroduction of the Oriental White Stork.

In the afternoon, learn about the farming method for Stork Natural Rice, which lives in harmony with the Oriental White Stork. Then take a walk around rice paddies and wetlands to see where Oriental White Storks live.

Head over to Kinosaki Onsen in the evening for dinner and to stay the night.
Lunch

Park of Oriental White Stork

Japanese Cuisine (Bento)

Lunch

Amita Restaurant

French Cuisine
Day 2
In the morning, visit the Genbudo Caves, which formed from the cooled lava of a volcano which erupted 1.6 million years ago. They contain magnificent, innumerable hexagonal basalt rocks.

Afterwards, head to Izushi, the castle town. Discover the inner workings of the traditional Eirakukan Kabuki Theatre by checking out areas under and on the stage. Experience the old beauty of the Izushi Castle Ruins, and stroll through the nostalgic center of town before stopping for lunch at one of their many soba shops.

Spend the night strolling through Kinosaki Onsen in a yukata and explore its many hot springs and specialty shops.
Lunch

Izushi Soba Shop

Japanese Cuisine
Day 3
Today you can depart from Kinosaki Onsen, and then choose between visiting the seaside town of Takeno and the mountainous area of the Kannabe Highlands.

In Takeno, you can explore the coast by kayaking, canoeing, or snorkeling. Stroll through the town and see small shops and traditional landscape, featuring homes sided with dark brown or black wood siding.

In Kannabe Highlands, head up into the mountains and try tree climbing, outdoor cooking, and river fishing. Hike the highlands and challenge yourself to the ropes course with Oku-Kannabe Forest Adventure.

In the late afternoon, head down to Osaka to enjoy dinner in Dotonbori, known for their plethora of restaurants of both Japanese traditional and modern cuisine.
Lunch

Takeno (Option A)

Seafood Ricebowl

Lunch

Kannabe Highlands (Option B)

Japanese-Style Crab Set

Dinner

Dotonbori

Japanese Cuisine