Touchdown in Kinosaki Onsen!
A busy day experiencing the grand history of Kinosaki awaits
Kinosaki Onsen has been loved by locals and travelers for over 1,300 years and counting. But what sets it apart from other onsen towns is its many public onsen, which were each spawned from a deep and rich history. Let's take a trip back in time and find out how Kinosaki Onsen got its start.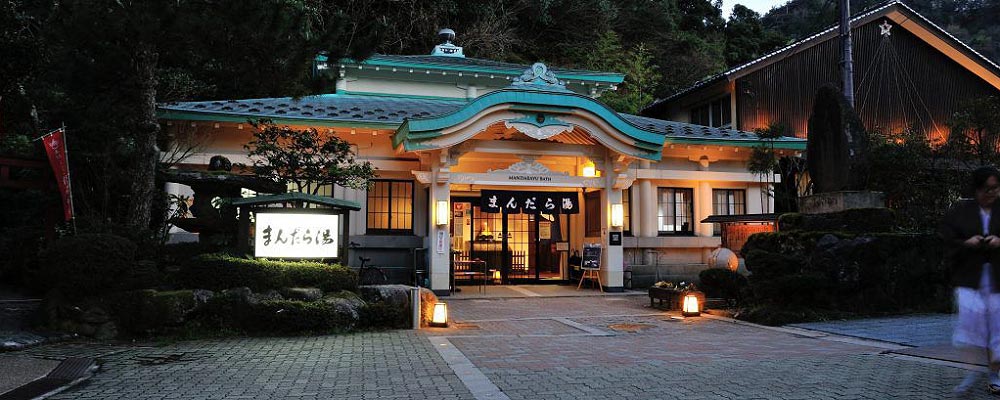 Mandara-yu
The town's history goes back around 1,300 years, to 720, when wandering mendicant Buddhist priest Dochi Shonin discovered the curative powers of its waters. When he first visited the area, he was instructed in a vision to chant a specific Buddhist sutra for 1,000 consecutive days, and when he did so, hot spring water with healing powers sprang forth.
A statue of "Eleven-Faced Kannon"

That first hot spring source is now the site of Mandara-yu, one of the seven public onsen of Kinosaki. Dochi Shonin also founded Onsenji Temple, the guardian temple of Kinosaki Onsen, erected in gratitude to the deity "Eleven-Faced Kannon", for the healing waters and the protection of the town and its people.
The best way to learn is to experience!
Let's head to Onsenji for ourselves
The best way to "feel" Kinosaki Onsen's history is to experience it, and no visit to Kinosaki Onsen is complete without a stop at the historic Onsenji Temple, known as the guardian temple of the hot springs.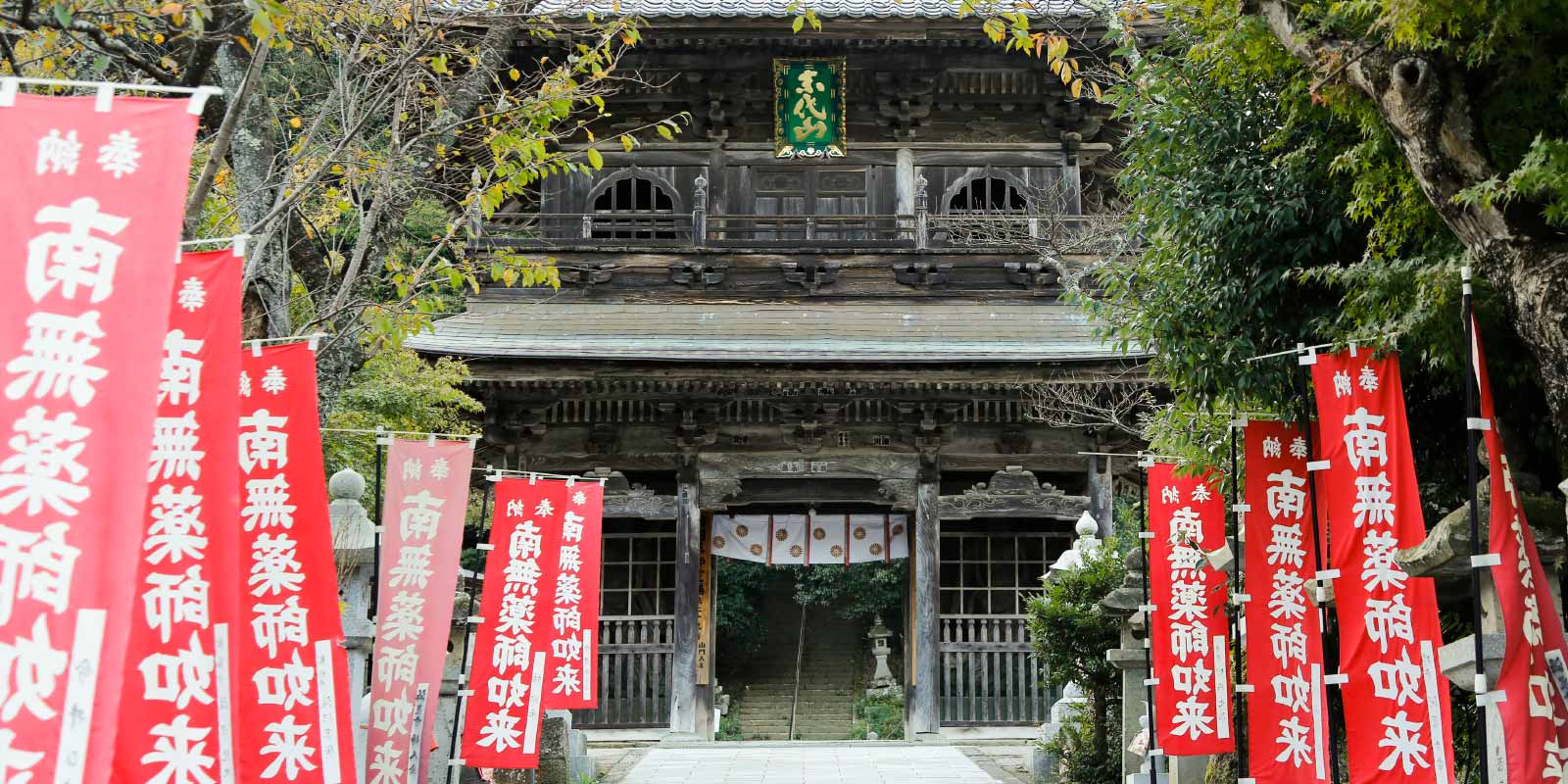 Nio-mon (temple gate)
Yakushi-do Hall

Onsenji Temple has an area that spreads throughout the mountain consisting of Yakushi-do Hall and Nio-mon temple gate at the foot of the mountain.
Located halfway up Mt. Daishi, the main temple hall can be reached either by taking the Kinosaki Onsen Ropeway or by climbing the 500 stone steps leading up to the temple. How you get there depends on the weather and how you're feeling!

Onsenji Main Hall
An enlightening experience at Onsenji temple
Learn about the history of Kinosaki Onsen, the protection of the divine deity of Kannon, and the ancient ritual that was necessary to enter the sacred waters of Kinosaki Onsen.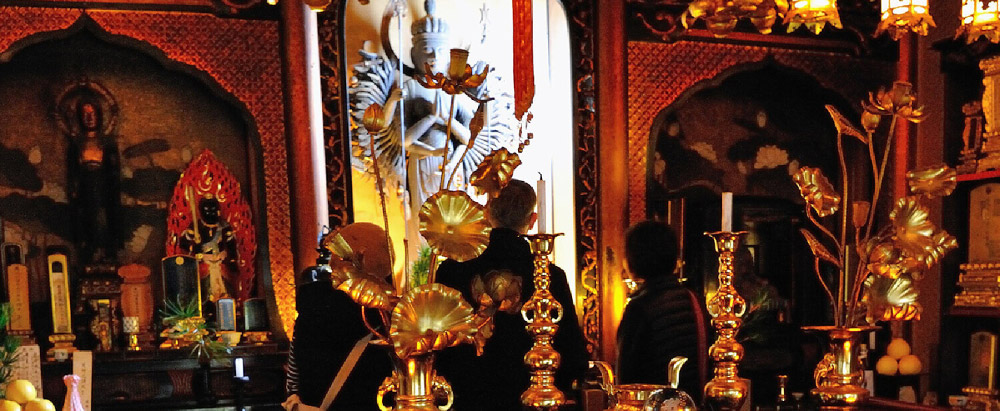 Eleven-Faced Kannon on display at Onsenji temple
A visit to the temple used to be a necessary ritual before entering the sacred waters: visitors would receive a special ladle to use for bathing during their visit to the temple. This ladle was also their entry ticket to the hot springs. After bathing, the ladle was then to be returned to the temple.
'shakushu' (Bamboo ladle) hand-towel

You can also purchase a special Onsenji hand towel at the temple, which has the bathing ritual instructions written on them.
This towel is also given as a complimentary gift when you partake in the 'Onsenji Temple Hot Spring Therapy Origins Tour'.
Onsenji Temple was founded in 738 CE by Buddhist priest Dochi Shonin and houses many important artifacts. One of these, the statue of the Buddhist deity known as Juichimen Kannon Bosatsu ("Eleven-Faced Kannon"), is a designated Important Cultural Property. This bodhisattva of compassion and mercy is on display for only three years at a time. When it is not shown, the sacred wooden statue is housed inside a box for 30 years and only the top half is shown for two days a year when the Onsen Festival takes place.

Buddhist priest Dochi Shonin
We're halfway there! Let's get to the top of this mountain
Enjoy a Michelin Green Guide Japan Star view

From the top of the mountain you can see a beautiful panoramic view of Kinosaki Onsen town, a view which has been awarded 1 Star by the Michelin Green Guide Japan. Once at the top you can enjoy the breathtaking view that overlooks the town, river and ocean while you rest with a coffee or ice-cream on the terrace of Miharashi cafe, located at the summit.
If you bought a ticket for the ropeway summit station, you can ride to the top of the mountain for free. If you purchased a ticket to the Onsenji Temple Station and wish to travel onto the top of the mountain you can take the trekking path to the top if you are feeling up to it.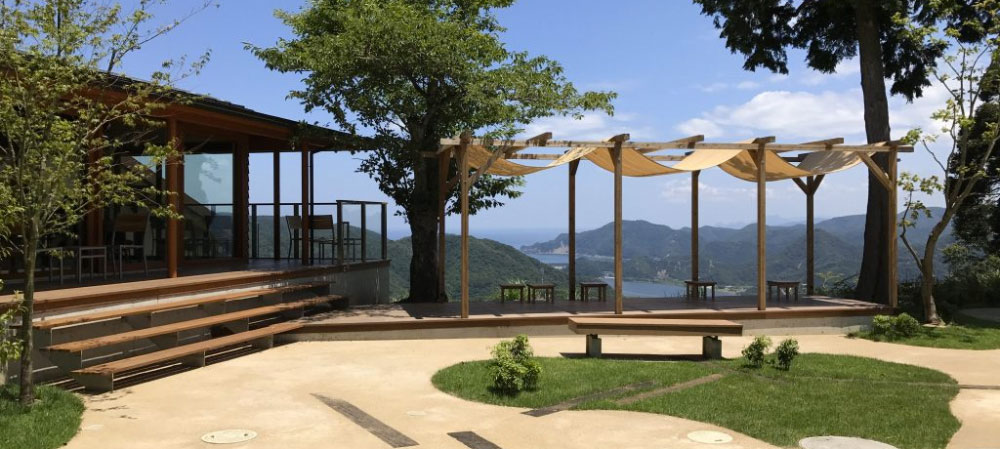 Mt. Daishi summit and Miharashi Cafe
A traditional Japanese activity – clay disc throwing!

Atop Mount Daishi you can try kawarake nage, the traditional Japanese activity of clay disc throwing. Try to hit the target with your clay discs. They say if you are able to hit the target, then your wishes will come true.
(Don't worry if you miss, apparently missing doesn't invite any misfortune!)
Descend Mount Daishi and grab lunch in Kinosaki

Having had a busy and productive morning, spoil yourself with a delicious lunch in Kinosaki. With many traditional and modern dining choices, head on over to our dining section to find something to suit your fancy.
Next stop – Gokurakuji!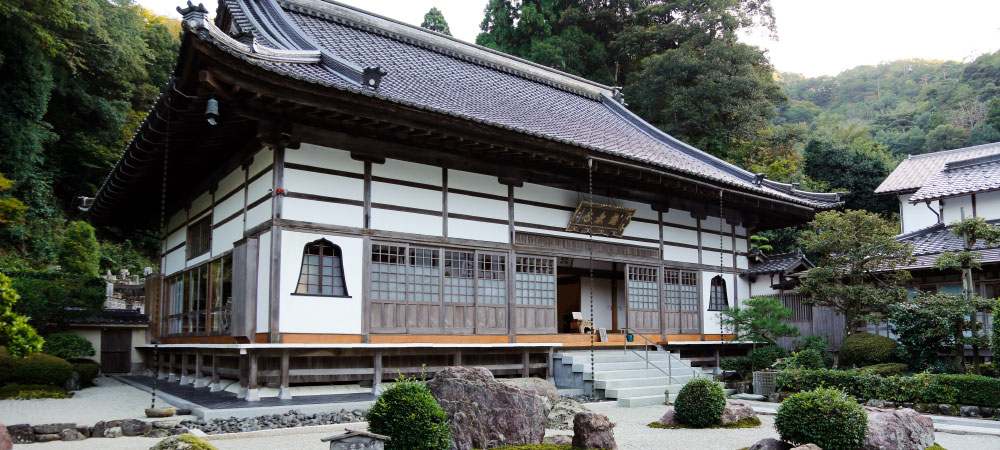 The exterior of Gokurakuji, with Japanese garden
After filling yourself with good food, it's time to visit Kinosaki Onsen's Gokurakuji Temple. This temple is near the foot of the ropeway in a secluded part of town, and is home to a peaceful Japanese rock garden, a Zen meditation practice, and a friendly Buddhist priest. Visitors are welcome to take off their shoes and walk around the exterior deck of the temple, as well as sit on the deck while relaxing to the calming view of the rock garden.
Zen Meditation Experience at Gokurakuji

Experience Zazen, otherwise known as seated zen meditation, together with a chief Buddhist priest in this tour package. Zazen starts with correcting your breathing posture, and originated in India. The doctrine of Zen Buddhism can be described as wordless communication, or expression without language. Your mind will soon have a sense of unity, which is why many people find experiencing Zazen a must-do on their trip to Japan.
If you weren't relaxed enough after meditating, it's tea time!

At the end of your meditation you will be given a chance to chat with the chief Buddhist priest while sipping on a cup of matcha served with a Japanese sweet. A good chance to ask more about the temple, zazen, or anything else that may be on your now zen-like mind.
Put your superior Kinosaki Onsen knowledge into practice

Return to the busier center of Kinosaki Onsen, and use your newly acquired knowledge of Kinosaki Onsen's bathing ritual and deeper understanding of Kinosaki's history to truly get the most out of your onsen bathing experience.
Who knows, you might be the only one in the onsen who is performing the ancient bathing ritual!