There are many sightseeing spots that can be relaxing and not just high energy activities. Enjoy nature, the scenery and fresh mountain air to help you re-energize and recover. We recommend the hot springs, a delicious drink or meal and more. Enjoy a relaxing trip to the mountains with your friends, family, or significant other.
10:30 AM
Arrive in Kannabe

Trek the old lava flow
Take your time walking along the hardened magma rocks from the old lava flow of the local volcano. A trail that goes along a river and is surrounded by lush green forests.
12 NOON
Now that you have worked up an appetite its time to enjoy a lunch made with fresh local ingredients.

Waraku
A Japanese style restaurant that serves an array of local and seasonal ingredients. We suggest the all-you-eat crab when it is in season.
13:30 AM
After you've rested and refueled lets get ready to explore the nearby sites.

Tajima Daibutsu at Chorakuji Temple
Chorakuji Temple is a hallow ground established by Gyoki about 1,200 years ago. In 1543, the temple was rebuilt after a natural disaster. In April 1994, the world's largest three wooden colossal Buddha statues were built. A total of 20,000 Chinese Buddhist statue sculptors created the parts over three years. The parts were transported from China to Japan and assembled at the colossal hall of the Great Buddha of this temple. The parquet statues made of camphor tree were plated with 1.32mn gold leaf weighing 21.8kg. A statue of Shaka Nyorai at the center is 15.8m tall. Including its halo, altar, and lotus pedestal, the total height is no less than 25.3m.
4:00 PM
After a day of sightseeing and trekking time to take a nice soak for the ultimate relaxing.

Kannabe Onsen Yutorogi
Adjacent to Kannabe Highlands Roadside Rest Area on the east side is Kannabe Onsen Yutorogi. Yutorogi uses a biomass (renewable) fuel that has a low impact on the environment, as its main source of heat. The facilities feature a Jacuzzi, main bath, cold bath, sauna and special powder room for the ladies. Twice a month the open-air outdoor bath waters are scented with citrus, mint, and so on depending on the season. After enjoying the baths, take a break in our spacious Japanese style lounge area. We hope that you are able to refresh your mind and body in our hot springs at the foot of Kannabe Mountain.
8:00 PM
Now, head on back to your room and rest up for another adventure tomorrow.

Check-in to your Kannabe Lodgings
Check out some of the lodging spots in Kannabe that offer affordable lodging and friendly staff.
9:00 AM
Have a lazy morning and then head out to stretch your legs.

Sightseeing along the Japan Sea
Drive out to the Sea of Japan. Local scenic roads will take you through the Kannabe mountains to the coast where you can drive along the coastal road that also runs through the San'in Kaigan Geopark. Beautiful cliffs hanging over the waters. You can find hidden villages and beaches along this route.
12:00 NOON
Now, head on over to Kinosaki Onsen to enjoy the hot springs and a night in a ryokan.

Kinosaki Onsen – Hot spring town
After your coastal drive start heading back towards Kannabe, but before you head home we suggest stopping by Kinosaki Onsen, a 1300 year old hot spring town. Famous for its 7 hot spring bath houses and old world atmosphere.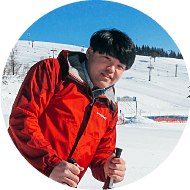 Master Local Expert of KANNABE
PROFILE | MORE ARTICLES