In the Kannabe Highlands, you can enjoy more than just skiing and snowboarding during the winter, or snow season as we call it. During spring, summer, and autumn, also known as green season by the locals, you can find an array of activities to keep you active. Whether on your own, with your family, or with a group of friends come and experience the active outdoors together.
10:30 AM
Arrive in Kannabe early and head into the forests to play on the high level ropes course.

Forest Adventure Oku-Kannabe
Play in a 100 year old forest surrounded by cedar and cypress. Instructors will help you learn the ropes, literally, before you take off on your own climbing and zipping through the trees. Your safety is your responsibility. This activity takes approximately 1 hour or more depending on the pace you set for yourself.
12 NOON
Now that you have worked up an appetite its time to enjoy a lunch made with fresh local ingredients.

Waraku
A Japanese style restaurant that serves an array of local and seasonal ingredients. We suggest the all-you-eat crab when it is in season.
13:30 AM
Let's keep the pace going.
Now that you have seen inside the forests its time for you to sore above them.

Paragliding
There are a few paragliding schools in Kannabe where you can take half or full day lessons. Some schools also offer two day courses. You will receive full safety instructions by professional paragliders. For those wishing to fly a little higher (about 530m – 720m), tandem flights are also available. Courses are available from March to November.
4:00 PM
You've done good and are probably ready for some downtime.
What better way to recover than a nice long soak in the hot springs.

Kannabe Onsen Yutorogi
Adjacent to Kannabe Highlands Roadside Rest Area on the east side is Kannabe Onsen Yutorogi. Yutorogi uses a biomass (renewable) fuel that has a low impact on the environment, as its main source of heat. The facilities feature a Jacuzzi, main bath, cold bath, sauna and special powder room for the ladies. Twice a month the open-air outdoor bath waters are scented with citrus, mint, and so on depending on the season. After enjoying the baths, take a break in our spacious Japanese style lounge area. We hope that you are able to refresh your mind and body in our hot springs at the foot of Kannabe Mountain.
8:00 PM
Now, head on back to your room and rest up for another adventure tomorrow.

Check-in to your Kannabe Lodgings
Check out some of the lodging spots in Kannabe that offer affordable lodging and friendly staff.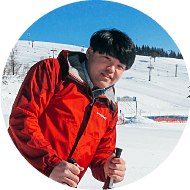 Master Local Expert of KANNABE
PROFILE | MORE ARTICLES