There are many factors at play that determine the quality of taste of a rice cracker. Of course there are the ingredients used, but the methods used in creation also play a large part.
At Genbudo, high quality ingredients from the year's harvest are used, and as instruments, machines are used to support bringing out the true voice of the rice grains.
Producing a cracker that brings out the gentle flavor of the rice with every bite is truely an artform. When you mechanise the vital and minute processes of cracker-making, the effects of the change can be tasted instantly.
The mindset of 'doing a job not for the sake of doing it, but for the sake of the finished product' has been taken by Japanese artisans for generations, and is held in high regard during Genbudo's production processes.
Premium Hand-crafted Sembei Crackers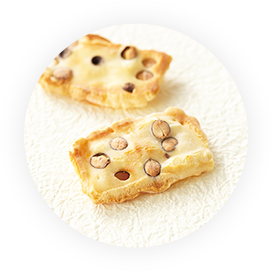 Unseasoned
A touch of salt added with the delicate sweetness of black soybeans enhances the natural flavor of these sticky-rice crackers.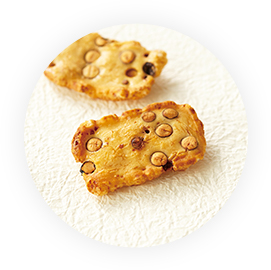 Soy Sauce Flavor
Enjoy the natural taste of black soybeans with these rice crackers. The light flavoring of the domestically grown whole-soybean soy-sauce adds to the cracker's depth of taste.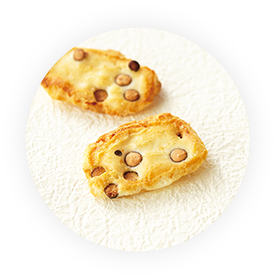 Salad Flavor
To customers that prefer a stronger, more established taste.
Genbudo takes great care when selecting their ingredients
Sticky Rice
Genbudo's rice snacks are all made with various Japan-grown rice. Among them, one of the main selections used is Hiyoku-mochi (produced in Saga, Kyushu), a high-grade rice species which is used the same year it is harvested.
Tamba Black Soybeans
Tamba-Sasayama Whole Black Soybeans are used in all Genbudo products made with black soybeans. These large and plump beans have a desirable softness and depth of flavor that make them ideal for use in Genbudo products.
Salt
Genbudo uses a blend of two salts in their products. The packed-with-minerals 'Gokuten-en', and a roasted salt made in Ako (Hyogo Prefecture) called 'Yakushio'.
Domestic Soysauce
Organically brewed soysauce made from pure sun dried salt and Hyogo Prefecture produced soybeans (Sachiyutaka) and wheat (Shirogame-komugi).
Nori (Dried Seaweed)
Domestically produced nori is used in Genbudo products. With a smooth taste and strong scent, this nori is of particularly high quality.
Genbudo Main Store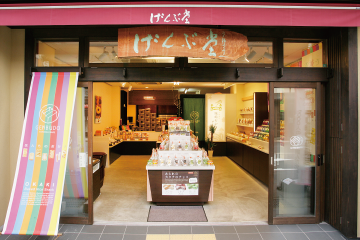 Kinosaki Onsen Station Store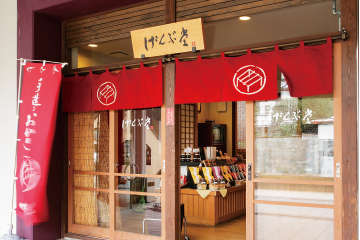 Kinosaki Onsen Kiyamachi Store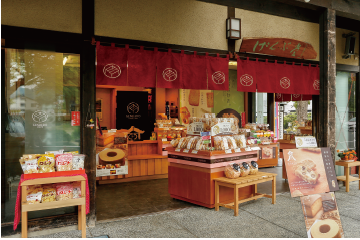 Izushi Store
BUSINESS INFORMATION
Business Name

Genbudo
Type

Retail
Business Hours

・Main Store
Weekdays: 8:00 am - 6:00 pm
Weekends and Public Holidays: 9:30 am - 6:00 pm
・Kinosaki Onsen Station Store
Business Hours:
9:00 am - 6:00 pm
(Noon - 1:00 p.m. Temporary closure)
・Kinosaki Onsen Kiyamachi Store
Business Hours:
9:00 am - 6:00 pm
(1:00 p.m - 2:00 p.m. Temporary closure)
・Izushi Store
Business Hours:
10:00 am - 5:00 pm
Holidays / Closed

None
Address

・Main Store
0796-23-5555
・Kinosaki Onsen Station Store
0796-20-3931
・Kinosaki Onsen Kiyamachi Store
0796-32-3885
・Izushi Store
0796-52-5100
Homepage
Average Price Range

Around 1,000 yen
Payment Accepted

For all stores – Cash, credit card (VISA, Mastercard, JCB, American Express), electronic money (Nanaco, WAON, Rakuten EDy, ID)
Distance from Station

The Kinosaki Onsen Station store is about a 3 minute walk (200m) from Kinosaki Onsen Station.
Language Support

Main Store – Japanese only, Kinosaki Onsen Station Store – Japanese only, Kinosaki Onsen Kiyamachi Store – Japanese only, Izushi Store – English speakers available
FACILITY INFORMATON
Style

Cheerful and refined
OTHER
Parking

None – Please use the nearby coin parking
LOCATION
Kinosaki Onsen Station Store
223 Yushima, Kinosaki-cho, Toyooka-shi,
Hyogo Pref. (1st floor) (669-6101)
Kinosaki Onsen Kiyamachi Store
Yushima, Kinosaki-cho, Toyooka-shi, Hyogo Pref.
(In Kiyamachi Lane) (669-6101)
Main Store
376-3 Nakakage, Toyooka-shi, Hyogo Pref.
(Inside the Wholesale centre) (668-0013)
Izushi Store
56-1 Uchimachi, Izushi-cho, Toyooka-shi,
Hyogo Pref. (In Izushi-bikkura) (668-0214)