Winter Wonderland Adventures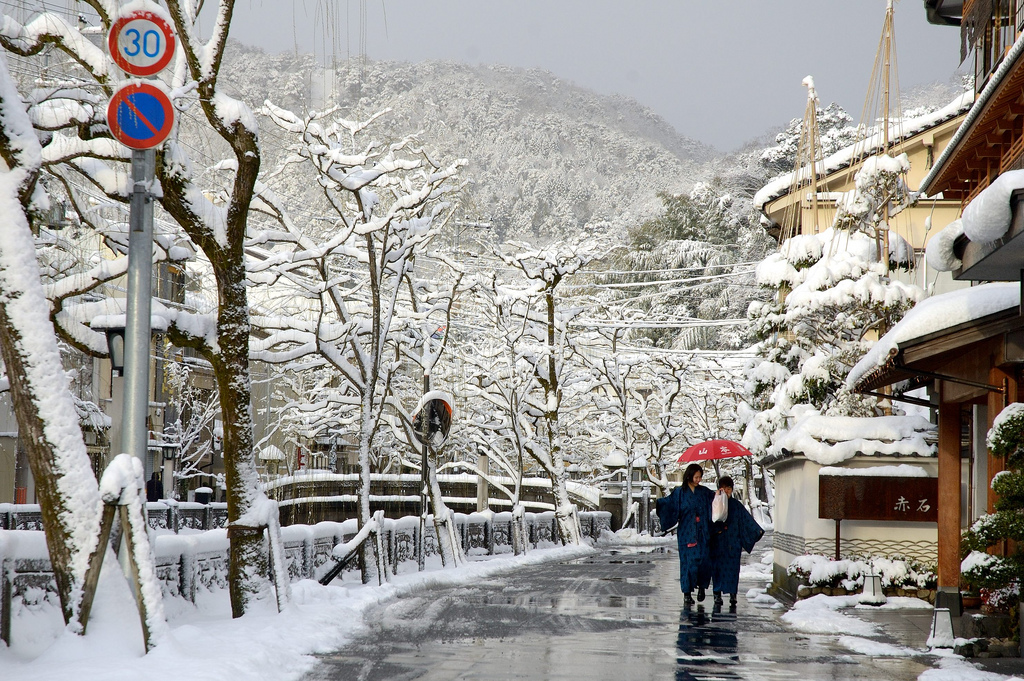 ITINERARY LENGTH:

6 DAYS & 5 NIGHTS
Winter Wonderland Adventures
OVERVIEW

A winter vacation plan for travel from mid January to mid May. Savor the area's specialty crab, warm yourself in the hot springs of Kinosaki Onsen, and sip on locally-brewed sake. Hit the nearby mountains for snowboarding, skiing, sledding, or snowshoeing.
Trip Highlights
| | | |
| --- | --- | --- |
| Kyoto Fushimi Inari | Arashiyama | Nijo Castle |
| Amanohashidate | Ine Funaya Boat Houses | Tango Kingdom |
| Kinosaki Onsen | Izushi Castle Town | Skiing & Sledding in Kannabe Highlands |
Download the PDF
version of this itinerary
Day 1

Depart for Japan

Depart from your local airport and arrive at the Kansai International Airport.

Day 2

Explore Kyoto

From the Kansai International Airport, travel to Kyoto. Spend the day exploring various shrines and temples. Some suggested spots are Kyoto's Fushimi Inari, Nijo Castle and Arashiyama Togetsukyo Bridge. For lunch try a traditional handmade tofu meal. From late afternoon, travel to Miyazu in Northern Kyoto. We suggest staying at the Miyazu Royal Hotel.

Day 3

Explore Miyazu in the morning

Miyazu is home to one of Japan's three most scenic views, Amanohashidate (also known as "The Bridge to Heaven"). Take the single-person lift to the top for the best view of this natural land bridge.

Take a bay cruise of Ine

If you have time, we also suggest taking a cruise from Amanohashidate to the fishing village of Ine. The boat houses in this town are very picturesque, some describing it as Japan's Venice. If you are traveling around any time from mid January to mid May, you can also head over to Tango Kingdom for strawberry picking.

Travel to Kinosaki Onsen

From Miyazu take the Kyoto Tango Railway (JR passes can not be used) to Kinosaki Onsen. Spend your afternoon exploring Kinosaki Onsen before taking the local train (JR pass can be used) to Takeno, a beach and seaside town. Even though it is winter, the town is still a great place to visit, especially since you don't have to worry about the summer crowds that fill the town.

Stay along the Sea of Japan

Spend the night at Okukinosaki Seaside Hotel. Located along the coast of the Sea of Japan, you can listen to the gentle lapping of the waves outside your room. For dinner, we highly suggest ordering the crab cuisine. The crab of choice is Matsuba-gani or Snow Crab.

Day 4

Visit a castle town in the morning

From Takeno take the train to Toyooka Station and then take the local bus to Izushi. Izushi was a castle town that flourished in the Edo era. Many of the original Edo style buildings are still preserved and line the streets to this day. To add to the experience you may consider renting a kimono to wear while sightseeing. There are kimono available for both men and women. The town is also famous for Sara Soba or plated buckwheat noodles. There are over 50 soba shops and workshops are also available. You can try your hand at making your own soba lunch.

Enjoy winter sports in Kannabe

After sightseeing in Izushi, head on up to the mountains of Kannabe. There are three ski resorts to choose from. If you are a beginner or first-timer we suggest Up Kannabe, as it has a great beginner course that is also perfect for kids. Up Kannabe also features a sledding hill and kids play area.

Spend the night in the mountains

Tonight you can stay the night in one of the hotels or lodges located near one of the ski resorts. We suggest Kannabe Highland Hotel and a sukiyaki Japanese beef dinner course. You may also be interested in soaking in Yutorogi Hot Spring after playing on the slopes.

Day 5

Last day of sightseeing

Travel back down south to enjoy a day of sightseeing in Himeji and Osaka. Himeji Castle has to be one of Japan's most beautiful and authentic castles. Spend all morning exploring the castle grounds and neighboring gardens. Tour around the many old rooms of the castle as you make you way to the top. You can also opt to tour Nadegiku Sake Brewery in Himeji. Grab lunch before making your way over to Osaka for the rest of your afternoon and for your last night in Japan.

Spend the night in Osaka

Spend your last night exploring Japan's "kitchen", Osaka. Travel to Osaka's Dotonbori Area, the heart of Osaka. Here you will find countless restaurants, cafes and izakaya. This is also where you can see the famous Glico Running Man sign. Spend the night here in Osaka and rest up before your flight back home tomorrow.

Day 6

Fly back home

Catch your flight back home from the Kansai International Airport. We hope you enjoyed your time.
Activity Highlight Location