★Winter (Picturesque Spots by Rental Car)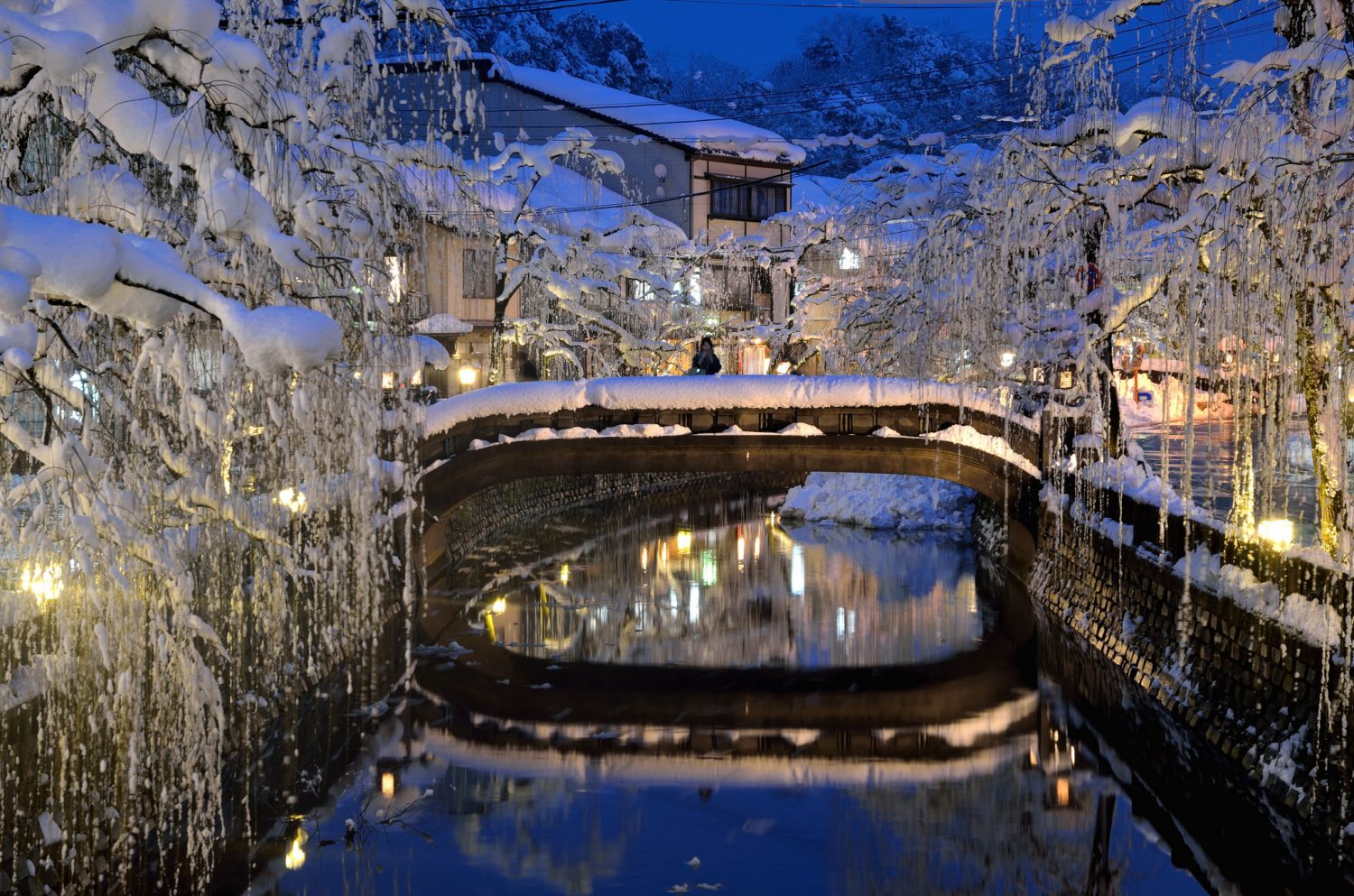 ITINERARY LENGTH:

6 DAYS & 5 NIGHTS
★Winter (Picturesque Spots by Rental Car)
OVERVIEW

Capture moments at picturesque spots (snowy views, oriental white storks, and more) ❆
Trip Highlights
| | | |
| --- | --- | --- |
| Kyoto Sightseeing | Kinosaki Ropeway | Kinosaki Onsen |
| Genbudo Museum & Park | Oriental White Storks | Izushi Soba & Strolling |
| Ritsuunkyo | Takeda Castle Ruins | Osaka Sightseeing & Shopping |
Day 1

Kyoto Sightseeing

Arrive at Kansai International Airport. Visit Togetsu-kyo Bridge, Arashiyama, Kiyomizu-dera Temple, Golden Pavilion, etc.

Day 2

Kinosaki Ropeway

Don't miss a view of the entire town, as well as the 11-Headed Kannon Bodhisattva in Onsenji Temple on the way to the top (only viewable once every 33 years until April 2021).

Kinosaki Onsen-Hopping in Yukata

Kinosaki Onsen, a town which has been awarded two Michelin stars, has seven outdoor bathhouses. Visitors who stay in a ryokan receive a pass to enter all 7 and yukata in which to walk around while in town!

Day 3

Genbudo Museum & Park

The Genbudo Caves are a natural monument, consisting of caves that formed over 1.6 million years ago from the magma of a volcanic eruption. In front of the caves, there is the Genbudo Museum, where you can see displays of precious stones such as gems and fossils collected from all over the world.

Oriental White Stork

This stork that once disappeared from Japan's skies right in Toyooka has returned to the skies thanks to the city's efforts. There are over 200 oriental white storks living in the wild today, and more that can be observed in captivity.

Izushi Sara Soba Lunch

Soba in Japan is usually served in a large dish. But Izushi soba is traditionally served on small plates, a single serving consists of 5 plates. There are about 50 soba noodle shops in Izushi that showcase this interesting serving method.

Izush Winter View Walk

A castle town popular for its nostalgic atmosphere, Izushi has a townscape that is reminiscent of the Edo era. There are many gorgeous photo spots scattered throughout town, including red torii gates, castle ruins, a samurai house, and a Kabuki theater.

Day 4

Ritsuunkyo

Ritsuunkyo is located on the hillside of Mt. Asago across from the Takeda Castle Ruins at an altitude of 757 meters, and is also famous for its wild cherry blossoms. In the spring, the cherry blossoms, which are said to be 300 years old, are in full bloom. This natural beauty makes Ritsuunkyo a famous spot for taking photos of the Takeda Castle Ruins.

Takeda Castle Ruins

The Takeda Castle Ruins are the remains of a mountain castle built at the peak of Mt. Kojo at an altitude of 353.7 meters. It is said that the castle, which was protected by earthen walls at the time of its construction, was renovated by the last castle owner, Hirohide Akamatsu, into a castle with a total stone wall structure that remains today. It was selected as one of the "Japan's Top 100 Castles" in 2006, and was certified as a "Lover's Sanctuary" in 2012.

Day 5

Osaka Sightseeing & Shopping

Spend the last of your trip sightseeing around Osaka like USJ, Osaka Castle, Tsutenkaku Tower, Shinsaibashi, and more.

Day 6

Depart from Kansai International Airport

Fly back home from Kansai International Airport.
Activity Highlight Location