★Spring (Picturesque Spots by Rental Car)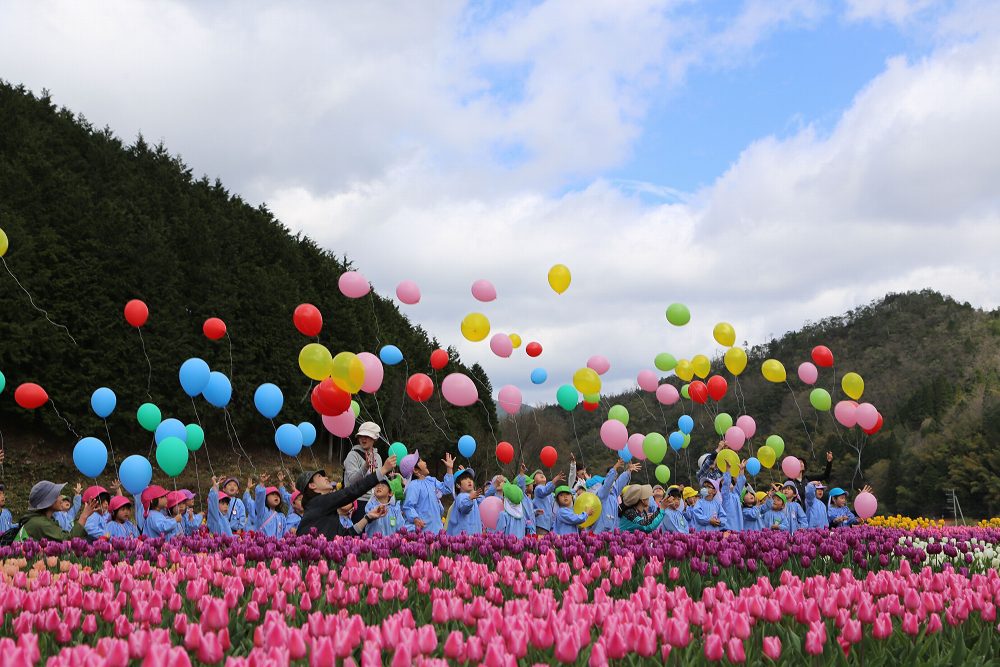 ITINERARY LENGTH:

6 DAYS & 5 NIGHTS
★Spring (Picturesque Spots by Rental Car)
OVERVIEW

Capture moments at picturesque spots (tulips, oriental white stork chicks, Genbudo Caves, and more) 🌷 that are relatively unknown and easily accessible by rental car!
Trip Highlights
| | | |
| --- | --- | --- |
| Kyoto Sightseeing | Kinosaki Ropeway | Kinosaki Onsen |
| Genbudo Caves | Oriental White Storks | Izushi Castle Town |
| Tanto Tulip Festival | Tanto Countryside Experience & Homestay | Osaka Sightseeing & Shopping |
Day 1

Kyoto Sightseeing

Arrive at Kansai International Airport. Visit Heian Shrine, Arashiyama, Kiyomizu-dera Temple, Golden Pavilion, etc.

Day 2

Kinosaki Ropeway

Don't miss a view of the entire town, as well as the 11-Headed Kannon Bodhisattva in Onsenji Temple on the way to the top (only viewable once every 33 years until April 2021).

Kinosaki Onsen-Hopping in Yukata

Kinosaki Onsen, a town which has been awarded two Michelin stars, has seven outdoor bathhouses. Visitors who stay in a ryokan receive a pass to enter all 7 and yukata in which to walk around while in town!

Ichino-yu is one of the seven public bathhouses in Kinosaki Onsen. Its name, meaning number one onsen, was given by a well-known doctor of the Edo era after he had experienced the positive effects of the waters firsthand. The architecture resembles that of a kabuki theater.

One great place to see the cherry blossoms both during the day and at night is along Kiyamachi Street near Ichino-Yu. Sakura line the small canal and create a soft pink canopy for nearly 1 kilometer, stretching all the way back to the ropeway. At night the pink lanterns glow softly, creating a romantic atmosphere perfect for an evening stroll between onsen and shop visits.

Foot bath

There are also 5 foot baths filled with hot spring water, which are free to use and perfect for refreshing tired feet.

Day 3

Genbudo Museum & Park

The Genbudo Caves are a natural monument, consisting of caves that formed over 1.6 million years ago from the magma of a volcanic eruption. In front of the caves, there is the Genbudo Museum, where you can see displays of precious stones such as gems and fossils collected from all over the world.

The Oriental White Stork

The Oriental White Stork once lived in the wild in Japan. In 1971, the last wild Oriental White Stork disappeared from the skies of Japan. Toyooka City created a breeding and research facility to begin breeding and raising them in captivity. In 2005, they were successfully reintroduced into the wild for the first time. Every spring, you can see recently-hatched chicks in the nest towers near the Hyogo Park of the Oriental White Stork.

Currently, over 200 Oriental White Storks fly grandly in the skies of Toyooka. The city continues to preserve their habitat. Visit the Hyogo Park of the Oriental White Stork with its museum and information center to learn about the storks, breeding, and the conservation program.

Izushi Sara Soba Lunch

Soba in Japan is usually served in a large dish. But Izushi soba is traditionally served on small plates, a single serving consists of 5 plates. There are about 50 soba noodle shops in Izushi that showcase this interesting serving method. Go to one of these shops and enjoy fresh soba with all of the proper toppings!

Use your chopstick to measure how many plates of soba you have eaten. 20 plates stack up to the height of a single chopstick.If you are able to finish off at least 20 plates in one sitting, you are given a commemorative plaque called a "Soba-dori" as a fun souvenir.

Izushi Castle Town

A castle town popular for its nostalgic atmosphere, Izushi has a townscape that is reminiscent of the Edo era. There are many gorgeous photo spots scattered throughout town, including red torii gates, castle ruins, a samurai house, and a Kabuki theater. In early April, see the castle ruins surrounded by gorgeous cherry blossom trees. At night, during Izushi's Cherry Blossom Festival, these trees are lit up, creating a spectacular sight!

Day 4

Tanto Tulip Festival

Every year since 1992, the countryside town of Tanto holds the Tanto Tulip Festival. This festival is held from the middle to the end of April, the exact dates depending on the blooming of the flowers. The Tanto Tulip Festival displays approximately 1,000,000 planted tulips that come in about 300 different types. These tulips are of many colors, and are planted in neat rows perfect for admiring and taking photos.

100,000 of these tulips are used to create a giant popular image, different every year. Visitors can explore and take photos both in the tulip fields and up on an observation deck. The event also features photo contests, a local goods bazaar, and more!

A Purely Japanese Experience in the Countryside

In Tanto, a countryside area near Kinosaki Onsen, visitors can see villages of traditional farming families. When you come here, you will be given the chance to experience this way of life. It is a great way to feel satisfaction in what you do and see the fruits of your labor, sometimes literally.

Here you can have the ultimate homestay and be presented with the opportunity to get your hands dirty! Cook dinner in and sit around the irori or sunken hearth. Chop wood to heat your bath water and plant & harvest seasonal crops.

Day 5

Osaka Sightseeing & Shopping

Spend the last of your trip sightseeing around Osaka like USJ, Osaka Castle, Tsutenkaku Tower, Shinsaibashi, and more.

Day 6

Depart from Kansai International Airport

Fly back home from Kansai International Airport.
Activity Highlight Location