★Spring (Japanese Culture)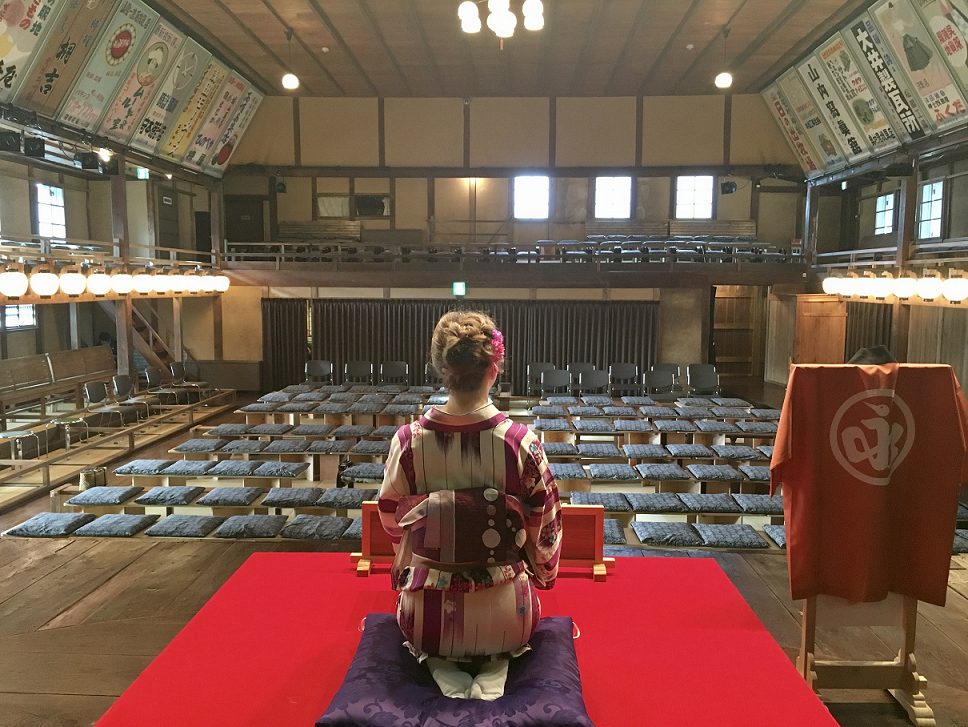 ITINERARY LENGTH:

6 DAYS & 5 NIGHTS
★Spring (Japanese Culture)
OVERVIEW

Immerse yourself in Japanese culture (kimono rental, tea ceremony, zen meditation, and more) 👘
Trip Highlights
| | | |
| --- | --- | --- |
| Kyoto Sightseeing | Kinosaki Ropeway | Kinosaki Onsen |
| Genbudo Caves | Izushi Castle Town | Zen Meditation |
| Straw Craft Activity | Osaka Sightseeing & Shopping | |
Day 1

Kyoto Sightseeing

Arrive at Kansai International Airport. Visit Togetsu-kyo Bridge, Arashiyama, Kiyomizu-dera Temple, Golden Pavilion, etc.

Day 2

Kinosaki Ropeway

The view from Mount Daishi at the top of Kinosaki Ropeway was awarded one star in the Michelin Green Guide Japan as a spectacular view.

Onsenji, the Patron Temple of Kinosaki Onsen

Don't miss the 11-Headed Kannon Bodhisattva in Onsenji Temple on the way to the top (only viewable once every 33 years until April 2021). When Kinosaki Onsen was first established, it was a well-known rule that one must first travel up the mountain to the Onsenji Temple before entering any of the hot springs. Here they had to learn the proper method of entering the hot springs, pray for permission and received a special ladle to be used in the hot springs.

Japanese Cultural Activities

On the second floor of Yukata Rental Iroha's new shop, travel back to the Edo era by experiencing traditional Japanese culture. You can choose between tea ceremony, flower arrangement, koto, and calligraphy.

Kinosaki Onsen-Hopping in Yukata

Kinosaki Onsen, a town which has been awarded two Michelin stars, has seven outdoor bathhouses. Visitors who stay in a ryokan receive a pass to enter all 7 and yukata in which to walk around while in town! At the beginning of April, see trees full of cherry blossoms along the canal.

Day 3

Genbudo Museum & Park      

The Genbudo Caves are a natural monument, consisting of caves that formed over 1.6 million years ago from the magma of a volcanic eruption. In front of the caves, there is the Genbudo Museum, where you can see displays of precious stones such as gems and fossils collected from all over the world.

The Rare Stone Gallery in the Genbudo Museum is a collection of stones that have designs resembling flowers and landscape paintings, created naturally by the earth. This spectacular "chrysanthemum stone" was created by the eruption of a submarine volcano!

Izushi Castle Town

A castle town popular for its nostalgic atmosphere, Izushi has a townscape that is reminiscent of the Edo era. There are many gorgeous photo spots scattered throughout town, including red torii gates, castle ruins, a samurai house, and a Kabuki theater. In early April, see the castle ruins surrounded by gorgeous cherry blossom trees. At night, during Izushi's Cherry Blossom Festival, these trees are lit up, creating a spectacular sight!

Izushi Sara Soba Lunch

Soba in Japan is usually served in a large dish. But Izushi soba is traditionally served on small plates, a single serving consists of 5 plates. There are about 50 soba noodle shops in Izushi that showcase this interesting serving method. Go to one of these shops and enjoy fresh soba with all of the proper toppings!

Izushi Sake Celler

250-year-old sake cellars made of red clay walls. The cellars are still used today to store and sell Izushi's local sake called Sasa Zuru. It is also possible to indulge in some sake tasting here!

Eirakukan Kabuki Theatre

Built in 1901, this is the oldest Kabuki theatre in the Kansai region. It is the oldest Kabuki theater building in Japan that is still standing in the same place it was built. After being closed in 1964, this Kabuki theater was restored and reopened to the public in 2008. Various performances such as grand Kabuki, Kyogen, and Rakugo are performed even today since its restoration.

Shinkoro Clock Tower

The clock tower was built in 1871, and still ticks away today as the town's symbol.

Day 4

Zen Meditation, Buddhist Sermon, & Matcha at Gokurakuji Temple

Kinosaki Onsen's Gokurakuji Temple is in a secluded part of town, and is home to a peaceful rock garden, Zen meditation practice, and a friendly Buddhist priest. Through this activity, experience seated Zen meditation in a local temple while gazing outside at the tranquil rock garden. Afterwards, chat with the monk over matcha and local Japanese sweets.

Through this activity, experience seated Zen meditation in a local temple while gazing outside at the tranquil rock garden. Afterwards, chat with the monk over matcha and local Japanese sweets.

Straw Craft Activity and Craftsman Workshop Tour

Straw craft, called mugiwara zaiku in Japanese, is a unique, traditional handicraft with vibrant colors and intricate patterns that, in all of Japan, is only produced in Kinosaki Onsen. Observe the fascinating and complex straw craft process, learn about its history, and get a private tour of the craftsman's workshop, and make your own original design to take home.

Day 5

Osaka Sightseeing & Shopping

Spend the last of your trip sightseeing around Osaka like USJ, Osaka Castle, Tsutenkaku Tower, Shinsaibashi, and more.

Day 6

Depart from Kansai International Airport

Fly back home from Kansai International Airport.
Activity Highlight Location