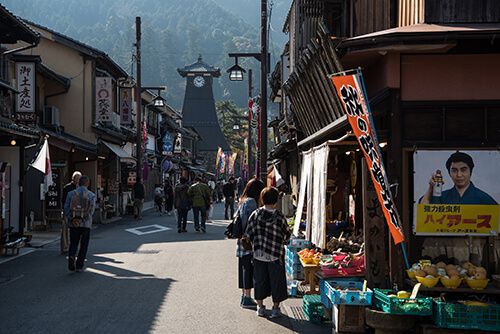 ITINERARY LENGTH:

3 DAYS & 2 NIGHTS
Izushi Castle Town Tours
OVERVIEW

Explore the nearby castle town of Izushi. Walk the town, enjoy the well preserved Edo era architecture, visit a samurai house, take a tour of Kansai's oldest working kabuki theatre and have the local specialty, sara soba or buckwheat noodles, for lunch. With options for a self-guided cycle tour to Kehi Beach, Genbudo Museum & Park and other areas along the Maruyama River.
Trip Highlights
| | | |
| --- | --- | --- |
| Izushi Castle Town | Backstage tour of a kabuki theatre | Tour a samurai house |
| Izushi Sara Soba lunch | Visit the 7 hot springs of Kinosaki | Stay in a ryokan |
| Stroll through Kinosaki in a yukata | Visit Kehi Beach | Genbudo Museum & Park |
| Kinosaki Marine World (aquarium) | | |
Day 1

Explore Kinosaki

Leave Kyoto by express train to Kinosaki Onsen. Spend time exploring the many fascinating shops in Kinosaki. Then, you can take the Kinosaki Onsen Ropeway up halfway to Onsenji Station, where you can visit the Onsenji Temple. Afterwards, you can hop back on the ropeway to go up to the top of the mountain. From there you can sip coffee while enjoying the view, or try your hand at throwing small discs (kawarake) at a target located just off the mountain. Other available activities include a straw craft workshop (1 hour) and cycling around Kinosaki on a bicycle rented from SOZORO.

Spend the night in your ryokan, enjoying the peaceful atmosphere and a delicious dinner.

Day 2

Take the bus to Izushi Castle Town

Start off the day with breakfast at your ryokan, followed by a nice stroll through Kinosaki Onsen. In the late morning, take a bus to Izushi Castle Town for a short visit. There you can have a lunch of Izushi Sara Soba at one of their many soba shops.

Spend a day exploring the town

Afterwards, explore all of the interesting sites that Izushi has to offer. These include beautiful castle ruins, Karou Yashiki (Samurai House), Eirakukan Kabuki Theatre, Sake Cellars, and Sukyoji Temple.

Spend the night in Kinosaki

Later, take a bus and then train back to Kinosaki Onsen. Stroll through the town, and visit the public hot springs while wearing yukata. Have dinner at your ryokan.

Day 3

Explore the area on bicycle

Have breakfast in your ryokan before heading out to explore more of Kinosaki. Afterwards, choose between two self-guided tours you can take using a rental bicycle. One option is to go for the Nature & Stork Sanctuary route. You can bike past the Hachigoro Toshima Wetland, where you can spot the famous Oriental White Storks in their natural habitat. Also, you can visit Genbudo Park, and see magnificent caves made of hexagonal pillars that formed as the result of a volcanic explosion. Have lunch at the Genbudo Museum right nearby.

The other option is to bike in the River & Port area. On this route, you can bike to Kehi Beach, Tsuiyama Fishing Port, and past the Maruyama River. During the spring and summer months, you can enjoy swimming in the ocean at Kehi Beach, as well as BBQing. See the sea life and have lunch at Kinosaki Marine World. In mid-afternoon, leave Kinosaki Onsen by express train back to Kyoto.
Activity Highlight Location