In Kinosaki Onsen, we place the highest priority on the health and safety of our guests, employees, and local residents.
In order to prevent the novel coronavirus (COVID-19), we have created guidelines for the entire hot spring town. As a result, we are raising awareness and are fully committed to implementing safety measures regarding infectious disease prevention at all facilities in the Kinosaki area, such as inns/ryokan, restaurants, public onsen, and souvenir shops.

This guideline has been prepared under the supervision of experts. We also comply with global standards by referring to the guidelines of globally expanded hotel chains (Hilton, Hyatt, Marriott) and the American Hotel and Lodging Association (AHLA). In addition to these referred guidelines, Kinosaki Onsen original items were devised and added:
・Cleaning the yukata (traditional relaxation wear) and geta
・Checking the congestion in the public baths online
As the situation regarding the novel coronavirus (COVID-19) changes daily, we will do our best to ensure that our guests can enjoy their trip safely. We plan to update this guideline in the future as we check the current situation.
|Measures for All Facilities
 【Air Conditioning & Ventilation】
  〇 Providing thorough ventilation
 【Cleaning & Disinfection】
  〇 Frequently cleaning and disinfecting
  〇 Thoroughly disinfecting common areas
  〇 Installing antiseptic solution
 【Employee Infection Prevention】
  〇 Providing thorough health checks
  〇 Wearing masks
  〇 Washing or disinfesting hands thoroughly
 【Distancing between People】
  〇 Limiting entry to prevent crowds
  〇 Creating systems in order to maintain an appropriate distance between people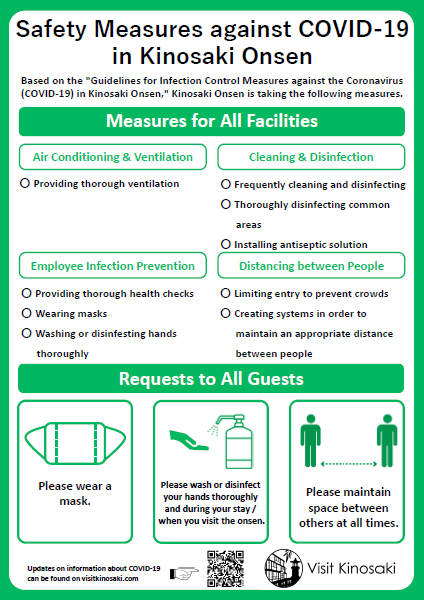 >SAFETY MEASURES AGAINST COVID-19 IN KINOSAKI ONSEN(Japanese only)