In order to understand the situation caused by the spread of COVID-19, we have compiled information on how the government and tourist facilities have responded to this for the use of tourists and businesses in each region as follows. Please check before traveling.
Please check here for current nationwide border measures.
| Countermeasures in Kinosaki regarding COVID-19
In Kinosaki Onsen, we place the highest priority on the health and safety of our guests, employees, and local residents.
In order to prevent the novel coronavirus (COVID-19), we have created guidelines for the entire hot spring town. As a result, we are raising awareness and are fully committed to implementing safety measures regarding infectious disease prevention at all facilities in the Kinosaki area, such as inns/ryokan, restaurants, public onsen, and souvenir shops.
Guidelines for guests and staff have been prepared under the supervision of experts. We also comply with global standards by referring to the guidelines of globally expanded hotel chains (Hilton, Hyatt, Marriott) and the American Hotel and Lodging Association (AHLA). In addition, Kinosaki Onsen original items were devised and added:
・Cleaning the yukata (traditional relaxation wear) and geta
・Checking the congestion in the public baths online
We ask guests to:
・Maintain social distancing
・Wear masks indoors and in outside crowded settings
・Sanitize hands regularly
・Refrain from speaking on public transport
・Refrain from speaking in public baths
・Utilize body temperature checks at indoor facilities
・Monitor your health daily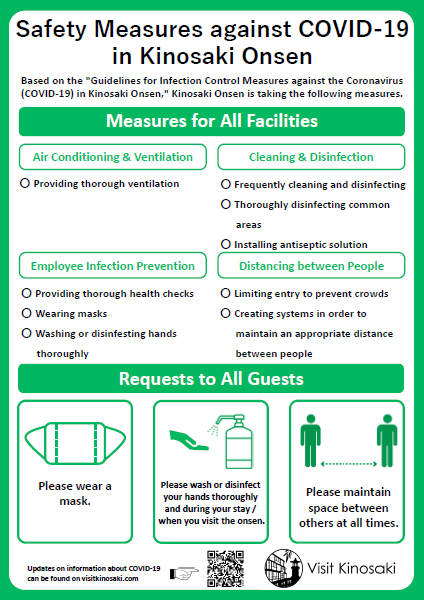 | Emergency Contact
Call for tourist information or assistance in the case of accidents and emergencies including novel coronavirus (COVID-19).

 <Japan Visitor Hotline>
 Japan National Tourism Organization (JNTO) operates a visitor
 hotline 24 hours a day, 365 days a year. Support is available in
 English, Chinese, Korean, and Japanese.
 From Japan: 050-3816-2787
 From Overseas: +81-50-3816-2787