Leave Your "Geta" by the Door
Have a Cup of Tea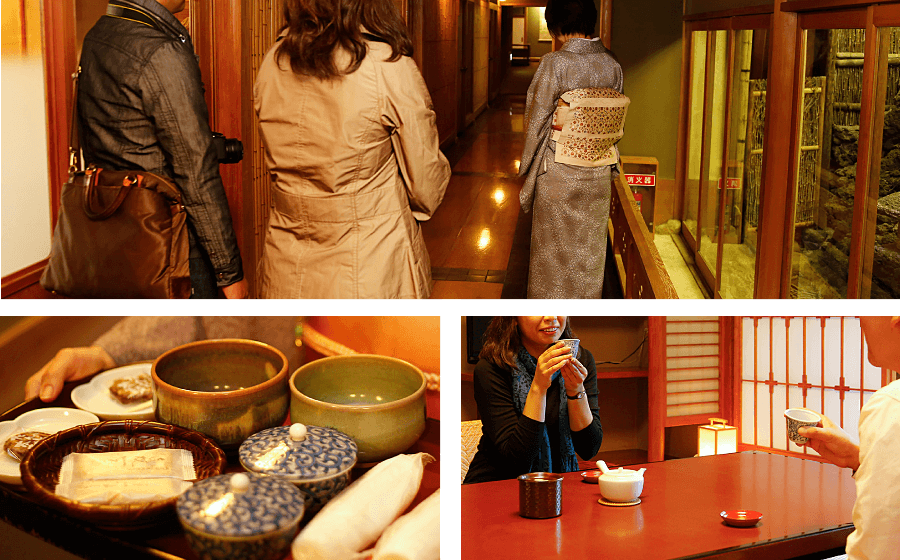 Staff will escort you to your room, where you will enjoy a drink and small snack.
Please take a moment to enjoy these refreshments and rest from your travels.
Enjoy the Tranquil Simplicity
The traditional ryokan rooms are known for being beautifully simple and elegant. The floors are covered with woven straw mats and furnished with a low table and floor cushions for seating.
In the rooms alcove you will notice a scroll hanging above a vase of flowers or another small object. These all relate to the current season. You will also notice that some rooms do not have a clock, this is so that guests won't worry about the time and instead focus on relaxing during their stay.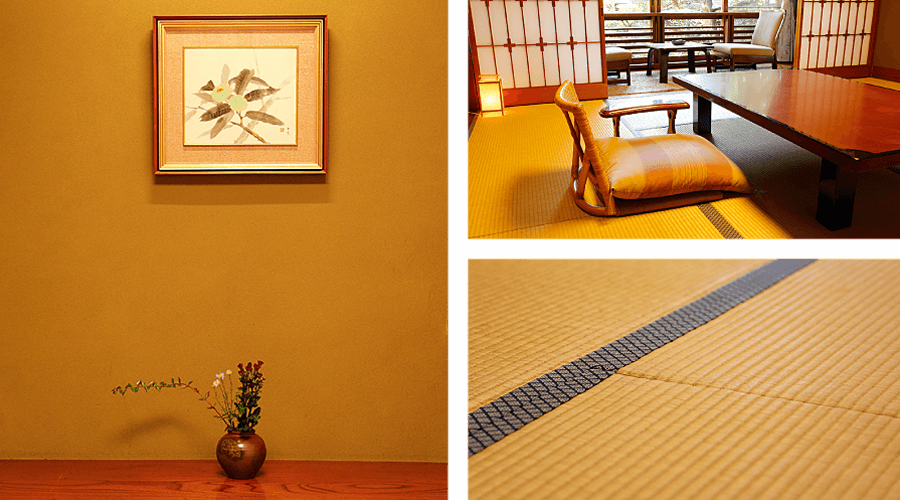 Traditional Wear
After you have rested, slip into the ryokan's yukata found in your room. Once you are changed, feel free to explore the town before dinner. If you plan on visiting the onsen don't forget to take the towels provided. The ryokan will provide you with something to carry your towels and belongings. Yukata Guide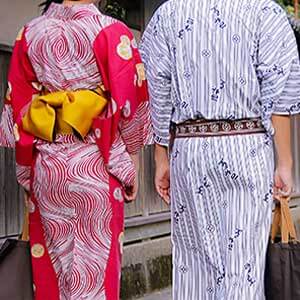 Culinary Art
When you return, your room will be set to serve you dinner. Be sure to check with the ryokan to see what time they will be serving dinner.
A room attendant will serve you dinner in your room. They will explain each dish as they bring them out, one after the other.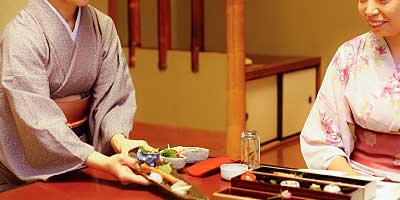 Kinosaki After Hours

After dinner, head out to the onsen one more time. The town's atmosphere takes on another form after the sun goes down. The streets are light with the warm, ambient glow from the lanterns along the river and the ryokan rooms lining the streets. Indulge in a second dessert or a nightcap before you head back to your room.
Sweet Dreams

Return to your room with a feeling of complete relaxation and satisfaction. Fall down onto the soft futons that have been set up by the ryokan staff while you were out, and drift away into a peaceful slumber.
A Fresh New Start

Wake up to the soft glow of sunrays flooding in through the paper shades on your shoji windows. Take your time and spend a lazy morning in bed or take one last dip in the onsen before breakfast.
Once you check-out, staff can be seen waiting to send you off and to wish you a safe journey home.