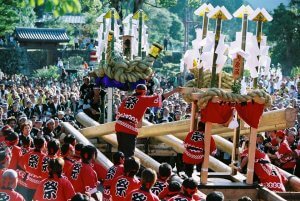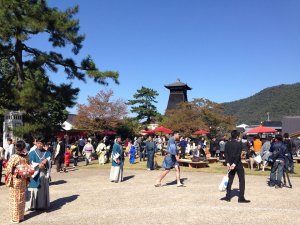 There are a handful of events coming up in Izushi for the autumn season!
★Autumn Festival
Date: October 14th (Sun)
Location: Izushi-cho
The Autumn Festival is also known as the Danjiri Festival. Danjiri are large wooden carts (danjiri guruma) in the shape of a shrine or temple. The festival celebrates a good harvest for each year, and involves men using 17-meter long poles to attack each other's danjiri. This creates a vigorous and compelling sight, exciting for all who attend. Because of its aggressive style of celebration, it is also known as a 'fighting Danjiri'.
★Eirakukan Kabuki Theatre Performances
Dates: October 18th (Thu) – October 24th (Wed)
Location: Eirakukan Kabuki Theatre
The opening event of the Eirakukan Theatre was performed by a kabuki star Ainosuke Kataoka in 2008. Since then, Kabuki plays are performed by this actor, now one of west Japan's leading kabuki actors, and his theatre company.
★Kimono Festival
Dates: October 27th (Sat) – October 28th (Sun)
Location: Izushi-cho, Uchi-machi, Izushi Castle Ruins, etc.
We consider wearing kimono, the traditional Japanese cloth, as a long-term sightseeing feature of Izushi. There will be events to encourage wearing kimono at the soba noodle festival, street-shops, rental kimono shops, a kimono-wearer's raffle, historical costume performances, a mystery solving tour, and other events.
★Castle Festival
Date: November 3rd (Sat)
Location: Izushi-cho
On the 3rd of November every year, the Castle Festival is held to symbolize the castle town of Izushi. The main attraction of the day is the marching of about 120 people all dressed in traditional costumes, with 30 men holding decorated spears as they walk along the streets.