Every midspring a festival is held on April 23rd and 24th to commemorate Douchi Shonin, a Buddhist monk who is the founder of Kinosaki Onsen. This festival, called Onsen Matsuri, is held on the anniversary of the monk's death. In 717 AD, Douchi Shonin received a vision which told him to pray for the local people's health for 1,000 days. After he did so, it is said that a hot spring shot up from the ground, creating Kinosaki Onsen.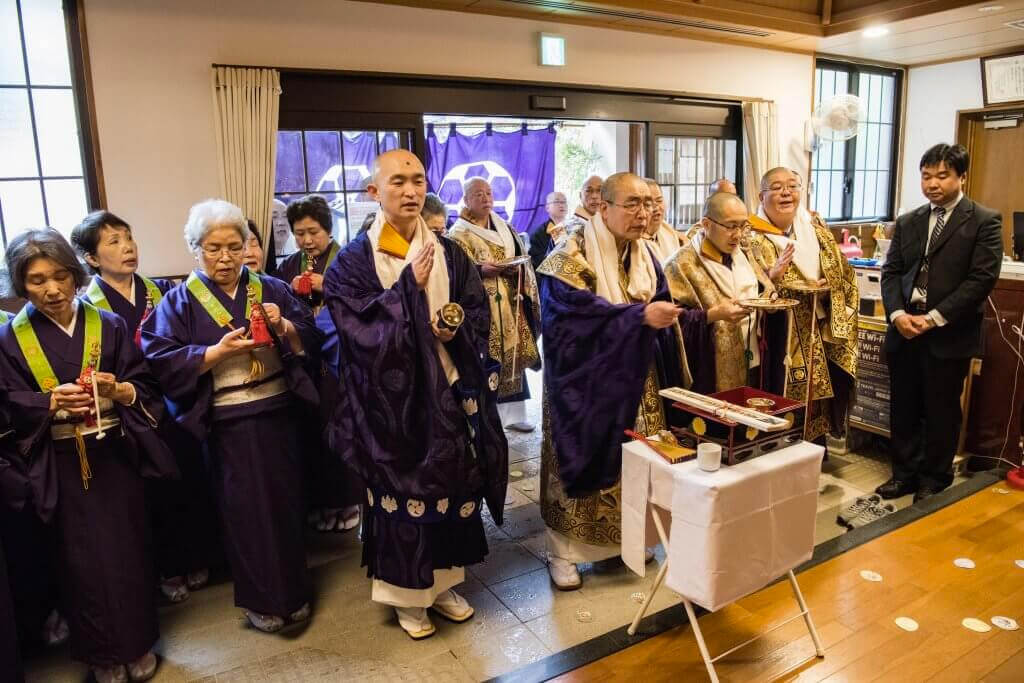 The Buddhist monks from Onsenji, the temple where visitors often come to show their gratitude to Douchi Shonin, walk around town to each of the seven public onsen to pray for safety and prosperity of Kinosaki Onsen. It is a very special occasion that you can have the opportunity to witness!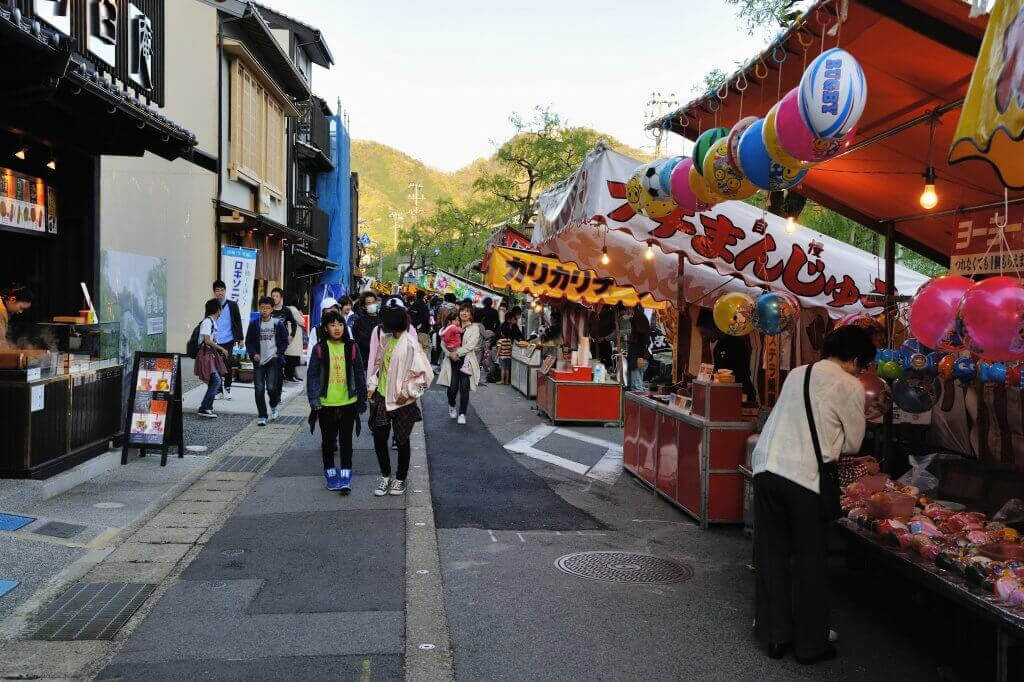 Over the course of the two days there will be lots of food stalls and events such as parades, a treasure hunt, and stage shows. During this festival you can also get discounts on tickets for various attractions and museums in Kinosaki Onsen, as well as free entry to three of the public onsen: Jizou-Yu, Yanagi-Yu, and Mandara-Yu.
SCHEDULE
Tuesday, April 23rd
10:30 am- Procession of monks between onsens | Shisho Shrine ~ each public bath
3:00 pm-6:00 pm Waku Waku Treasure Hunt | Kinosaki Eki Dori Park
6:00 pm-8:30 pm Stage Performances | Kinosaki Eki Dori Park
6:00 pm-6:30 pm Child Dancers "Gem Famire" Performance
6:40 pm-7:10 pm Balloon Performance
7:20 pm-7:50 pm Onsengers (local power rangers) mini show and commemorative photo event
8:00 pm-8:30 pm Yumekuri Taiko Drum Show
Wednesday, April 24th
10:00 am- Mourning Prayer for Onsenji Temple Founder | Ryokan Association ~ each public bath
12:00 pm- Buddhist Memorial Service in front of Douchi Shonin's grave | Onsenji Temple
12:40 pm- Buddhist Memorial Service | Onsenji Temple
1:30 pm- Prize Giveaway (with mochi throwing) | Onsenji Temple
2:00 pm- Noh Song "Onsenji" Presentation | Onsenji Temple
Both Days (Tuesday, April 23rd and Wednesday, April 24th)
9:00 am-4:30 pm Viewing of the rare Jūichimen (11-Headed) Kannon Bodhisattva | Onsenji Temple
9:00 am-4:30 pm Kinosaki Ropeway Discount (adults 500 yen, children 250 yen; Onsenji Temple & Kinosaki Art Museum shared 300 yen admission fee)
9:00 am-4:30 pm Kinosaki Art and Literature Museum (Bungeikan) Entry Discount
10:00 am-4:00 pm Kinosaki Straw Craft Museum Entry Discount
7:00 am-11:00 pm Free Entry to Jizou-Yu
3:00 pm-11:00 pm Free Entry to Yanagi-Yu
3:00 pm-11:00 pm Free Entry to Mandara-Yu
3:00 pm- (Tues 23rd), 10:00 am- (Wed 24th) Food and Game Stalls